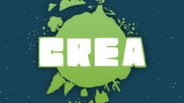 Crea is an easily moddable, 2D sandbox game with RPG elements, a lighthearted mood and a colorful art style.
Release Date: Jun 3, 2014
Watch HD video
Early Access Game
Get instant access and start playing; get involved with this game as it develops.
Note: This Early Access game may or may not change significantly over the course of development. If you are not excited to play this game in its current state, then you may want to wait until the game progresses further in development. Learn more
What the developers have to say:
"Crea has been in active development for over two years. An alpha version has been publicly available for over a year, with thousands of players. We recognized from the beginning that to make Crea the best it can be we would need to look to our community for feedback. Crea has now reached a stage where we are comfortable sharing it with Steam Early Access enthusiasts in hopes to gain even more valuable feedback.

As with all Early Access titles, Crea is still in development. There are some missing features and content along with some bugs. However, a great deal of the game is now available. Below we have outlined all current and planned features and content. As we release updates we will do our best to keep this information up-to-date.

If you have any doubts about Crea, then add it to your wish list and check back occasionally to see what progress is being made." Read more
September 18
After two years of intermittent streaming I (Jasson) am committing to a schedule. I am really excited about this schedule and sharing development with more people. Spread the word and be sure to join - the first scheduled stream is tomorrow!


Monday, Wednesday, Friday 1PM to 4PM PST
Mega Monday
- Miscellaneous work on Crea including features, new content, and bug fixes.
Workshop Wednesday
- Work on workshop (modding) support and once workshop is live this will be dedicated to teaching and helping with modding.
Feedback Friday
- Come provide feedback for Crea and watch me implement feedback into Crea!
Unscheduled Streams
I often spontaneously stream various aspects of development. The best way to be notified of these streams is to follow this stream and
@SiegeGames
.
0 comments
Read more
September 18
Hey Crea-tins! It's finally here! This is the first half of the huge update, and we are starting it off on the Omega testing branch to be sure it's nice and stable before pushing it through to the main branch. To access this patch, that means you will need to opt in to the Omega branch. To opt in:

Go to your Steam library and right click on Crea
Select Properties
select betas, and from the drop-down menu, select Omega

Please be sure to leave us your thoughts and feedback as you dive in and explore all the changes! If you encounter bugs, please report them in the Issue Reporting forum on Steam, or the bug reports area on the official forums here:

http://siegegames.com/forums/index.php?forums/bug-reports-technical-issues.24/

version 0.9.0
General:
- (Feature) Weapons, shields and tools are now equipped permanently
- (Feature) Added several new items
- (Change) Added much more feedback when hitting tiles

Combat:
- (Change) Swords and spears now have 3-hit combo attacks
- (Change) Shields have been added
- (Change) Taking unblocked damage results in maximum health reduction
- (Change) Monsters and the player give more feedback when hit
- (Change) Combat numbers are a little bouncier
- (Change) High level monsters can now drop higher quality materials

Movement:
- (Feature) Player can now dodge roll (direction + down)
- (Feature) Player can now grab onto ledge with "Ledge Grab" skill
- (Feature) Player can now sprint with "Sprint" skill
- (Feature) Player can now double jump with "Double Jump" skill
- (Feature) Player can now swim
- (Change) Dash has been removed
- (Change) Player now walks while casting or has bow drawn
- (Change) Jump and run have been tweaked

Multiplayer:
- (Bug) Bows should now function properly in multiplayer

Steam:
- (Feature) Steam Cloud support
- (Feature) Steam "join game" feature now supported

Talents:
- (Feature) New Explore talent has been added
- (Feature) Arcane and Divine talents have been combined to Syle
- (Feature) All spells have been reworked to fit the new magic system
- (Feature) Magic Spells now gain new abilities as they level up
- (Feature) Added "Use Weapon/Shield" Arms skill to use equipped weapons and shields
- (Feature) Added "Use Tool" Gather skill to use equipped tool
- (Feature) Added "Use Tool Area" Gather skill to damage a 2x2 area

UI:
- (Feature) Weapons, shields and tools are now equipped on the equipment UI
- (Feature) Added option to filter incomplete recipes on craft UI


4 comments
Read more
About the Game
Furthering the emerging sandbox genre, Crea features combat and crafting in randomly generated, fantasy-style worlds for you to explore, tear apart and build back up. Crea differentiates itself in many ways such as RPG-style character progression, several unique systems, extensive mod support and a charming art style.
Current Features
Everything is still a work in progress and subject to change.
Character Progression: Level up your character by vanquishing monsters.

Talents and Skills: Grow and learn over 50 skills by performing related actions for any of your talents - Arms, Arcane, Divine, Craft, and Gather.

Unique Monsters: Crea is populated with original creatures each with unique attacks.

Challenging Bosses: Encounter powerful beings that will test your skills.

Conflict System: Monsters will spread throughout the world, growing in strength and numbers if left alone.

Equipment Upgrading: Find and equip your character with randomly generated gear and then upgrade it how you want.

Research and Crafting: Research numerous materials to learn over 200 item recipes for crafting.

NPCs: Help bring to life several NPCs that will prove themselves invaluable.

Exploration: Traverse procedurally generated worlds that are brimming with life.

Quick Travel: Activate Way Crystals spread through the world to quickly travel about.

Realms: Explore beyond the world by gaining access to other realms.

Maps: Discover what the world has to offer and expand your cartography skills with the help of the Cartographer NPC.

Exploratory Storytelling: Uncover the mysteries of Crea and its deep mythos through the environment and item descriptions.

Mod Support: Built from the ground up to have extensive mod support. Nearly everything is possible through the power of Python.

Cross-Platform Multiplayer: Play with your friends regardless of what system they're on.

Free Content Updates: Continued free updates even after release.
Planned Features
These are features we currently have planned and have every intention to do but please keep in mind that plans can change.
Steam Workshop: Easily share and play mods with Steam Workshop support.

Other Steam Features: Beyond Workshop, We would love to add achievements, cloud saves, and trading cards.

Dungeons: Fight your way through procedurally generated dungeons to unlock even more challenging dungeons and additional dungeon scenarios with the Dungeoneer NPC.

Grafting: Further expand your equipment by imbuing unique attributes to them through the power of Remna.

Refined Systems: All of the game systems will continue to be iterated on and refined.

More Content: Tons more items, biomes, monsters, bosses, and everything else.

Pending Feedback: We listen to our community and some new features will be guided by everyone's feedback and suggestions.
PC System Requirements
Minimum:


OS: Windows XP or later

Processor: 1.7+ GHz or better

Memory: 2 GB RAM

Graphics: 256+MB and OpenGL 2.1 compatible GPU and 1024x768 resolution

Network: Broadband Internet connection

Hard Drive: 256 MB available space
Mac System Requirements
Minimum:


OS: Os X 10.7 or later

Processor: 2.0GHz Intel CPU

Memory: 2 GB RAM

Graphics: 256+MB and OpenGL 2.1 compatible GPU and 1024x768 resolution

Network: Broadband Internet connection

Hard Drive: 256 MB available space
Linux System Requirements
Minimum:


OS: Ubuntu 12.04 LTS or later

Processor: 1.7+ GHz or better

Memory: 2 GB RAM

Graphics: 256+MB and OpenGL 2.1 compatible GPU and 1024x768 resolution

Network: Broadband Internet connection

Hard Drive: 256 MB available space
Helpful customer reviews
Title:
Crea
Genre:
Action
,
Adventure
,
Indie
,
RPG
,
Early Access
Developer:
Siege Games
Publisher:
Siege Games
Release Date:
Jun 3, 2014
Languages:
| | Interface | Full audio | Subtitles |
| --- | --- | --- | --- |
| English | | | |