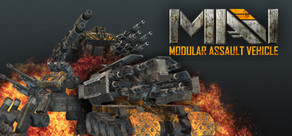 Take part in a persistent war across the surface of Europa, fighting against other rebel factions and the Earth Defense Force. Join with your friends to create your own faction, capture territories through hard fought battles, spend resources to get new parts for your MAV and upgrade the defenses of your territories, and possibly deploy...
Release Date: May 1, 2014
Watch HD video
Early Access Game
Get instant access and start playing; get involved with this game as it develops.
Note: This Early Access game may or may not change significantly over the course of development. If you are not excited to play this game in its current state, then you may want to wait until the game progresses further in development. Learn more
What the developers have to say:
"M.A.V. is using the Early Access program to allow players to have the greatest control possible over the way that M.A.V. is developed. Community feedback will play a large role in determining the features and schedule of the development of the game. Please, join the early access only if you want to take an active participation into the future of the project! Use the community forums to discuss ideas and report bugs. M.A.V. will stay in early access up until the point of release (with is planned for late 2015).

The current pricing of M.A.V. reflects it's current state of development. As development continues and more of the game is finished, the price will slowly rise to reflect that, until the point of release. By joining the Early Access, you are also guaranteed to receive all future updates to M.A.V. including any DLC that comes out." Read more
August 21st, 2014
So, this is going to be a little different of a post from me today. I saw some stuff yesterday that really fired me up and now that I am free from all other game studio overlords, I feel I can speak completely free about them. Warning, I am going to use language that I don't typically use.

Really, it all started with reading this article from puppy games. 'The Dark Side of Indie PR'. Quite the catching title.

http://www.puppygames.net/blog/?p=1574

I don't want to be attacking Puppy game directly here, because I am sure they have reasons for saying what they did. I don't know them, and I haven't played their games. What I DO know, is my experiences and how different they sound from theirs.



If you want to skip their article, they are saying players, as individuals, are completely worthless to them and it makes more sense to just be an asshole and lose the player than spend time trying to 'fix' the issue. Let that sink in.

WHAT THE FUCK?

Seriously?

They also talk about all the terrible abuse they get as developers, how much it sucks, how little money they make, and generally how shitty the whole gig is. Guess what?

I AM HAVING A FUCKING GREAT TIME!

No, really, I am having the time of my life. Being an indie developer is second in joy only to my family. It's freaking great! You know why? Because I don't have players, I have FANS. I have yet to run into these life ruining trolls everyone feels is 99% of the customer base. Oh actually, I take that back. I had 1 troll post mean stuff, but I can't even tell you what it was because one of the FANS, reported it and had it deleted before I even saw it.

Maybe, if I treated everyone like shit, focused only on getting 'players', and generally looked down on everyone that I am trying to build a game for, I would not have any fans and would have a bunch of trolls that haunt me with hate. But that's not what I do. Instead, I treat 'players' like they are people. I treat them how I would want a company to treat me. When I get an email about someone having an account problem and not being able to play the game they bought, I DROP EVERYTHING, and fix it. Right there. I pull off the road and fix it from my phone, if I have too. Because that is MY FAULT. If something doesn't work, that is on me, not the player (in most cases).

It seems game developers try to justify treating people like trash because they are not making any money. Is that the customers fault that you picked a shitty business model? You want to make a free to play game and then treat the free players like trash? That is not the players fault!

All my fans matter to me. They are the reason I am here, they are the reason M.A.V. exists. The guy that went out of his way to break the game, every single day, and tell me about it [even HOUND me about it], I didn't ban him. Some people might have even considered him a troll. I didn't. He is not only a Moderator on the message board but also helps me as a Community Manager. Why? Because he cared. He cared about M.A.V. just as much as I did and he wanted it to be better. Seriously, what single greater thing in the world could you ask from someone than for them to care?

And that is why I say I don't have players I have fans. I have people that log in and play the game, every single day, for a YEAR! Mind you, M.A.V. is not even done yet! But they care. They want M.A.V. to be as great as I do. They want M.A.V. to be as successful as I do. Hell, I didn't have a successful kickstarter campaign because I am a marketing genius, I was successful because the fans went out and told everyone they knew about M.A.V.. They contacted the press [when the press wasn't listening to me] and got news coverage. They made videos and shared on youtube and twitch. They RE-BOUGHT the game, just to continue to help.

So, puppy games and all developers like you. I am sorry your community sucks, but that is your fault, not theirs. Treat them with respect, show you care, and maybe, just maybe, they will treat you as well as the M.A.V. community treats me.

-Chad
6 comments
Read more
August 12th, 2014


Took me a while to get to a 'height scale' that felt right.

After doing this, I realize a few things REALLY need to happen soon. New AI pathfinding, and 'slippery slopes'. It's not going cut it having the angle of the slope be the only thing that prevents movement. There will have to be slopes that you will slide down and no be traversable, even at lesser angles.

I am feeling the 'arena' area in the middle might be a little too large, but I am open to feedback.

[Also, the oil tanks are place holders. They represent destructible cover, but will be replaced with 'appropriate' art, like Ice spires.]
Join the discussions on the forums: http://mav.bombdogstudios.com/forums/viewtopic.php?f=15&t=1630 Terrain work on the new no mans pass.
0 comments
Read more
About the Game
M.A.V. is a custom mech combat game with a core focus on tactical combat and customization.
You play as a MAV pilot, fighting against an oppressive government trying to turn your home into a forced labor camp. You will be able to build your MAV, piece by piece, into the perfect weapon for your fighting style. You will need to use teamwork and a steady aim to fight against other MAV's and military forces to protect your home and take back the areas conquered by others.
Take part in a persistent war across the surface of Europa, fighting against other rebel factions and the United Earth Council. Join with your friends to create your own faction, capture territories through hard fought battles, spend resources to get new parts for your MAV and upgrade the defenses of your territories, and possibly deploy a game changing Mega Weapons.
Key Features
You can choose from thousands of parts across over 30 different categories to design and build your MAV, from the ground up, or pick from community shared designs.

Fight in many different game modes, with the freeform Arena and Siege mode, to the single player story, or the persistent campaign mode.

Experience intense mech combat, with realistic projectiles, physics based weapon recoil, individual part damage, and fantastic environments.

In the campaign mode, build up your captured territories with additional defenses, place turrets to help fight off invaders, and hire and recruit AI rebels to fight alongside you. Changes you make on a territory level effect the battlefields and can change the balance of power.

Full customization of your MAV, with millions of combinations possible, different paint jobs and camo patterns, along with decals, you will always be able to express yourself and be unique on the battlefield.
Current State of the Game
Because the game is still in active development not all features are fully represented yet. Here are the things that ARE currently in the game.
325 different parts to build your M.A.V. with

Robust AI bots that you can play against or with in both single and multiplayer

Arena mode and Siege mode game types

Multiplayer battles

Color customization of your M.A.V.

Fully realized combat with locational damage, damage effects, performance decay with damage.
Features that are In Progress
Commander Parts- Will allow you a greater overview of the battlefield and grant you the ability to issue orders and help guide your team.

Stat tracking, player profiles, achievements, and player ranks and unlocks.

Campaign mode - The persistent online game mode

More parts! - Melee weapons, Long range indirect fire weapons, quad and hexapod bases, more cockpits

Improved level assets - Graphical overhaul of the levels is currently inprogress
System Requirements
Minimum:


OS: Vista

Processor: Intel Core 2 Duo E6750 (2.66 Ghz)

Memory: 4 GB RAM

Graphics: 512 MB DirectX 9 (8800 GTX, Intel HD Graphics 4000, HD 4770)

DirectX: Version 9.0

Network: Broadband Internet connection

Hard Drive: 2 GB available space
Recommended:


OS: 7

Processor: i7 920

Memory: 6 GB RAM

Graphics: 512 MB DirectX 9 (Nvidia GTX 260 / Radeon 4890 or better)

DirectX: Version 9.0

Network: Broadband Internet connection

Hard Drive: 2 GB available space
Helpful customer reviews
Title:
M.A.V.
Genre:
Action
,
Early Access
,
Indie
Developer:
Bombdog Studios
Publisher:
Bombdog Studios
Release Date:
May 1, 2014
Languages:
| | Interface | Full audio | Subtitles |
| --- | --- | --- | --- |
| English | | | |