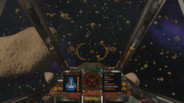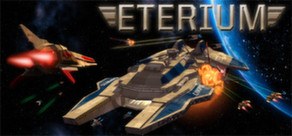 In this fully 3D, real-time space flight simulator, you will play a pivotal role in the war between the United Earth Alliance and a vicious alien threat known as the Revi. Strap into the cockpit, get your joystick ready, and join the fight in this retro space sim inspired by the games of the '90's.
Release Date: Apr 15, 2014
Watch all 2 trailers
July 8
Eterium version 1.1 is now available.

Includes free Act II Episode 1 expansion!

27 new complex and challenging missions.

Branching story-line with 3 possible endings.

Continue your service aboard the UEA Canopus and aboard the destroyer UEA Waterloo (winning path)
To access Act II Episode 1, start a New Campaign and select Act II Episode 1 from the menu.
New Features in Version 1.1
Camera subtly looks in the direction of your target (this can be disabled in the launcher's settings tab as well as toggled via assigned keyboard or joystick button).

New improved explosion sounds.

Joystick sliders can now be assigned to Roll.

Added ability to assign mouse buttons in launcher.
Major Bug Fixes
Asteroids and mines now have sounds when they explode.

Fixed some throttle related issues.

Fixed Launcher key assignment crash.

Match Speed now works properly with joysticks that have throttles.

Fixed human opponents sometimes speaking Revi in communications.

Fixed bug where joystick settings are sometimes lost.

Fixed explosion sounds all playing at the same volume and 3D position.
5 comments
Read more
May 1
Eterium version 1.0.1.3402 is now available! This patch includes bug fixes and some new features.

New Features

Rudder Pedal Support

Optional First Person Shooter style mouse control. The original joystick emulation style mouse control is now called "emulated" and is the default

Added keyboard only flight controls: Select Direct / Keyboard on the Joystick tab in the launcher

Added individual dead zones and sensitivity settings for all axes

Launcher closes when game launches (there is an option to leave the launcher open on the settings tab)

Before mission, the player is reminded to return the throttle to the zero position if it is not already

Added option to swap the sticks on the Xbox 360 controller.

Added more robust logging to the game to help us track down problems
Bug Fixes
Fixed annoying in-cockpit engine sounds from wingmen in formation

Fixed Heavy Fighter turret odd behavior when using mouse control

Reduced the frequency of Eject warnings

Fixed instances of incorrect wingmen being listed in the kill score section during debriefings

Mission Vega 4: Fixed failed objectives showing success

Fixed taunt enemy spam exploit

Fixed a couple spelling errors

Fixed volume and improved explosion sounds

Fixed crash when starting game with joystick hat assigned to weapons

Mission Eridani 2: Fixed failure music playing when mission is successful

Mission Lyota 2: Replaced the first two S'tra with Stri'kal to make the mission a little easier

Fixed Xbox 360 Controller: Dpad Left selecting some menu items
0 comments
Read more
About the Game
Eterium is a space flight sim in the spirit of 90's games like Wing Commander and X-Wing. Developed by a two-man team, Eterium aims to bring the classic style of space combat games into the modern era. You play as a pilot serving aboard United Earth Alliance carrier Canopus during a war against an vicious alien race known as the Revi. Experience story-driven gameplay, advanced artificial intelligence, procedural missions and intense 3D space combat as you battle your way through over 50 missions of action-packed gameplay.
Gameplay Features:
Fully customizable joystick

Xbox 360 Controller and Mouse Support

Outstanding stereo 3D support (nVidia 3d Vision only)

Advanced Artificial Intelligence

Dynamic Difficulty

Advanced ship damage system

Fully 3D rendered cockpits

Asteroid and mine fields
System Requirements
Minimum:


OS: Windows Vista, 7, 8

Processor: Core 2 Duo or better

Memory: 2 GB RAM

Graphics: Shader 3.0 or better

DirectX: Version 9.0c

Hard Drive: 500 MB available space

Additional Notes: Does not work with most integrated graphics cards
Recommended:


OS: Windows 7, 8

Processor: Core 2 Quad or better

Memory: 2 GB RAM

Graphics: Geforce 570GT or better

DirectX: Version 9.0c

Hard Drive: 500 MB available space

Additional Notes: Joystick or Xbox 360 Controller highly recommended.
Helpful customer reviews
Title:
Eterium
Genre:
Action
,
Indie
Developer:
Rogue Earth LLC
Publisher:
Rogue Earth LLC
Release Date:
Apr 15, 2014
Languages:
| | Interface | Full audio | Subtitles |
| --- | --- | --- | --- |
| English | | | |