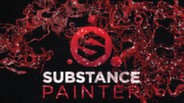 Substance Painter is a brand new 3D Painting app including never seen before features such as Particle Brushes and Material Painting.
출시 날짜: 2014년 3월 6일
모든 5 예고편 보기
Substance Painter 구매
During the beta phase, Substance Painter will be 33% off the final market price.
이 소프트웨어가 포함된 패키지
2014년 7월 17일
The latest Beta of Substance Painter is out and it brings state of the art post processing effects to the viewport, allowing you to capture beauty shots of your assets directly in the tool.

In the past few months, development hasn't slowed down on Painter and the last few updates have brought key new features such as Multi-material support, symmetry painting, Substance Effects support for instant mask generation and weathering effects, new PBR materials, huge performance improvements and more...

We are not planning on stopping anytime soon and are working hard on making sure the tool gets better and better every month. Exciting new features are coming later this summer, thank you all for your support and stay tuned!
댓글 3 개
더 읽어보기
2014년 5월 9일
We are thrilled to announce our first big Substance Contest! The goal is to have fun, create amazing art and of course win awesome stuff!

An all-inclusive week for 2 in Paris or LA, next-gen consoles, Maya and Modo licenses, a lifetime of Substance software and much more are at stake.
($45,000 worth of prizes to win)!

The contest is open to all until July 7th and a team of talented artists from top AAA studios will judge the submissions and choose the winners on July 21st.

Click HERE to read all the details and sign up!

If you guys have any questions regarding the contest, feel free to use this thread.
댓글 0 개
더 읽어보기
평가
"Substance Painter is that magic application; there's always more great features to make your life easier!"
Laurens "Xoliul" Corijn - Technical Artist, EA DICE

"Substance Painter is like a look into the future of asset creation. It puts other methods to shame with it's comparative speed and feature set. It's a really exciting step forward, and I'm looking forward to seeing where it goes."
Carlos Montero - Environment Art Lead, Cryptic Studio - Project Lead, Black Mesa

"For 20 years, mainstream 3D paint solutions have relied on the same manual approach from one program to the next. Along comes Substance Painter, which has the potential to shake things up, innovate and revolutionize the way we visually create in films, games and other digital mediums."
Gee Yeung - Creative director, visual development artist for film, Dreamworks Animation Studios

소프트웨어에 대하여
Substance Painter
is a brand new 3D&2D Painting app featuring never before seen features and workflow improvements to make the creation of textures for modern games easier than ever.
At
Allegorithmic
, we have a long history of working very closely with our customers, from the small independents to the largest AAA studios. Today we want
you
to help us design the ultimate painting tool and bring innovation and state of the art technology to every artist out there at a fair price.
This
Beta version
will give you access to the
Indie license
once it is released. As with our other tools, the non-commercial license allows you to create and sell assets on the
Workshop
for any Steam game!
If you purchase this product on Steam, you will as well get a licence on our website to use Substance Painter in standalone :)
IMPORTANT UPDATE: We authorize the use of the Indie version of Substance Painter to any indie / company generating less than US$10K a year in revenue (based on prior fiscal year). If you are above this limit you should purchase/upgrade to the Pro version on the Allegorithmic website.
For particular cases, please contact us directly so that we can find a relevant business model.
Main Features
Particle Brushes - Throw water, dirt or even fire at your object and watch the realistic weathering effects unfold in real time!

Material Painting - Paint full materials at once, lay the groundwork for your textures or paint small details in seconds!

Physically Based Viewport - Preview your painting in a next-gen viewport for accurate material feedback.

Automatic Reprojection - Modify your UVs or topology at any time without ever losing your work.

Substance Brushes - Use your Substances as brushes and unleash parametric painting!

2D Seamless Painting Paint in 2D across seams thanks to the unified 3D/2D pipeline. Massive time saver and unique feature in digital painting application!

NEW - Multi-Material - Paint on the different ID of your mesh!
We know
Substance Painter
is still rough on the edges and we plan to keep on polishing it and adding new features until we all feel it is simply the best tool of its kind and that it's ready for release. Your support, your feedback and your enthusiasm will maximize the chances for this to happen.
Here is a sneak peek at what's coming to
Substance Painter
this year.
시스템 요구 사항 (PC)
Minimum:


OS: Windows 7 / 8 - 64 bit mandatory

Memory: 4 GB RAM

Graphics: VRAM 1GB

DirectX: Version 10

Hard Drive: 150 MB available space

Additional Notes: Integrated GPU are not recommended
Recommended:


OS: Windows 7 / 8 - 64 bit mandatory

Memory: 4 GB RAM

Graphics: VRAM 2GB

DirectX: Version 11

Hard Drive: 150 MB available space

Additional Notes: Integrated GPU are not recommended
시스템 요구 사항 (MAC)
Minimum:


OS: 10.7

Memory: 4 GB RAM

Hard Drive: 150 MB available space

Additional Notes: Integrated GPU are not recommended
Recommended:


OS: 10.9

Memory: 4 GB RAM

Hard Drive: 150 MB available space

Additional Notes: Integrated GPU are not recommended
유용한 고객 평가
소프트웨어 상세 사항
제목:
Substance Painter
장르:
애니메이션과 모델링
,
디자인과 일러스트레이션
개발자:
Allegorithmic
배급사:
Allegorithmic
출시 날짜:
2014년 3월 6일
언어:
| | 인터페이스 | 음성 지원 | 자막 |
| --- | --- | --- | --- |
| 영어 | | | |