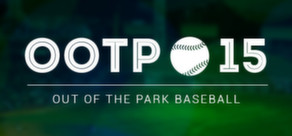 Out of the Park Baseball 15 is the 2014 version of the award-winning baseball game that GameSpot called "the best baseball management sim out there". OOTP offers unparalleled flexibility in creating your own baseball world and guiding your favorite baseball franchise to glory.
Release Date: Apr 24, 2014
Watch HD video
August 1st, 2014
We have just officially released the 5th update for OOTP 15, version number 15.5.25. It is a maintenance release which fixes reported problems and also improves the 3D mode (the PC version now supports anti-aliasing, for example) and Facegen on the Mac.

Here are the improvements / fixes compared to version 15.4:
- Fixed bug which prevented AI teams from offering arbitration to FA eligible players
- Improved Facegen on Mac
- Improved 3D ballflight, including anti-aliasing support on the PC
- Improved trading AI
- Improved play-by-play commentary
- Improved in-game AI in numerous situations
- Fixed several bugs and cosmetic issues

This update should be the last one this summer. We'll probably have another one during the fall which will fix problems that get reported in the meantime.
1 comments
Read more
July 11th, 2014
We have just released the fourth update for OOTP 15, version number 15.4.19. It is a rather big update with plenty of improvements, fixes and updated real opening day rosters (you'll need to start a new game for the roster changes to apply.)

Here are all the improvements / fixes:


Improved 3D ball flight engine, using realistic physics-based calculations

mproved 3D ballpark importer / editor

mproved memory management resulting in increased stability and speed, especially with large games

Free agent compensation / arbitration is now more realistic. OOTP correctly assigns FA comp status to all free agent-eligible players who stayed on the team the entire year, and compensation draft picks are only given when the user/AI offered arbitration to this player.

Draft picks with signability of "impossible" no longer state their demand. You have just one shot to convince the player with a great offer.

Added the option to hide player nicknames (in the player personality section of the game setup)

Improved the league events editor. When in commish mode, users can edit the dates of existing events and also create events using the internal event types. That way experienced users may fix problems with events caused by league scheduling errors.

Improved in-game AI for several situations

Improved in-game play-by-play commentary

Moved the "Force Start / Position" section in the player strategy screen from the depth chart strategy to the pitching strategy for pitchers and renamed it "Force Role."

Re-ordered the items in the team menu to match the order of tabs on the team screen

Fixed issues with touchpads on Macs

Fixed several bugs and rare crashes
There are a couple of know issues on some Mac OSX systems (poor 3D ballflight framerate and oversaturated facegen pictures) which we are still investigating and will fix in a future update.
1 comments
Read more
Reviews
"The only baseball sim I've ever gotten addicted to..."
Curt Schilling

"All told, it's a great game. OOTP 15 is the kind of game that drains your days away into a quiet, happy vortex of roster transactions and lineup changes. It's a buy, for sure."
98 / 100 – NotGraphs

"This gem of a game is absolutely worth anyone's time who loves the sport of baseball."
95 / 100 – Gaming Trend

About the Game
Out of the Park Baseball 15 is the 2014 version of the award-winning baseball game that GameSpot called "the best baseball management sim out there". OOTP offers unparalleled flexibility in creating your own baseball world and guiding your favorite baseball franchise to glory. Play solo with a baseball world of your own creation: play a typical major league game with real 2014 rosters including full minor leagues, make a simple, 8-team league, create a historical league with real players from any year between 1871 and 2013 or build an enormous world with baseball leagues in multiple countries. For the ultimate challenge, join an online league and test your mettle against other human players!
Out of the Park Baseball is the closest most people can get to being the general manager of a real baseball team. Handle GM tasks like drafts, trades, scouting, waivers, team finances and personnel. Negotiate player contracts. Or, dive into the more hands-on management and set your team's lineups, pitching staffs, and in-game strategy. You can oversee your league at a high level, or play out each game, managing pitch by pitch and making all the calls from the dugout.
Players in OOTP are rated across multiple skills, and include individual personalities and custom faces created with FaceGen technology. OOTP players progress realistically over time. Try to build a team through the draft, or try to sign big free agents to put you over the top! OOTP also has a powerful news engine that generates personal messages and news articles. Behind all of this is an incredibly powerful statistical engine that tracks an enormous number of statistics for each player in your world. Want to know how your star hitter is doing against righties with runners in scoring position? No problem!
New Features in Out of the Park Baseball 15:
2014 Opening Day major leagues roster set, plus seven international leagues with real roster sets (Japan, Korea, Taiwan, Mexico, Cuba, Italy, The Netherlands)

3D ballpark and 3D ball flight support

A brand new interface introducing many new screens and a completely recoded manager home screen

New (optional) player rating system, examine how your players compare to league average

Easily create games with historical teams from different years competing in a single league

Improved spring training, with non-roster invitees, customizable spring training roster size and spring training length

Many new league rules & options (i.e. posting system, purchase players for cash, minor league age limits etc.)

Proper support for independent leagues

New Playoff matchups editor

Better league news and play-by-play commentary text

Improved player-creation algorithms, resulting in the best player development ever.

Various AI and core engine improvements, making the most realistic game even more realistic.

Much more, over 100 new features & improvements
Out of the Park Baseball also has a vibrant and helpful user community, and an active one that creates a vast number of user customizations that you can use to further improve your gaming experience, including special roster sets, logos, player images, and more.
If you are a baseball fan, you need this game!
PC System Requirements
Minimum:


OS: XP, Vista, Windows 7, Windows 8.x

Processor: 1 GHz

Memory: 1 GB RAM

Graphics: min. 1024x768 display

Hard Drive: 1 GB available space
Mac System Requirements
Minimum:


OS: min. OS X 10.6

Processor: Intel Processor

Memory: 1 GB RAM

Graphics: min. 1024x768 display

Hard Drive: 1 GB available space
Linux System Requirements
Minimum:


OS: Most 32-bit and 64-bit Linux OS

Processor: 1 GHz

Memory: 1 GB RAM

Graphics: min. 1024x768 display

Hard Drive: 1 GB available space

Additional Notes: Includes 32-bit and 64-bit versions
Helpful customer reviews