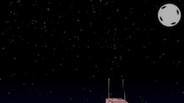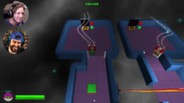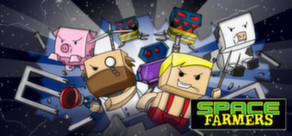 Grab a friend, grab a gadget, grab a gun and get ready for the most fun you'll ever have in a co-op game!
Release Date: Apr 17, 2014
Watch all 2 trailers
September 10
A big hello to all the new and existing players of Space Farmers!

We're proud to announce a huge update to the game featuring the following:

5 New Levels:
- Rocket (can you survive on the rocket?)
- Spin and Shoot (Meet SpinnyMcShooty!)
- The Dropper (Be good to your friends)
- SwapShop (Some animals go elsewhere)
- Big Mama (She's not happy with what you've been up to!)

Also we have some new characters:
- Anna Sassin (she's very mysterious)
- Grok (he also has his own helmet)
- The Swine (He's a right pig)
- ??????? (a mystery character with a pink moustache?!)

Finally there are a few fixes:
- Fixed Explorer achievement (but you will need to pick up the funny face mask again)
- Volume sliders added to main menu
- Pitchfork hit issue (sometimes didn't register for statistics)
- Party Blower Audio (they now play all the sounds!)
- Attempted fix for "One-Upmanship" and "Surivivors" achievements (I was not able to replicate these so I've taken a shot at a fix for those having problems)
- Fix for Character "reselection" bug where you could break the game by selecting a different character after clicking on Ready. (This created duplicate characters in the game)

That's about it. I hope you enjoy the new additions. It's great to see so many people enjoying the game and we're loving the feedback that we've been getting so keep it up!

Don't forget that Space Farmers is currently in the Titanium Bundle on bundle stars with some great other games: http://www.bundlestars.com/all-bundles/titanium-bundle/
3 comments
Read more
June 26
Split Screen Mode is now available for Space Farmers!

Now you can pick up pigs and swing your pitchfork with a friend on the same machine.

We promised it would arrive and now it's here! Play with either Mouse/Keyboard & controller or with two controllers on PC, Mac or Linux.

Thanks for your patience everyone while we got this update sorted. There were a number of development road bumps for us with this which we'll be talking about soon (it's a whole article's worth).

We took this version with us to the Radius Festival in London last weekend and the feedback was awesome. So we know that anyone who has been waiting for this is going to love it.

Stay tuned for more updates coming soon!
4 comments
Read more
Reviews
"If sitting down for short spurts of co-op puzzle solving and collective yelling at the screen is what you need, march right up to this trough and start munching away."
4/5 – Co-Optimus

"Space Farmers is bright and colorful and really adds a cheery touch to everything, even your demise due to an ill-timed potato grenade detonation"
8.5/10 – Shoost

"At one point, you use a flare gun to ignite cow farts to kill robots. Enticed? We sure were!"
8/10 – Bagogames

About the Game
This is a Double Pack - you'll get 2 copies so you can give one to a friend.

Space Farmers is a co-op game only and has no single player mode.

Grab a friend, grab a gadget, grab a gun and get ready. Space Farmers is the most fun you'll ever have in a co-op game.

You're trapped on an alien space station and forced to share your secret British agriculture secrets. With no means of escape or tea making facilities this is all very uncivilized!

Luckily a hoard of hungry robots are attacking the station and your captors have vanished. Stopping only to pick up an Energy Shotgun and a Pie-O-Matic you begin your quest for freedom!

In Space Farmers you and a friend will encounter gadgets, guns, puzzles, pigs, a horde of killer robots and more. This one of a kind co-operative action adventure will make you laugh, cry and bring the human race together.
Every Type Of Co-Op
Space Farmers supports Online (peer to peer), Local Lan and Split Screen Co-Op. Don't forget that it's a double pack so you'll be able to give a copy to a friend and start playing right away!
Free Updates
We're continuing to add new levels and features to Space Farmers. We won't be releasing any paid DLC, all updates will be free. So get involved and let us know what you'd like to see in the game!
PC System Requirements
Minimum:


OS: Windows XP and above

Processor: 1.5ghz

Memory: 2 GB RAM

Graphics: DirectX 9 or above Compatible Graphics Card

DirectX: Version 9.0

Network: Broadband Internet connection

Hard Drive: 250 MB available space

Sound Card: Anything that makes a noise!

Additional Notes: Broadband Internet Connection Required
Recommended:


OS: Windows 8 Professional

Processor: Multi Core AMD or Intel 2.5ghz+

Memory: 8 GB RAM

Graphics: DirectX 9 or above Compatible Graphics Card

DirectX: Version 9.0

Network: Broadband Internet connection

Hard Drive: 250 MB available space

Additional Notes: Broadband Internet Connection Required
Mac System Requirements
Minimum:


OS: OS X Lion 10.7

Processor: 1.5ghz

Memory: 2 GB RAM

Additional Notes: Broadband Internet Connection Required
Recommended:


OS: OS X Mavericks

Processor: 2ghz

Memory: 4 GB RAM

Additional Notes: Broadband Internet Connection Required
Linux System Requirements
Minimum:


OS: Ubuntu

Processor: 1.5ghz

Memory: 2 GB RAM

Graphics: Nvidia/ATI graphics card with 256MB of memory or more.

Hard Drive: 250 MB available space

Additional Notes: Broadband Internet Connection Required
Recommended:


OS: Ubuntu

Processor: 2ghz

Memory: 4 GB RAM

Graphics: Nvidia/ATI graphics card with 512MB of memory or more.

Hard Drive: 250 MB available space

Additional Notes: Broadband Internet Connection Required
Helpful customer reviews
Title:
Space Farmers
Genre:
Action
,
Indie
Developer:
BumpkinBrothers
Publisher:
KISS ltd
Release Date:
Apr 17, 2014
Languages:
| | Interface | Full audio | Subtitles |
| --- | --- | --- | --- |
| English | | | |