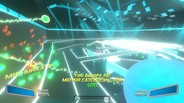 A ridiculously fun dodgeball FPS with free online multiplayer. Race around a dance club in jet-powered robots, launch yourself off skate park ramps and nail each other with explosive dodgeball trick shots.
Çıkış Tarihi: 28 Mar 2014
Fragmanları seyret (2 fragman)
Erken Erişilebilen Oyun
Anında erişim sağlayın ve oynamaya başlayın; oyun gelişirken siz de içinde olun.
Note: This Early Access game may or may not change significantly over the course of development. If you are not excited to play this game in its current state, then you may want to wait until the game progresses further in development. Learn more
Geliştiriciler ne diyor:
Neden Erken Erişim?
"Disco Dodgeball has been under constant development since July 2013 with new features, polish, and content added on a regular basis. It is playable and fun in its current state, and needs a few more months of development time to add some of the items listed below. In the meantime, your support and trust is extremely appreciated and I will continue to implement feedback and communicate often as I work to prepare the game for its official release."
How long will this game be in Early Access?
"My projected release date is late 2014. It is possible this could change based on decisions I make regarding investments into art and audio assets. However I am planning on keeping big, risky, non-essential features as post-launch additions so as not to add too much risk to the timeline."
How is the full version planned to differ from the Early Access version?
"Before I release Disco Dodgeball, I will be working on the following elements:
Additional content such as arenas, game modes, and customization options

Singleplayer challenge modes with leaderboards

Greater visual polish on all arenas and user interface elements, and lighting effects

Many other small but meaningful gameplay and usablity improvements (help text, visual feedback, server options)
I am considering other features, but most likely they will be added post-launch, if at all. Again, I can not promise any of these will actually make it into the game but I'd like to share the larger vision for the game:
Steam Workshop support for uploading and sharing custom bot components

Loot drop and crafting system

Level editor

Clan and tournament support

Local split-screen multiplayer

VR support

Steam Music integration
"
What is the current state of the Early Access version?
"Disco Dodgeball currently has:
Online multiplayer PvP (12 per room) and Co-Op (4 per room)

Zero-effort server hosting on Free 3rd party servers

LAN configuration options

Eight dance club combat arenas

Six different main game modes (each available in Team or FFA versions)

Solo and Co-Op survival / score attack mode

Training Mode

Powerups like jetpacks, homing dodgeballs, and monster truck tires

Game configuration options like max number of players, bot difficulty, private / public, score and time limits

Easy, Medium, and Hard AI Bots

60 Achievements and stat tracking of every skill shot

An electronic music soundtrack consisting of 11 songs

Voiceover announcer

Controller support
"
Will the game be priced differently during and after Early Access?
"The game is being sold at a discount relative to its official launch price (currently $10, is planned on being sold at $15)."
How are you planning on involving the Community in your development process?
"I have constantly communicated with players during the game's development, and will continue to do so. I respond to all feedback on the community page, and also run a subreddit at
http://www.reddit.com/r/discododgeball/
where I post news and respond to suggestions."
Daha fazlasını oku
Disco Dodgeball Satın Alın
Disco Dodgeball Four Pack Satın Alın
Oyunun dört adet kopyasını içerir - Fazla kopyaları arkadaşlarınıza gönderin.
13 Ağustos
I'm extremely excited to announce that Update .31 has now been released! It's called the POWER-UP UPDATE for two good reasons:


Power Ups
- There are now seven different power-ups you can collect around the arena: Jetpacks, Huge Dodgeballs, Laser Dodgeballs (that fly fast in a straight line and bounce 3 times), Homing Dodgeballs, Spring Jump, Super Boost, and Monster Truck Tire (which gives you extreme traction for dodging). I made sure these are all a ton of fun to use while maintaining the balance of the game. They can of course be disabled if you wish.
New Sound FX
- All new sound effects from the best in the business,
Power-Up Audio!
They've worked on Crypt of the Necrodancer, Towerfall, Darkest Dungeon, and a ton more awesome games. I think they add an incredible sense of physicality to the movement and combat and I think you'll really enjoy the upgrade.
Also made some minor but important fixes / changes:
The bot spawn shield looks much cooler

The Match Settings panel has been reconfigured in a way that will allow me to easily add new customization options in the future

Hoops Assist and Mid-Air KO stats now tracking properly

Fixed bug where players couldn't move after remapping controls

Fixed Anti-Air achievement not working (where you catch a helicopter-thrown shot)

Fixed 'GO!' message showing up too early
Thanks as always for playing and hope you enjoy this update!
3 yorum
Daha fazlasını oku
3 Ağustos
You can now download .302 on the main branch. The big change is I lightmapped the arenas so that a lot of shadows don't have to be calculated in real-time, so the arenas will look better and run smoother.

Other fixes are:


Fixed player level not appearing on scoreboard

Spawn shield now begins decaying once you leave spawn, not at the moment you are spawned

Can no longer collect balls while in spawn

Fixed FPS drop when jumping / sprinting

Fixed Equalizer LEDs sometimes showing wrong color

Fixed some LED textures (like ramps in Core) from not colorizing

Prevented some score cheats
3 yorum
Daha fazlasını oku
Oyun Açıklaması
Race around a neon-lit dance club in jet-powered robots, launch yourself off skate park ramps and nail each other with exploding dodgeballs.
Disco Dodgeball is part racing game, part arena shooter, part vibrant multiplayer futuresport - all combined into a stupidly crazy fun audiovisual spectacle of physics-based projectile warfare.
Current Features
6v6 Online multiplayer as well as LAN support and offline singleplayer

Diabolical Bot AI so you can always find a match

Eight different dance club combat arenas that pulse to the beat of an amazing electronic music soundtrack

Nine different game modes with a wide range of challenges and objectives that will test your skills and teamwork (see below)

Tons of different skill shots including mid-air catches, 360 helicopters, and ricochets

Ridiculous powerups like Jetpacks, Huge Dodgeballs, Laser balls, and homing dodgeballs

60 Achievements to unlock

High Score leaderboards

Level up to unlock new shades and moustaches for your robot

Power Slide around corners to escape incoming fire

Assist system that rewards you for setting up alley-oops KOs and goal scores

Monster truck announcer to hype up your killstreaks

Gamepad support

Spectator mode
Game Modes
Disco Dodgeball currently has 9 different game modes - each requiring dramatically different skills and tactics.
DEATHMATCH (FFA/Team) - Battle other bots in a race to get the most KOs.

SCORE BATTLE (FFA/Team) - Try to nail the most ridiculous trick shots on each other as you race to get a target score. Launch yourself high up off one of the many skate park ramps and land a high-difficulty (but high-point value) skill shot.

ELIMINATION (FFA/Team) - Just like classic Dodgeball rules - get hit once and you're out for the round! You can also catch a ball to resurrect a teammate. Matches are very tense and tactical.

SUPER BALL (FFA/Team) - Grab the Super Ball and hang onto it for points. All your enemies will be aiming for you, but if you have an open teammate you can pass it to them and keep racking up the score. It's incredibly dramatic when the timer is ticking down and you have one last shot on the Super Ball carrier to save the game for your team.

HOOPS (FFA/Team) - Grab the Super Ball and smash it through the enemy goal ring to score a point. Use teamwork to pass the ball around and dominate your opponents.

DEMOLITION DERBY (FFA/Team) - Race around checkpoints while dodging projectiles thrown by your enemy racers. Will require lots of power-sliding to keep your momentum high as you plot the best course through the dance club. Other teammates should focus on blocking the enemy team's race leader.

CAPTURE THE CUBE (Team) - Grab the enemy power cube and bring it back to your base. Use strategic teamwork to toss the cube across the arena for a quick score. Protect your teammates as they carry the cube, and save the day by nailing the enemy cube carrier and returning it safely to your base.

HORDE (Solo/Co-Op) - See how high of a score you and your friends can rack up against endless AI bots in a single life. Featuring arena-specific leaderboards that allow you to compare scores with your friends.

TRAINING (Solo) - Become invincible and practice your trick shots against enemy bots!
Planned
Before the game is officially released, I am planning on these remaining features:
10 Total arenas

10 Total game modes

Additional polish on existing arenas and UI

More bot customization items

Trading Cards

Additional achievements and unlockables
Possible
I can not promise to include any of these, but I view these as important and will try my best to add them (possibly post-launch):
Steam Workshop Support

Level Editor

Replay System

Split-Screen local multiplayer

Loot Drop / Crafting System

Steam Music Integration

VR Support

Clan and Tournament support
PC Sistem Gereksinimleri
Minimum:


OS: Windows XP

Memory: 2 GB RAM

Hard Drive: 200 MB available space
Recommended:


OS: Windows XP, Win 7, Win 8

Memory: 4 GB RAM

Network: Broadband Internet connection

Hard Drive: 200 MB available space
Mac Sistem Gereksinimleri
Minimum:


OS: 10.6.8 Snow Leopard

Memory: 2 GB RAM

Hard Drive: 200 MB available space
Recommended:


OS: 10.9 Mavericks

Memory: 4 GB RAM

Network: Broadband Internet connection

Hard Drive: 200 MB available space
Linux Sistem Gereksinimleri
Minimum:


OS: 64-bit or 32-bit Ubuntu Linux

Memory: 2 GB RAM

Hard Drive: 200 MB available space
Recommended:


OS: 64-bit or 32-bit Ubuntu Linux

Memory: 4 GB RAM

Network: Broadband Internet connection

Hard Drive: 200 MB available space
Yararlı müşteri incelemeleri
Başlık:
Robot Roller-Derby Disco Dodgeball
Tür:
Aksiyon
,
Bağımsız Yapımcı
,
Spor
,
Erken Erişim
Geliştirici:
Erik Asmussen
Yayımcı:
82 Apps
Çıkış Tarihi:
28 Mar 2014
Diller:
| | Arayüz | Seslendirme | Altyazı |
| --- | --- | --- | --- |
| İngilizce | | | |