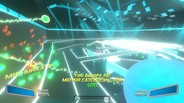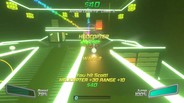 The multiplayer dodgeball FPS you've always wanted! Race around a skate park / dance club in jet-powered robots and nail each other with exploding dodgeballs.
發售日: 2014年3月28日
觀看所有 3 預告片
搶先體驗遊戲
立即搶先體驗並開始遊玩;並且一同協助參與開發。
註:這款搶先體驗遊戲可能會隨著開發進度而有重大改變。若目前的遊戲開發情況沒有讓您對該遊戲有興趣,建議您等待本遊戲進一步的開發。了解更多
開發人員的訊息:
為何要使用搶先體驗這種模式?
"Disco Dodgeball has been under constant development since July 2013 with new features, polish, and content added on a regular basis. It is playable and fun in its current state, and needs a few more months of development time to add some of the items listed below. In the meantime, your support and trust is extremely appreciated and I will continue to implement feedback and communicate often as I work to prepare the game for its official release."
這個遊戲的搶先體驗期間將持續多久?
"My projected release date is late 2014. It is possible this could change based on decisions I make regarding investments into art and audio assets. However I am planning on keeping big, risky, non-essential features as post-launch additions so as not to add too much risk to the timeline."
How is the full version planned to differ from the Early Access version?
"Disco Dodgeball will be considered 'ready for release' when this list is complete:
At least 10 different arenas (currently has 8)

At least 10 game modes (currently has 8)

Add additional visual polish to all arenas

More skill shots, leaderboards and achievements

Finalized user interface and HUD

Additional AI and networking improvements

More visual quality configuration options and optimization

Additional voiceover elements

Many other small but meaningful gameplay and usablity improvements (help text, menu organization, more stats, more visual feedback, more server options, team autobalancing, minor bug fixes, etc.)
I am considering other features, but most likely they will be added post-launch, if at all. Again, I can not promise any of these will actually make it into the game but I'd like to share the larger vision for the game:
Steam Workshop support for uploading and sharing custom bot components

Loot drop and crafting system

Level editor

Clan and tournament support

Local split-screen multiplayer

VR support

Steam Music integration
"
目前的搶先體驗版本發展情況如何?
"Disco Dodgeball currently has:
Online multiplayer PvP (12 per room) and Co-Op (4 per room)

Zero-effort server hosting on Free 3rd party servers

LAN configuration options

Eight dance club combat arenas

Six different main game modes (each available in Team or FFA versions)

Solo and Co-Op survival / score attack mode

Training Mode

Game configuration options like max number of players, bot difficulty, private / public, score and time limits

Easy, Medium, and Hard AI Bots

40 Achievements and stat tracking of every skill shot

An electronic music soundtrack consisting of 8 songs

Voiceover announcer

Controller support
"
遊戲售價在搶先體驗期間前後會有所變動嗎?
"The game is being sold at a discount relative to its official launch price (currently $10, will be sold at $15)."
在開發遊戲時,您打算如何與社群互動?
"I have constantly communicated with players during the game's development, and will continue to do so. I respond to all feedback on the community page, and also run a subreddit at
http://www.reddit.com/r/discododgeball/
where I post news and respond to suggestions."
繼續閱讀
2014年7月25日
Here it is! It's three huge updates in one:

https://www.youtube.com/watch?v=GGGEV5Z-HsQ

- Rebuilt Cage arena
- Revamped lighting system
- Big optimization improvements

- And three new bonus music tracks from Kraedt!

Enjoy : )
4 則回應
繼續閱讀
2014年7月2日
I was actually planning on making this a larger update, but I realized there were some potentially annoying bugs in .28 that I had to fix so it's a bit earlier and less feature-rich than planned.

The big change is I updated the Ring arena - and renamed it to Radius (because that sounds more like a name a dance club would have). A preview video is below.

Any time I updated an arena layout, I need to make it a 'major' update meaning it's not compatible with previous versions. So for a few days you may not see as many people visible until everyone updates.
Also in this update:


Fixed 'Charge to 100%' tutorial message never disappearing

Fixed capture point particles not running on level load

Spawn protection shield now lasts longer for lower-level players

Improved volumetric light appearance

Added new programmable laser lights for coordinating light displays (you can see in Radius that the laser lights move in specific patterns, turn on & off in a coordinated manner). I'll be making many more updates to the lighting systems in each of the levels later on.
https://www.youtube.com/watch?v=yiFBqtFmHxk
1 則回應
繼續閱讀
關於此遊戲
Race around a neon-lit dance club in jet-powered robots, launch yourself off skate park ramps and nail each other with exploding dodgeballs.
Disco Dodgeball is part racing game, part arena shooter, part vibrant multiplayer futuresport - all combined into a fresh, frenzied, and incredibly fun audiovisual spectacle of physics-based projectile warfare.
Current Features
6v6 Online multiplayer as well as LAN support and offline singleplayer

Diabolical Bot AI so you can always find a match

Eight different dance club combat arenas that pulse to the beat of an amazing electronic music soundtrack

Nine different game modes with a wide range of challenges and objectives that will test your skills and teamwork (see below)

Tons of different skill shots including mid-air catches, 360 helicopters, and ricochets

60 Achievements to unlock and leaderboards to challenge your friends

Level up to unlock new shades and moustaches for your robot

Power Slide around corners to give yourself a life-saving speed boost

Assist system that rewards you for setting up alley-oops KOs and goal scores

Monster truck announcer to hype up your killstreaks

Gamepad support

Spectator mode
Game Modes
Disco Dodgeball currently has 9 different game modes - each requiring dramatically different skills and tactics.
DEATHMATCH (FFA/Team) - Battle other bots in a race to get the most KOs.

SCORE BATTLE (FFA/Team) - Try to nail the most ridiculous trick shots on each other as you race to get a target score. Launch yourself high up off one of the many skate park ramps and land a high-difficulty (but high-point value) skill shot.

ELIMINATION (FFA/Team) - Just like classic Dodgeball rules - get hit once and you're out for the round! You can also catch a ball to resurrect a teammate. Matches are very tense and tactical.

SUPER BALL (FFA/Team) - Grab the Super Ball and hang onto it for points. All your enemies will be aiming for you, but if you have an open teammate you can pass it to them and keep racking up the score. It's incredibly dramatic when the timer is ticking down and you have one last shot on the Super Ball carrier to save the game for your team.

HOOPS (FFA/Team) - Grab the Super Ball and smash it through the enemy goal ring to score a point. Use teamwork to pass the ball around and dominate your opponents.

DEMOLITION DERBY (FFA/Team) - Race around checkpoints while dodging projectiles thrown by your enemy racers. Will require lots of power-sliding to keep your momentum high as you plot the best course through the dance club. Other teammates should focus on blocking the enemy team's race leader.

CAPTURE THE CUBE (Team) - Grab the enemy power cube and bring it back to your base. Use strategic teamwork to toss the cube across the arena for a quick score. Protect your teammates as they carry the cube, and save the day by nailing the enemy cube carrier and returning it safely to your base.

HORDE (Solo/Co-Op) - See how high of a score you and your friends can rack up against endless AI bots in a single life. Featuring arena-specific leaderboards that allow you to compare scores with your friends.

TRAINING (Solo) - Become invincible and practice your trick shots against enemy bots!
Planned
Before the game is officially released, I am planning on these remaining features:
10 Total arenas

10 Total game modes

Additional polish on existing arenas and UI

More bot customization items

Trading Cards

Additional achievements and unlockables
Possible
I can not promise to include any of these, but I view these as important and will try my best to add them (possibly post-launch):
Steam Workshop Support

Level Editor

Replay System

Split-Screen local multiplayer

Loot Drop / Crafting System

Steam Music Integration

VR Support

Clan and Tournament support
系統需求 (PC)
Minimum:


OS: Windows XP

Memory: 2 GB RAM

Hard Drive: 200 MB available space
Recommended:


OS: Windows XP, Win 7, Win 8

Memory: 4 GB RAM

Network: Broadband Internet connection

Hard Drive: 200 MB available space
系統需求 (MAC)
Minimum:


OS: 10.6.8 Snow Leopard

Memory: 2 GB RAM

Hard Drive: 200 MB available space
Recommended:


OS: 10.9 Mavericks

Memory: 4 GB RAM

Network: Broadband Internet connection

Hard Drive: 200 MB available space
Linux 系統需求
Minimum:


OS: 64-bit or 32-bit Ubuntu Linux

Memory: 2 GB RAM

Hard Drive: 200 MB available space
Recommended:


OS: 64-bit or 32-bit Ubuntu Linux

Memory: 4 GB RAM

Network: Broadband Internet connection

Hard Drive: 200 MB available space
具參考價值的客戶評論