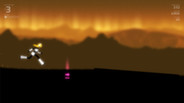 Run, jump and slide to the rhythm of your own music library! In Melody's Escape, advanced audio detection algorithms transcribe the energy that you feel when listening to music into a synchronized gameplay experience, with a captivating and dynamic obstacle course.
Release Date: Feb 26, 2014
Watch HD video
Early Access Game
Get instant access and start playing; get involved with this game as it develops.
Note: This Early Access game may or may not change significantly over the course of development. If you are not excited to play this game in its current state, then you may want to wait until the game progresses further in development. Learn more
What the developers have to say:
"Melody's Escape is almost feature-complete and is in a very stable state.
During this Early Access period I will focus on polishing the gameplay and aesthetics, and with the help of the community's feedback I will add more features to the game.
The game will also be ported to Mac and Linux, and will get more skins, hair styles and color palettes, as well as a Workshop integration to share your own custom content with the world!

Please note that there is no bundled music yet, so you will need digital music files on your disk to play the game.

Your feedback is very important and welcomed! :) - Loïc " Read more
July 20th, 2014
New "Playlist Mode"
Added "Playlist Mode", to play multiple songs in a row (albums, folders, playlists, favorite/recent files, etc.). When you have multiple songs displayed in the Music Selection menu, simply select "play all files" ("P" hotkey on keyboard and "X" button on controllers)
If you want more controls over the played tracks and their order, you can use your favorite music player to create a .M3U playlist and then access that playlist from the Music Selection menu.

Added an option in the Pause menu to skip to the next song in the list.

"Autoplay" songs in Playlist Mode now start automatically after loading, allowing you to select multiple songs and have them all play without any required input (great for playing music in the background and enjoying the game as a visualizer!)

"Autoplay" songs don't show the end stats screen anymore.

Added support for multiple files drag'n'drop (to be played in Playlist Mode).

In Playlist Mode, files that cannot be played due to an error (file format, deleted file, etc.) will be automatically skipped instead of showing the error screen.
Difficulty Changes
Complete overhaul of the Overload difficulty. I wanted to have a much bigger density of orbs in Overload and I wasn't happy with the artificial difficulty of simply requiring difficult inputs constantly for solid obstacles.
Now the Overload tracks will have twice as much orbs and less solid obstacles (especially noticeable in "Tempo" sync mode), and require Direction/Color Tandem inputs instead of "Mix" (The Direction/Color Mix is still available in the Custom difficulty settings for those looking for an extra challenge).
Please let me know what you think about this new Overload mode in this discussion thread!

The input window in Intense mode is now a bit wider.

The orb density in Energy Peak mode for Medium Difficulty is now lower

Slightly increased the speed of flying sections again

The setting "Double Low Tempos" now only affect tempo values below 91 BPM instead of 101 BPM.

Added an option (in the "General" menu) to disable the usage of a distinct "Direction" purple color for solid obstacles in Intense mode (a cosmetic change only, you still need to use the correct arrow input).
Other changes
Removed the "tempo confidence" percentage from the Track Loading Screen, as it was too confusing and not linear; a lot of players assumed that 50% meant that only half of the song would be on sync when instead it would mean a near perfect sync.

You can now press the "backspace" key (or "back" gamepad button) during a track and at the end stats screen to replay the song.
12 comments
Read more
May 7th, 2014
- Obstacle timing accuracy ("perfect", "good" and "ok") is no longer displayed on the left part of the HUD, but is now shown in the form of floating texts next to Melody, to make it possible to pay attention to the timing accuracy without being distracted. By default it only shows "errors" (failures), but you can configure it in the "General Options" to show each obstacle's timing accuracy.
- The background lights are now more accurately synced to the frequency spectrum of the music
- The ribbon trail behind Melody (on long obstacles) is now smoother and with a new texture, and it starts a bit sooner when sliding on obstacles
- The transition animation from "walking" to "flying" is now smoother
- Added an option to toggle FPS, in the "Performances" options menu
- Slightly increased the scrolling speed of the background in flying sections, as well as the fog's brightness
- On keyboard, screens waiting for "any key" input to continue now only look for gameplay-bound keys presses, "Enter" or "Space", allowing to take screenshots if you've bound the Steam screenshot key to something other than the Function keys
- Switching from keyboard input to gamepad input during a track will now work when pressing the d-pad or using the thumbsticks (it only worked with the color buttons before)
- Pressing buttons during the intro walk will not trigger failures anymore
8 comments
Read more
Key Features
Use your own music library: The gameplay of Melody's Escape is completely powered by your music of choice (MP3, OGG, WMA, FLAC, iTunes® (AAC)* and more!)

Works with all music genres and styles: Whether you're a big fan of EDM, K-Pop, alternative, acoustic sessions or classical music, the game will always adapt to the song's energy and rhythm to provide you with a dynamic experience, and will keep you engaged even when your music is calm.

Each action is synced to your music: Every required input is synchronized to your music, allowing you to completely immerse and focus on the experience!

Very accurate and fast music analysis: Melody's Escape features extremely accurate beat-matching algorithms and is optimized to analyse a song in its entirety within a few seconds.

Slide on vocals and long notes: There is a strong focus on long vocals and held notes in the game, giving you the opportunity to slide alongside them, intensifying the experience of the most powerful parts of your music.

Mod support: Customize the appearance of the game to your liking with custom skins, dynamic hair-styles and color palettes!
* iTunes® (AAC) support requires Windows 7 or above
About the Game
Run, jump and slide to the rhythm of your own music library!

In Melody's Escape, advanced audio detection algorithms transcribe the energy that you feel when listening to music into a synchronized gameplay experience, with a captivating and dynamic obstacle course. The game will adapt in real-time to the intensity of your music and change the movement mode accordingly, from walking during very calm parts up to all-out flying when your music explodes!

Your goal is the help Melody avoid obstacles and collect floating light orbs, all of which are synced to the beats of your music of choice thanks to very accurate beat detection. With the 3 available difficulty modes, you can choose whether to have a relaxing experience or a very intense one.
System Requirements
Minimum:


OS: Windows® XP, Vista, 7, 8

Processor: 1.8Ghz Intel® Core 2 Duo or equivalent

Memory: 1 GB RAM

Graphics: Intel® HD3000. DirectX 9.0c compatible with shader Model 2.0 support

DirectX: Version 9.0c

Hard Drive: 200 MB available space

Sound Card: DirectX 9.0c compatible sound cards

Additional Notes: No bundled music, you need digital music files on your disk to play
Recommended:


OS: Windows® 7 or 8 for iTunes® music support

Processor: 2.66Ghz Intel® Core 2 Duo or equivalent

Memory: 2 GB RAM

Graphics: NVIDIA® GeForce 8800GTS or ATI® Radeon HD 4830 or better

DirectX: Version 9.0c

Hard Drive: 1 GB available space

Sound Card: DirectX 9.0c compatible sound cards

Additional Notes: Supports XInput compatible controllers
Helpful customer reviews
Title:
Melody's Escape
Genre:
Early Access
,
Indie
Developer:
Icetesy SPRL
Publisher:
Icetesy SPRL
Release Date:
Feb 26, 2014
Languages:
| | Interface | Full audio | Subtitles |
| --- | --- | --- | --- |
| English | | | |