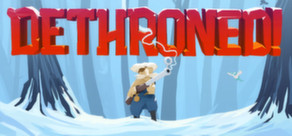 Dethroned! has MOBA elements mixed with RTS and tower defense genres. The player controls a hero character, builds defenses, trains troops and engages the opponent in quick intense matches. Between matches the player acquires and equips new items (for heroes) and builds combinations of them.
Date de parution: 28 fév 2014
Visionner la vidéo HD
Jeu avec accès anticipé
Commencez à jouer dès à présent et impliquez-vous pendant son développement.
Remarque : Ce jeu en Accès anticipé peut changer ou ne pas changer de façon significative au cours du développement. Si vous n'êtes pas enthousiasmé de jouer à ce jeu dans son état actuel, vous devriez peut-être attendre que le jeu se développe d'avantage. En savoir plus
Ce que les développeurs ont à dire :
"Dethroned! is still under development and somewhat rough around the edges here and there. However, we continue to improve the game on a regular basis with new features, content updates and bug fixes. You can help us! Play the game and tell us what you think! We will be making frequent balance and gameplay updates based on community feedback and suggestions.

Currently we have the core gameplay with a variety of heroes done. Other big features coming next (not necessarily in this order) are new heroes, new maps, a lightweight quest system and cosmetic add-ons for heroes (think hats!). In addition we will be polishing the game itself, creating new items and generally balancing things for a better game experience.

You can play Dethroned! right away for free. We also offer a special Early Access pack for a limited time that unlocks all current heroes plus all the paid future content, including all the heroes that we will ever add!" Lire la suite
Contenu téléchargeable disponible pour ce jeu
24 juin
Despite our best efforts we couldn't secure financing for continuing the development of Dethroned!

Because of this we're in the process of removing the Supporter Pack DLC from the store. In addition all the payment options in the game itself will be made non-functional during the next few days.

We thank the community for the great support Dethroned! got during it's run on Steam, especially everyone who gave to the development as customers, players and commentators.

Servers running the game will be kept up until money runs out.

Q&A

Q: Will there be any more updates, like heroes, to the game?
A: No, unless we get funding for that.

Q: How long will the servers be up?
A: Unknown, several weeks is an educated guess.

Q: What happens when the servers go down?
A: Bearded server guy is working on a dedicated server software so those who want can run the server themselves. Release date for this is unknown.

Q: Will there be an option to host a game inside the Dethroned! client itself?
A: Probably no, this would be a much larger undertaking than making a dedicated server software.

Q: Will the game be open sourced if there's no funding for it?
A: Probably not, for a variety of reasons (like the usage of third-party toolkits).

Q: Is there an upside?
A: Well, if you want to be the best ever player of Dethroned! like, forever, now is your definite chance!

22 commentaires
Lire la suite
4 avril
Patch 1.0.10 is live! Here's what's in it:

- NEW HERO: ALCHEMIST is now available to DLC owners! The alchemist is a hero that combines three ingredients to make potions, then throws them at the ground for friends or foes to pick up. Although alchemists' base damage is low, they have a lot of room for creative play by using all the potion combinations wisely!

- Matchmaking is back to 1v1! Having team games as the default mode didn't produce desired results so we're rolling back! The matchmaker should still make better matchups than the old 1v1 matchmaking. Team games are still of course available in custom games.

- Speed potion has been significantly buffed.

- Fixed some issues with joining games that lead to game getting stuck in loading screen.
5 commentaires
Lire la suite
À propos du jeu
Dethroned!
A strat 'em up multiplayer game with celestial fairytale combat!
Dethroned!
is an action RTS where you command a hero, gather a scruffy band of soldiers, construct defences and attack your opponent with unstoppable force! Choose a side, select a hero and head into the battle!
Features include, but are not limited to
Online multiplayer fights!

Single player mode!

Action, haste and intensity up to the gills!

Fierce player vs player stand-offs!

Future-retro low poly look!

Meat and potatoes side characters!

Deep and glorious hero characters!

Vicious helper duck!

A stupendous game of heart and spirit!
Dethroned!
is now in Early Access and bit rough on the edges. Some things are missing or not yet in their finished form.
To do
Polishing everything (terrain, characters, illustrations)

New heroes and items

More locations for fighting

And of course bug fixes
Configuration requise (PC)
Minimum:


OS: Windows XP SP3, Windows Vista, Windows 7, Windows 8

Processor: Intel Core 2 Duo or AMD equivalent or better

Memory: 2 GB RAM

Graphics: ATI Radeon HD 4350 / NVIDIA GeForce 6800 / Intel HD 3000 or better

DirectX: Version 9.0c

Network: Broadband Internet connection

Hard Drive: 300 MB available space

Sound Card: DirectX compatible sound card
Configuration requise (MAC)
Minimum:


OS: OS X Snow Leopard 10.6.3 or later

Processor: Intel

Memory: 2 GB RAM

Graphics: OpenGL 2.0 compatible video card with 512MB RAM (ATI Radeon X1600 or nVidia equivalent)

Network: Broadband Internet connection

Hard Drive: 300 MB available space
Évaluations intéressantes des utilisateurs
Titre:
Dethroned!
Genre:
Action
,
Accès anticipé
,
Gratuit
,
Stratégie
Développeur:
Treehouse Ltd
Éditeur:
Treehouse Ltd
Date de parution:
28 fév 2014
Langues:
| | Interface | Son | Sous-titres |
| --- | --- | --- | --- |
| Anglais | | | |