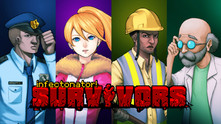 "Infectonator : Survivors" is a Randomized Permadeath Survival Simulator that combines RTS, Tower Defense, Roguelike, and Management-Simulation gameplay. The goal is to lead a group of survivors in a struggle to stay alive and find rescue in a zombie apocalyptic world.
Release Date: Apr 14, 2014
Watch HD video
Early Access Game
Get instant access and start playing; get involved with this game as it develops.
Note: This Early Access game may or may not change significantly over the course of development. If you are not excited to play this game in its current state, then you may want to wait until the game progresses further in development. Learn more
What the developers have to say:
"Infectonator : Survivors is currently in Alpha, which means we haven't finish it yet. What you see now is only a portion of what the full game will be. By buying Early Access you are giving your support for the team to continue developing the game and to make it MORE AWESOM-ER! On top of that, you'll receive a new build of Survivors every month and get to play it before anyone else. You can even pitch in ideas and help us shape the game better. As early adopters we will also reward you with The Art of Infectonator digital art book (like the game, these aren't ready yet, but you'll be the first to get access when they are launched).

Currently the game includes:
* Single player mode with randomly generated goodness
* More than 20 unique survivors, including special cameo appearances
* Huge range of weapons and items
* Random game events

Our to do list includes:
* More characters
* More weapons, turrets, items & gears
* Research & Crafting system
* Build & Customize HQ
* Oregon Trail-esque traveling system with a twist

On the game's price - we are keeping this price until the end of early access, when the full game is released. The price will not go down until then, and in fact, will probably only go up once all the new features are included and we're in final release." Read more
July 18th, 2014
Today I receive a DEVASTATING news, our game has been STOLEN, ILLEGALLY COPIED and PIRATED in the iOS App Store! I'm not sure how many more mobile app stores that have the pirated copy. THIS IS THE IOS PIRATED COPY

**UPDATE - 20 July 2014**
As I'm writing this Apple has not yet replied our emails and has not yet taken down the stolen copy. Also, things has gotten worse, the same thief has uploaded our game to Google Play store as well. HERE IS THE ANDROID STOLEN COPY
Also, this thief has been stealing games from other indie developers as well. Toge Productions is not the only victim. Please DO NOT BUY these stolen games!




We have been working on this game for almost 2 years now, and some douchebag just come and steal our work. Fucking Hell NO!

I have submitted a report to the AppStore and ask them to take down the illegal app. Even so, we still need your help. Please help us fight this! To be honest, I don't know what to tell you, all I know is that we need your support. Please don't buy the pirated copy! We are a small group of indie game developers, we don't have much money and the game's early access sales barely sustains the team & game's development.

The Link is : https://itunes.apple.com/id/app/survivors!/id898160412?mt=8
please help us report this app by going to :
http://www.apple.com/legal/internet-services/itunes/appstorenotices/

you can write whatever you want there, but this is an example of mine :
"First of all this is a ripped off game, the original one is a steam game, and the creators, which are Toge Productions, never release this game on the AppStore, please delete this game from the App Store and ban the Developer

Second, the game does not fully work, you can't even progress to the next level or press anything on the in-game menu, this completely ruining the original game's reputation, and why does it even passed through the Apple's App Review?"

Please, help us spread the word about this, post to your Facebook & Twitter, tell your friends, families, neighbors, Hell even people that you meet on the street too!

I can't tell you how angry, depressed, and frustrated I am. I'm trying so hard not to cry as I'm writing this.

Please help us fight this!
69 comments
Read more
July 7th, 2014
Hi guys!
I'm a little bit bummed this week. I've been trying to add dynamic light & shadows for the past 2 weeks, it was going pretty well until I hit a few snags that I don't know how to solve. So, I decided to put dynamic light & shadows aside for now, I'll give it another try in the future.




Enough sad stuff! Now on the cool new stuff!
UPDATES

Touch Controls - For those of you who are using tablets and touch screens and prefer to play with your fingers, you can now re-activate Touch Controls through the options screen.

Screen Res - For those of you who are using monitors with weird resolutions. I've added screen resolution options in the options screen, hopefully you can find a setting that can fit your monitor better.

Explore Mission Layout - Explore missions now have random generated rooms and layouts. Will populate the rooms with more objects in the future.

HQ & Camps - Now every building have a unique camp site. These camp sites are not very interesting atm because they are mostly empty, but in the future I'll add cool stuff and surprises.

MAC & Linux - Mac OS & Linux versions are now available.
Wish list on next update
FreddieW & Pwnisher characters will be added in the next update. More gears, weapons, teams, and stuff.
I'll see you again in 2 weeks with more updates!
Suggestions & Feedbacks
If you have suggestions and/or feedback on the game, please post on Infectonator : Survivors'
Steam Discussions Forum
. You can also make a shout out on Toge Productions'
Facebook
or
Twitter
0 comments
Read more
Steam Greenlight
About the Game
"Infectonator : Survivors" is a Randomized Permadeath Survival Simulator that combines RTS, Tower Defense, Roguelike, and Management-Simulation gameplay. The goal is to lead a group of survivors in a struggle to stay alive and find rescue in a zombie apocalyptic world. You must scavenge resources, build defenses, and find a way to survive in a game where death is permanent and levels are randomly generated.

Key Features
• Awesome pixel art graphics.
• Randomly generated cities every time you play.
• Permanent Death. Each survivor matters, every decision counts.
• Addictive TD gameplay combined with action packed real time strategy elements.
• Deep and engaging management simulation gameplay.
PC System Requirements
Minimum:


OS: Windows XP

Processor: 2.33 GHz or faster processor

Memory: 512 MB RAM

Graphics: Any GPU that support Pixel Shader version 2.x or above

Hard Drive: 100 MB available space

Sound Card: Any
Recommended:


OS: Windows XP or higher

Processor: 2.33 GHz or faster processor

Memory: 1 GB RAM

Graphics: Any GPU that support Pixel Shader version 2.x or above

Hard Drive: 100 MB available space

Sound Card: Any
Mac System Requirements
Minimum:


OS: Mac OS X v10.6

Processor: Intel Core™ Duo or faster processor

Memory: 512 MB RAM

Graphics: Any GPU that support Pixel Shader version 2.x or above

Hard Drive: 100 MB available space

Sound Card: Any
Recommended:


OS: Mac OS X v10.6 or higher

Processor: Intel Core™ Duo or faster processor

Memory: 1 GB RAM

Graphics: Any GPU that support Pixel Shader version 2.x or above

Hard Drive: 100 MB available space

Sound Card: Any
Linux System Requirements
Minimum:


OS: Ubuntu 10.10, Fedora 12 and OpenSUSE 11

Processor: 2.33 GHz or faster processor

Memory: 512 MB RAM

Graphics: Any GPU that support Pixel Shader version 2.x or above

Hard Drive: 100 MB available space

Sound Card: Any
Recommended:


OS: Ubuntu 10.10, Fedora 12 and OpenSUSE 11

Processor: 2.33 GHz or faster processor

Memory: 1 GB RAM

Graphics: Any GPU that support Pixel Shader version 2.x or above

Hard Drive: 100 MB available space

Sound Card: Any
Helpful customer reviews
Title:
Infectonator : Survivors
Genre:
Action
,
Adventure
,
Indie
,
RPG
,
Simulation
,
Strategy
,
Early Access
Developer:
Toge Productions
Publisher:
Toge Productions
Release Date:
Apr 14, 2014
Languages:
| | Interface | Full audio | Subtitles |
| --- | --- | --- | --- |
| English | | | |
Awards
Indie Prize Asia 2014
- Best Desktop Game