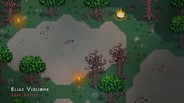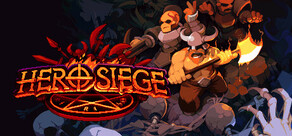 Early Access Multiplayer & Karp of Doom DLC coming out on the 18th of July! (EA Multiplayer only available in the DLC) Hero Siege is one of the most loved indie hack n slash games with roguelike elements! Join the fun now!!
Data lansării: 18 Dec 2013
Vizionează video HD
Conţinut suplimentar pentru acest joc
21 iulie 2014
So we managed to narrow down the problem.

We use "GameMaker:Studio" program for creating Hero Siege and we investigated this so it seems that the steam API is broken for the MAC OSX export.

I have contacted YoYoGames about this already a long time ago and they told me they would fix it (Same problem as the achievements and steam overlay). I havent seen any fix regarding it, so I did a new bug report to them regarding this same issue which now affects the DLC.

Since we use their built in functions to check if the DLC is bought and then set an ingame variable to 1 or 0 depending if its purchased it means none of the functions are working because its broken.

I will keep you guys informed and spam yoyogames as much as possible to get this sorted out. I'm extremely sorry for all you who have to suffer over this, and very dissapointed to YoYoGames for not fixing their problems even tho they told me they were gonna fix it.

Hope you are all having a good day,

Panic.
7 comentarii
Află mai multe
18 iulie 2014
Hey,

So there are people who cant get the DLC recognized. This is not something we have any power to fix as steam is not our platform, we cannot really touch the source code and see what is wrong heh. We just add content as developers.

If re-installing doesnt fix it, then please contact steam support about it as they can fix it.

I have this same problem with Indie Game the Movie so i know its not just Hero Siege experiencing this problem in steam.

Thanks for your patience.
33 comentarii
Află mai multe
Despre joc
Early Access Multiplayer & Karp of Doom DLC coming out on the 18th of July! (EA Multiplayer only available in the DLC)

Hero Siege is one of the most loved indie hack n slash games with roguelike elements! Join the fun now!!

The Kingdom of Tarethiel is taken over by creatures of Hell, grab your weapon and start slaughterin through hordes of enemies and purging the lands from evil.

FEATURES:
- Randomly generated levels, items, dungeons, bosses, secrets and events. Every game session you play is different!
- Over 120 unique crafted items that are either passive, usable or orbiting.
- Over 50 different enemies with the possibility to spawn as rare or elite with extra hp/damage and abilities, but dropping better loot and giving more exp!
- Over 75 Achievements to unlock!
- Many different perks to unlock!
- Customize your character!
- 4 Acts to play through!
- Random Dungeons and Crypts to explore and clear from loot and enemies!
- 7 playable classes!
- 3 different difficulty levels to unlock!
- Tons of random! Start discovering all the wonderful secrets and content!

INCOMING FEATURES:
- Online Multiplayer & Local CO-OP

Supports GamePads such as Xbox360 or PS3 controllers.

Take Screenshots by pressing F12
Cerinţe de sistem (PC)
Minimum:


OS: Windows 7 or Windows 8

Processor: 1.8 GHZ

Memory: 1 GB RAM

Graphics: 128 mb

Hard Drive: 40 MB available space

Additional Notes: Might or might not work on 32-bit OS
Cerinţe de sistem (MAC)
Minimum:


OS: OS X -versio Leopard 10.5.8, Snow Leopard 10.6.3, or newer

Processor: Intel Mac 1.8 GHz

Memory: 1 GB RAM
Recenzii utile ale clienților
Titlu:
Hero Siege
Gen:
Acţiune
,
Aventură
,
Independente
,
RPG
Producător:
Elias Viglione
,
Jussi Kukkonen
Distribuitor:
Panic Art Studios
Data lansării:
18 Dec 2013
Limbi:
| | Interfață | Audio complet | Subtitrări |
| --- | --- | --- | --- |
| Engleză | | | |