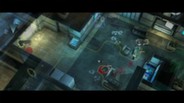 Enter the world of Shadowrun: Online and play one of the greatest Pen and Paper RPGs on Steam. In a dystopian 2075s of our world where magic meets technologym, you team up with your friends to fight sinister corporations, menacing gangs and a new deadly virus in this tactical turn-based combat RPG.
Data di rilascio: 31 Mar 2014
Guarda video HD
Gioco con accesso anticipato
Ottieni l'accesso anticipato ed inizia a giocare ora; prendi parte a questo gioco mentre viene sviluppato.
Nota: questo gioco ad accesso anticipato potrebbe cambiare significativamente durante lo sviluppo. Se non vuoi giocare al titolo nel suo stato attuale, puoi aspettare che venga sviluppato ulteriormente. Ulteriori informazioni
Cosa dicono gli sviluppatori:
Perché l'accesso è anticipato?
"We want you to help us shape the game. From its Kickstarter days to the basic design elements Shadowrun Online is about shaping the game together with the community. And we need the nuyen to feed our habits."
Per quanto tempo questo gioco rimarrà in accesso anticipato?
"Until End of 2014"
Quali saranno le differenze fra la versione completa e quella ad accesso anticipato?
"The full version will have the full features, obviously, and a lot more content. See out "What will be" section for more details."
Qual è lo stato attuale della versione in accesso anticipato?
"The current version is mostly bug-free. We focus on making each feature as polished as we can before adding more.
The current version contains a small campaign highlighting elements like combat, security systems and combat-hacking and fixed characters for you to play."
Il prezzo del gioco varierà durante e dopo l'accesso anticipato?
"Yes, you will save about 30% on Early Access vs. release pricing."
Come pensate di coinvolgere la Comunità durante il processo di sviluppo?
"We do regular live Q&As and actively engage the community about features and what they would like to see in the Steam Forums and on www.shadowrun.com" Ulteriori informazioni
Acquista Shadowrun Online
Acquista Shadowrun Online: Founders Package
Acquista Shadowrun Online: Deluxe Package
8 Luglio 2014
After your feedback we have overhauled the turn order system and added free initiative selection, daily missions and a number of visual and functional improvements, such as border scrolling! This update also contains a large number of bugfixes, and we would love to hear your feedback!

New Features:


Free Initiative Selection: Choose which character you want to play with by clicking on the character in your turn, giving you a lot more tactical options. Beware: The End Turn button now ends your whole team's turn, discarding all remaining actions!

Improved Visualization: Characters now have a lean-animation around corners. This shows you better why and where they can see other characters.

Camera Border Scrolling: Moving the mouse cursor towards the edges of the screen now causes the camera to scroll.

Daily missions: Each day another mission (out of a pool of three) is playable. Mission changes at midnight server time (CEST).

Visual Improvement: Characters now let go of their weapons when being killed. (Just visual, no loot)

New Sound Options: Effects and VoiceFX can be separately manipulated, as can Music and Ambience.
Fixes:
Fixed the damage calculation for shotguns so that they now deal damage dependent on Chance to Hit.

Fixed that the sound effect of Bri's "Data Spike" didn't get muted with the rest of the sound effects.

Tooltip of Payday's Double Tap has been changed to reflect that a critical hit can deal 5-6 damage.

Fixed an issue that displayed Bri's "Reflex Boost"'s Chance To Hit incorrectly.

Fixed an issue that the weapon UI was visible in the debriefing.

Adapted Takshak's posture when taking full-cover with his rifle.

Fixed the tooltip of "Shield" to reflect the changes to +5 resistance.

Fixed a typo in the briefing before "Heart & Soul".

Fixed that the turn order notification was shown upon every single action of the characters.

Fixed an issue that missions where only unlocked after relog.

Clients no longer need to be restarted for the chat to work if the chat service is lost temporarily.

In regular and special attack animations shouldering a rifle is now illustrated more accurately.

Bri's portrait icons are now displayed correctly.

Cameras can now be targeted on the whole of their chassis correctly.

It's not possible any more to miss with 100% Chance To Hit.

Fixed an issue with asymmetrical Line-Of-Sight-detection meaning that enemies saw you, but you couldn't see them and vice versa.

PvP matches have their correct briefing now.

Fixed that characters were able to stand in a half-open locker in mission "Organ Farm"

Fixed that one tile was not walkable in "Organ Farm"

Fixed an issue in one of the daily missions where the mission end message was not displayed when the characters were killed by gas in the starting area.
Also:
Check out the video of our latest
LIVE Q&A Session with our Devs
on
Youtube
and don't forget to subscribe to our channel!
See you in the Shadows, Chummers!
-Your Shadowrun Online Team!
7 commenti
Ulteriori informazioni
6 Giugno 2014
The NEW SHADOWRUN ONLINE CONTENT UPDATE has come. We're proud to present you security and alarm levels, Bri - the Dwarf Decker, new missions, random spawns and more!

Check out the details and Patch Notes before diving right in:

Features:

Alert Levels: Some missions now have alert levels, requiring you to plan your actions carefully or to deal with the consequences.

Cameras: "Exterminate!" There are security cameras that raise the alert level when they see an enemy now. Take care!

Introducing the Decker: A new character is now available in the some missions, complete with pistol and hacking skills, effects and new animations.

Three new missions: New runs were added to round out the prequel campaign.

Simultaneous movement: Characters can now move simultaneously, provided they are on the same team.

Click-Trigger: Doors and other objects can be activated by moving adjacent to them and then clicking on them. This costs an action. No more shooting at switches! (We still don't know why you wanted this... ;))

Random Spawns: Enemy spawn positions are now random in some missions, so learning the map by heart is not an option anymore!

Turret: Fight the sentry gun; a very tough, very stationary enemy.

Characters and Weapons: The Stuffer Shack lobby mission has new rent-a-cop type security guards with batons as weapons, and the Jaguar Warriors now carry Macuahuitls instead of Katanas.

Auto-Switch weapons: All skills are selectable now, unless they are on cooldown or out of ammo. Also, when you select a skill of the inactive weapon, the weapon gets automatically switched. Weapons can still be switched manually though.

Movement Trigger: Some missions now use go-to goals.

RMB Scrolling: On Windows-PCs the game now scrolls the screen when the right mouse button pressed.

Shoot Positions: All characters now lean left or right properly when shooting at a target from cover. This fixes a lot of issues where characters appeared to shoot through walls.

Voice-overs: All voice acting has been redone.
Menu & Misc
Menu buttons toggle: Pressing the according button again closes the options menu / info screen / credits.

Splash Screen: Exchanged text and background image for the new patch.

Main Menu: New mission buttons added for the new missions.
Fixes:
Fixed a spelling error in 'the Organ Farm' debriefing

Fixed an issue where Payday's 'Stimulants' could trigger faulty animation effects

Security guards in 'Stuffer Shack' will be grayed out correctly when not in Line of Sight

Fixed an issue where the security guards in 'Stuffer Shack' could stay in a deadlock position, not acting at all
Also:
Check out the video to yesterday's
LIVE Q&A Session with our Devs
on
Youtube
and don't forget to subscribe to our channel!
Please let us know what you think about the update in the
Feedback thread
in the Community Hub!
See you in the Shadows, Chummers!
-Your Shadowrun Online Team!
6 commenti
Ulteriori informazioni
Founder's Edition
The Founder's Edition will provide you with the complete Lockdown campaign for Shadowrun Online on release of the full game as well as a set of extra items, weapons and armour which help you get an edge on the streets. You will also contribute to our development effort and help us make the game that much better.
Edizione deluxe digitale
The Digital Deluxe Edition will provide you with the complete Lockdown campaign for Shadowrun Online on release of the full game as well as a set of extra items, weapons and armour which help you get an edge on the streets PLUS the first campaign update for Shadowrun Online for free on release of the update.

You will also contribute to our development effort and help us make the game that much better.
WHAT IT IS
This version is an early version of the game and contains a small campaign and a number of daily missions. This means that while you can get a good impression of what the core gameplay will be like, there is only archetype characters and no items or rewards in the game yet. It is mostly bug free, but it is not in any shape or form feature complete. We built it this way because it allows us to get feedback and work on the core gameplay before we move on to the next features of the game. We have fighting, magic and combat-hacking (No Matrix runs yet) and a good cast of enemies in.

Word of warning: The game is tough - it's designed that way. Running the shadows is never easy and going in guns blazing will certainly get you in trouble!

We will add new elements, tweaks and content every 4-6 weeks. We hope that this will allow growing and maturing the game together with you, our players and give us the information we need to stay on the right track.
WHAT IT WILL BE
We have a lot of neat ideas for the game and of course we will add more elements. Things that will be added as development continues:

Class-Free Character Creation: Create your own Shadowrunner and skill any way you want, with a ton of visual customisation options.

Items: Weapons, armour and cyberware, magic talismans and cyberdecks: Loot them, buy them or upgrade existing items. Our item system separates the visual aspects from the item ability, so no need to wear a silly hat just for the bonus it grants!

Co-op or single player mission gameplay: Play with your friends or lead a team yourself, when you want to play solo.

Dynamic Security and Alarm Levels: Depending on what you do in a mission you may trip alerts, making some missions more difficult – or shut off the alarm in time.

PvP duels and PvP Missions: Test your Shadowrunners in PvP against other players.

Evolving world campaign: New content will be released based on the collective actions of the players. This is your world!

Tough missions: Because life in the shadows is never easy!
Basic Edition
The Basic Edition will provide you with the complete Lockdown Campaign content for Shadowrun Online on release of the full game. This is the complete Shadowrun Online MMO!

You will also contribute to our development effort and help us make the game that much better!
Informazioni sul gioco
Enter the world of
Shadowrun: Online
- the Pen and Paper RPG classic finally brought online! Play with or against friends in this multiplayer tactical turn-based combat RPG set in the dystopian world of 2075. A world where magic meets technology, where Elves, Dwarves, Orks and Trolls walk among us. A world controlled by ruthless corporations, where you become a Shadowrunner - a secret operative on the edge of society, a cyberpunk rebel surviving by skill and instinct!

Featuring
• Gripping and deadly tactical turn-based combat in the Shadowrun world: Choose from a wide array of skills, magic, technology and weapons to survive the challenging missions! Control your team of runners and make every move count! Dive behind cover, outsmart security systems and use any weapon at your disposal to make it out alive.

• Full character customization: Create your individual Shadowrunner in completely skill based character progression using a variety of outfits, cyberware, abilities and of course a ton of weapons! A successful run requires commanding a team of runners with the right balance of combat, tech, and magical abilities.

• Deeply tactical Co-Op and PVP: Team up with friends to face huge variety of deadly enemies or enter PVP combat and develop new strategies to survive in the Shadowrun world.

• Directly shape the future of Shadowrun: Developed together with the tabletop RPG writers and based on the Lockdown Campaign setting, Shadowrun Online will allow you to shape the future of the Shadowrun Universe by your actions!

Requisiti di sistema (PC)
Minimum:


OS: Windows XP/Vista/Windows 7/Windows 8

Processor: 1.7+ GHz or better

Memory: 2 GB RAM

Graphics: 512 MB NVidia or ATI graphics card

Network: Broadband Internet connection

Hard Drive: 500 MB available space
Recommended:


OS: Windows Vista/Windows 7/Windows 8

Processor: 2+ GHz or better

Memory: 4 GB RAM

Graphics: 1024 MB NVidia or ATI graphics card

Network: Broadband Internet connection

Hard Drive: 500 MB available space
Requisiti di sistema (MAC)
Minimum:


OS: OSX 10.7 +

Processor: 1.7+ GH or better

Memory: 2 GB RAM

Graphics: 512 MB NVidia or ATI graphics card

Network: Broadband Internet connection

Hard Drive: 500 MB available space
Recommended:


OS: OSX 10.7 +

Processor: 2+ GHz or better

Memory: 4 GB RAM

Graphics: 1024 MB NVidia or ATI graphics card

Network: Broadband Internet connection

Hard Drive: 500 MB available space
Under License of Microsoft. All characters and visuals copyright Cliffhanger Productions Games GmbH 2014
Recensioni utili dai clienti
Titolo:
Shadowrun Online
Genere:
Indie
,
Multigiocatore di massa
,
GDR
,
Strategia
,
Accesso anticipato
Sviluppatore:
Cliffhanger Productions
Editore:
Cliffhanger Productions
Data di rilascio:
31 Mar 2014
Lingue:
| | Interfaccia | Audio completo | Sottotitoli |
| --- | --- | --- | --- |
| Inglese | | | |
Premi
Awarded Most Promising Newcomer at RPC Awards 2013