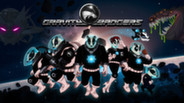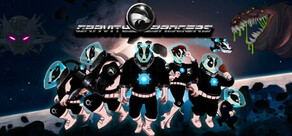 Step into the space suit of valiant gravity badger Captain T Bayback as he ventures into the deadly depths of deep space to save his friends, family and the universe itself from the threat of the deadly Evil Honey Badgers, aka the Hellsett.
Release Date: Nov 28, 2013
Watch HD video
Buy Gravity Badgers Steam Store and Retail Key
WEEK LONG DEAL! Offer ends September 8th
June 23rd, 2014
Wales Interactive, creators of Master Reboot, are proud to announce our latest title... Infinity Runner!

Infinity Runner Steam Page http://store.steampowered.com/app/279920/
Infinity Runner Steam Group: http://steamcommunity.com/games/279920/

The Infinity is the largest spaceship ever built by man-kind; flung into the void of space to secure humanity a new home amongst the stars. However, instead of discovering paradise, the inhabitants of The Infinity unlocked the door to a long forgotten nightmare.

Deep inside this leviathan something terrible hunts, out of myth and legend the last werewolf stalks the ship. Infinity Runner centres on a prisoner desperately trying to escape the decaying ship and the clutches of the terror within. It's a sci-fi action running game for PC, Mac, and Linux that features 14 stunning levels, Oculus Rift support and multi-player.
0 comments
Read more
Reviews
"Gravity Badgers impresses right from the get-go thanks to its pretty fun tutorial that explains the core elements of this physics simulator and introduces you to a few of the main characters....Gravity Badgers is a pretty fun physics-based puzzle game with lots of levels and a few clever ideas."
7/10 – Softpedia

"Gravity Badgers does offer fun, enjoyable, fast-paced, puzzles for you to solve. After some extremely hard puzzles I found myself rejoicing that I beat them. If you like a challenge and want to have some fun with badgers in space, then I suggest Gravity Badgers"
7/10 – TwoDashStash

"I'd gladly recommend the game to fans of physics based games as this one is well done for a game that only costs $4.99"
7/10 – Universal Gaming Reviews

About the Game
Step into the space suit of valiant gravity badger Captain T Bayback as he ventures into the deadly depths of deep space to save his friends, family and the universe itself from the threat of the deadly Evil Honey Badgers, aka the Hellsett. For the first time EVER a game unites the thrilling elements of Badgers and Gravity to create a stunningly presented physics-based puzzle game that will take you beyond the realms of possibility, imagination and logic to the star-dusted realm of the GRAVITY BADGERS!

Throw yourself into the planets' gravity, dodge asteroids and unyielding deadly bosses in over a hundred levels of vacuum-filled adventure and danger, all united under a stunning art style reminiscent of all your favourite 80's cartoons complete with a thumping mullet rock soundtrack!

The game has highly addictive physics-based action with 140 challenging levels that will keep bringing you back for more. And if that wasn't enough it also has five big boss levels including the giant Space Worm, the deadly Doomsphere and five Gravity Badger characters to unlock. Couple this with an amazing soundtrack and awesome graphics; this really makes Gravity Badgers a quality game that you'll keep coming back to.

FEATURES
• Awesome physics based Gravity Badger mayhem
• Over 140 levels of Gravity Badger action
• Ten characters & five Boss levels
• Stunning HD Graphics​
• Wicked soundtrack
PC System Requirements
Minimum:


OS: XP SP2

Processor: 1 GHz

Memory: 512 MB RAM

Graphics: OpenGL 1.1 compatible

DirectX: Version 9.0

Hard Drive: 670 MB available space
Mac System Requirements
Minimum:


OS: Mac OS X "Snow Leopard" 10.6 or later

Processor: 1 GHz

Memory: 512 MB RAM

Graphics: OpenGL 1.1 compatible

Hard Drive: 670 MB available space
Linux System Requirements
Minimum:


OS: Ubuntu 12.4

Processor: 1 GHz

Memory: 512 MB RAM

Graphics: OpenGL 1.1 compatible

Hard Drive: 670 MB available space
Helpful customer reviews
Title:
Gravity Badgers
Genre:
Casual
,
Indie
Developer:
Wales Interactive
Publisher:
Wales Interactive
Release Date:
Nov 28, 2013
Languages:
| | Interface | Full audio | Subtitles |
| --- | --- | --- | --- |
| English | | | |
| French | | | |
| Italian | | | |
| German | | | |
| Spanish | | | |
| Japanese | | | |
| Korean | | | |
| Portuguese | | | |
| Portuguese-Brazil | | | |
| Russian | | | |
| Simplified Chinese | | | |
See all 11 supported languages