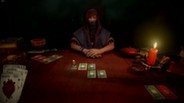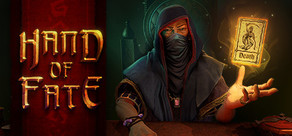 Deckbuilding comes to life in Hand of Fate! An infinitely replayable series of quests - earn new cards, build your deck, then try to defeat it! In a cabin at the end of the world, the game of life and death is played. Draw your cards, play your hand, and discover your fate.
Release Date: Jul 7, 2014
Watch HD video
Early Access Game
Get instant access and start playing; get involved with this game as it develops.
Note: This Early Access game may or may not change significantly over the course of development. If you are not excited to play this game in its current state, then you may want to wait until the game progresses further in development. Learn more
What the developers have to say:
Why Early Access?
"Hand of Fate was Kickstarted last December, and since then we've had constant input from all of our backers which has helped to improve the game immensely. We're now ready to let the rest of the world see what we've been up to, and get their help in wrapping up the process. We can't wait to get fresh eyes on the game, and continue to improve it."
How long will this game be in Early Access?
"We intend to wrap Hand of Fate up by the end of the year, and then focus on additional content and new projects."
How is the full version planned to differ from the Early Access version?
"The full version will be balanced and polished (UI, combat, etc). The character of the Dealer will have full VO and the game will have customised music and sound in addition to the existing."
What is the current state of the Early Access version?
"The current build is largely complete in terms of raw content, but very unbalanced. VO and SFX are primarily placeholder. The final boss is not yet implemented, and there are ongoing improvements to polish, UI, and combat encounters."
Will the game be priced differently during and after Early Access?
"The game is currently discounted from our full price for Early Access."
How are you planning on involving the Community in your development process?
"Community feedback has been a huge help in making Hand of Fate the game it is today, from our initial showing at PAX Aus to the comments we've had from our Kickstarter backers. The best thing about making a game today is hearing from our audience while we can still make changes to the game we're making!" Read more
September 2
We've just released our second major update with a new game mode and lots of combat improvements.


Massive combat update.

Endless game mode.

Start of new music/score

Rage/combo hud feedback

Improved death, starvation and court card transitions

Improved court card intro

Lots more dealer animations with VO

Steam Cloud Support for save

More graphics settings

Lots more VFX

Loads and loads of balance changes

Some new encounters

Achievement fixes

Darken dead bodies

Lots of bug fixes
Massive thanks to all of you for helping us make this a better game with your considered feedback and bug reports.
23 comments
Read more
August 4
We've just released our first major update - previous updates have addressed compatibility and bug-fixes, this one adds extra content and a lot of tuning fixes.

In the new build you'll find a host of new features, fixes and tweaks to the existing game, with more to come!


Lots of Dealer VO added (some is buggy)

Assorted new VFX

Tweaks to level cameras + visuals

You can replay previous levels.

You can manually reset your profile from the menus.

New achievements + achievements in general working

Minotaur can now be found

Multiple cards have updated art + fixes (mages tower, war cry, pain, etc)

Revised token sequences + token position in the bowl

Goblin gold autocollection on final drop

Many bug fixes, inc Plunderers Cap nerf

Court cards have been revised and improved

Token unlocks have been moved around

Late game card unlocks have been modified
We're also putting regular updates in the forums -
see the Friday update thread to see what we're working on each week and how the game is progressing.
We've also been getting great previews and Let's Play's - here's a link to a couple of recent reports.
James Recommends Hand of Fate
Gamespot Preview
Thanks for all the feedback and support to date - hope you enjoy the new update!
7 comments
Read more
Reviews
"Hand Of Fate Deals Out Fantastic Roguelite Combat"
Game Informer

"Fun combat, solid roguelike dynamics, and an engrossing atmosphere make this one of the most compelling games on early access. And with the newly-introduced endless mode, there's no limit to how deeply it can suck you in."
Hardcore Gamer

"Magic: The Gathering meets Nethack meets Diablo"
Sydney Morning Herald

About the Game
Deckbuilding comes to life in Hand of Fate!
An infinitely replayable series of quests - earn new cards, build your deck, then try to defeat it!
In a cabin at the end of the world, the game of life and death is played. Draw your cards, play your hand, and discover your fate. Hand of Fate is a hybrid roguelike/action-RPG/deck builder, in which the player builds a set of cards into a deck, which is then used to deal out the dungeon floors through which they adventure. Upon entering a combat, all of the cards the player has collected fly into their hands as fully modeled 3D assets, and combat begins.
Build your deck, enter the world of Hand of Fate, and prepare to face the Ace of Skulls.
Key Features
* Tabletop card game brought to vivid life.
* A unique take on roguelike gameplay.
* Visceral action-RPG combat.
* Game changing gear and items make every play through unique.
* Hundreds of encounters, items, armor, weapons, artifacts, and mysteries to unlock.
* Unique deck building mechanics let you customise your own adventure, as you seek to defeat the Jack, Queen and King of each suit.
Microsoft Xbox 360® Controller (or equivalent) is recommended.
PC System Requirements
Minimum:


OS: Windows 7/8/8.1/XP/Vista (32 or 64 bit)

Processor: 2.4ghz Intel Core 2 Duo or equivalent

Memory: 4 GB RAM

Graphics: Nvidia 260 GTS or Radeon HD 4850 - 512 MB of VRAM

DirectX: Version 9.0c

Hard Drive: 5 GB available space

Sound Card: DirectX compatible sound card
Recommended:


OS: Windows 7/8/8.1 (64bit)

Processor: 2.66GHz Intel Core i7

Memory: 4 GB RAM

Graphics: Nvidia 460 GTX / Radeon 5770 - 1 GB of VRAM

DirectX: Version 9.0c

Hard Drive: 5 GB available space

Sound Card: DirectX compatible sound card
Mac System Requirements
Minimum:


OS: Mac OSX 10.5 or higher

Processor: 2.4GHz Intel Core i5

Memory: 4 GB RAM

Graphics: NVIDIA GeForce GT 300 Series or Radeon equivalent

Hard Drive: 5 GB available space
Recommended:


OS: Mac OSX 10.5 or higher

Processor: 2.66GHz Intel Core i7

Memory: 4 GB RAM

Graphics: NVIDIA GeForce GT 400 Series or Radeon equivalent

Hard Drive: 5 GB available space
Linux System Requirements
Minimum:


OS: Ubuntu 12.04 or later

Processor: 2.4ghz Intel Core 2 Duo or equivalent

Memory: 4 GB RAM

Graphics: Nvidia 260 GTS or Radeon HD 4850 - 512 MB of VRAM

Hard Drive: 5 GB available space
Recommended:


OS: Ubuntu 12.04 or later

Processor: Intel i5 series or equivalent

Memory: 4 GB RAM

Graphics: Nvidia 460 GTX / Radeon 5770 - 1 GB of VRAM

Hard Drive: 5 GB available space
Helpful customer reviews
Title:
Hand of Fate
Genre:
Action
,
Indie
,
RPG
,
Early Access
Developer:
Defiant Development
Publisher:
Defiant Development
Release Date:
Jul 7, 2014
Languages:
| | Interface | Full audio | Subtitles |
| --- | --- | --- | --- |
| English | | | |
Awards
Selected for the Indie Megabooth at PAX East