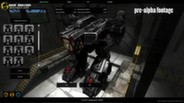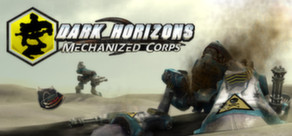 Wage futuristic war by piloting a fully customizable 50 foot tall mech into battle. Fight for personal glory or battle for territorial domination in a persistent online warzone with your friends in various unique battlefields and combat environments. Do your duty. Serve your people. Pull the trigger!
Julkaisupäivä: 22. heinä, 2014
Katso HD-video
Early Access -peli
Voit pelata näitä pelejä viipymättä - jo niiden kehitysvaiheissa.
Huomio: Tämä Early Access -peli saattaa muuttua merkittävästi sen kehityksen aikana. Jos et ole innostunut pelin pelaamisesta sen nykyisessä muodossa, haluat ehkä odottaa, kunnes peli on pidemmälle kehitetty. Lue lisää
Kehittäjien kertomaa:
Miksi Early Access?
"
Dark Horizons : Mechanized Corps
has been brought to the Steam Early Access program by its development team at
Max Gaming Technologies, LLC.
in order to enable fans of this genre to have the greatest influence possible on the title's development.
We are all mech fans here at
Max Gaming Technologies, LLC.
, so we know how passionate many of you are about wanting a great Mech combat experience. As such we want to ensure that each of our supporters has the opportunity to help influence the game's development as much as possible. Not to just refine and tweak the experience, but to make it more Mech smashing bad-ass with each and every release!
"
Miten kauan Early Access -vaihe kestää?
"Our goal is to have
Dark Horizons : Mechanized Corps
completed some time in 2015. However with this said, this is just an estimate and is entirely dependent upon just how awesome you guys are at supporting the game while it is in Early Access through your purchase of the game and with the fantastic feedback that we know you the community want to give.
"
Miten täysi versio eroaa Early Access -versiosta?
"The initial Early Access version of the game contains much of the core combat game play for
Dark Horizons : Mechanized Corps
. The initial Early Access version of the game will launch with a handful of missions and game types, the ability to play on and offline, and will contain the starter Mechs for each class along with a variety of weapons and equipment to customize each Mech with.
As we develop thru Early Access our goal is to iteratively enhance the game towards the full release content plans, which will include many additional Mechs, weapons, updated graphics and animations, game play modes and features and our full vision of the persistent online battle engine called "Faction Wars".
Faction Wars will be an online representation of the
Dark Horizons Universe
with a persistent war map where player driven squads and factions will play to capture territory, gain in-game bonuses and fight for superiority. Features will include large map battles, small recon and raid type battles, arena competitions and allow players to earn in-game credits to build out their Mechs.
The full version will also have a full set of support for many popular Steam features including a full set of stats, leaderboards, achievements, full controller support, Big Picture support and SteamOS. Again, many of these features will be available as they are integrated during Early Access.
"
Millainen on Early Access -version nykyinen tila?
"While
Dark Horizons : Mechanized Corps
is currently in "Alpha", core functionality is implemented and playable. However, players should expect bugs, possible crashes, game play balancing tweaks, frequent updates and an enjoyable game experience while helping influence development.
Current feature include but are not limited to:
4 Mech Classes

35 different weapons an equipment

Full Mech customization

2 playable levels

3 game play models (Attrition, Free For All, Mini-Nuke)

Online and offline game support
We recommend that you not buy or play the game during Early Access unless you clearly understand what Early Access is and are interested in helping improve the game during its development.
"
Hinnoitellaanko peli toisin Early Accessin aikana ja sen jälkeen?
"Please note that the
Dark Horizons : Mechanized Corps
will likely be in "Early Adopter" status until some time in 2015, as such our current pricing has been set to reflect its 'in early development' nature.
As we reach new milestones, you may see the price of the game increase to reflect this new content. As an early adopter of the
Dark Horizons : Mechanized Corps
you will be entitled to all future updates (including DLC) for free.
"
Miten yhteisö otetaan mukaan kehitysprosessiin?
"While
Dark Horizons : Mechanized Corps
is in Early Access we will be capturing anonymous analytics data and interacting as closely as we can to community here on Steam. While we have a big list of things we want to accomplish with this game, we know that what is most important is ensuring that we fine tune, enhance and provide new content that will help make the game experience right at every stage possible.
We want to recapture what helped make our first mech title
Dark Horizons Lore : Invasion
both a 2005 IGF finalist and a cult classic by making the game more than just something you kill time in, but by making it an experience that you partake in and feel a part of as the game changes and adapts via the Faction Wars feature as it happens. As such your involvement in the game and its community is critical towards what the final outcome of the game will be.
"
Lue lisää
Osta Dark Horizons: Mechanized Corps
Osta Dark Horizons: Mechanized Corps - Four Pack
Includes four copies of the base game - Send the extra copies to your friends.
4. syyskuu
Just a reminder that we will be hosting organized fight times starting at 7pm EST on Thursday 9/4. If you can't make this time we encourage you to post times you will be on for others in your time zone to join!

If you haven't joined the official community group, we encourage you to, so you can stay up to date on the latest happenings.

http://steamcommunity.com/games/dhmc

MGT Staff
0 kommenttia
Lue lisää
29. elokuu
Come out to join us this Sunday to send off August with a Blast. September is looming and alot of great features are coming.

We will start playing at 9 PM EST/6 PM PST and go for a 2-3 hours.

We will also be doing our first twitch.tv stream of the game, so come on out. We will post more details Sunday before the match.

Don't forget to join the official game group to get update notifications at:

http://steamcommunity.com/games/dhmc/
0 kommenttia
Lue lisää
Tietoja pelistä
WARNING: THIS GAME IS CURRENTLY IN EARLY ACCESS AND IS CONSIDERED IN ALPHA. IF YOU DO NOT WISH TO PARTICIPATE IN ACTIVE DEVELOPMENT OF A GAME, PLEASE DO NOT PURCHASE THIS ITEM. YOU WILL EXPERIENCE POSSIBLE BUGS, GAME RE-BALANCING AND PERSISTENT STAT RESETS DURING THE DEVELOPMENT PERIOD OF THIS GAME.
In the year 2210, fifty years after the start of the machine wars, the battle mech is the premier weapon of war. Standing over 35 feet tall and weighing up to 40 tons, these hulking behemoths are walking arsenals of firepower and armor that have no other rival in a theatre of war. As part of your factions Mechanized Corps, you will need to utilize your intellect to custom configure battle mechs that suits both your play style and the mission parameters as well as hone your skills and cunning as a pilot to survive
Play on your own or join the action online in a persistent warzone called "Faction Wars" that enables you to not only fight for domination over mission zones to earn unique unlocks and achievements, but also create and manage squadrons, and tracks player and squadron stats.
Dark Horizons : Mechanized Corps is the sequel to the 2005 Independent Games Festival Finalist "Dark Horizons Lore" reviewed on The Junkyard
http://legacy.the-junkyard.net/reviews.php?action=viewreview&id=46
.
Currently Implemented Features:
Intense mech based combat. Unleash your firepower and tactics on your opponents. focus your attacks to localize damage to destroy weapons, equipment or even cripple and more readily destroy enemy mechs.

Customize multiple mechs to suit different styles of play or mission types. Choose from 4 different mech classes, 35 different weapons and pieces of equipment, custom paint styles and colors and more. You can employ any of these saved configurations in-game as you play.

Play any mission offline versus bots, in instant action mode.

Or get into the action online against up to 16 other players (per mission)! NOTE: 32 players being worked on.

Earn stats for leaderboards and achievement unlocks in a persistent game environment.

Massive mission environments, with 2-3 zones at launch of early access.

3 games modes including Attrition, Free for All, and Mini-nuke.
NOTE: The Faction Wars system is currently still in development, but out first order of business after EA launch is to work on getting the persistent stats feeding into the online war map system.
Features that are in development
Create or join a squad and fight together to take control of various mission zones online.

32 players for online missions.

Addition of dozens of new and unique weapons and equipment to configure your mech with.

More mechs for each class, providing additional unique configuration options to try out.

Faction Wars, the persistent online war component will be implemented on a ongoing basis with features like:


Variable spawn points per mission based on which faction has control over that mission online and other factors.

Implementation of 3 main factions (Federated States, Eastern Confederation, Overload Mercenary Guild).

Contract missions for mercenaries and faction pilots.

Co-op missions with special raid and recon missions.

Pilot progression through military ranks that also unlock faction bonuses.

Deploy equipment in-game at various locations throughout each mission to construct bases that will help secure key locations and enable your team to take control of the mission against your opponents.

Additional Game play modes like Siege, Raids, and Arena mode.

Addition of new missions through out Early Access.

Support for additional platforms (Linux/SteamOS/Mac).
Järjestelmävaatimukset
Minimum:


OS: Windows Vista SP2

Processor: Dual core 2GHz

Memory: 3 GB RAM

Graphics: DirectX 9 256MB Video Ram

DirectX: Version 9.0c

Network: Broadband Internet connection

Hard Drive: 2 GB available space

Sound Card: DirectX 9 Compatible
Recommended:


OS: Windows 7, 8.1

Processor: Dual Core 3GHz

Memory: 6 GB RAM

Graphics: DirectX 9 512MB Video Ram

DirectX: Version 9.0

Network: Broadband Internet connection

Hard Drive: 2 GB available space

Sound Card: DirectX 9 Compatible
Copyright © 2014 Max Gaming Technologies, LLC. All Rights Reserved. Dark Horizons and Dark Horizons Universe created by Max Gaming Technologies, LLC all Material Copyright © 2004 - 2014.
Hyödylliset arvostelut
Nimi:
Dark Horizons: Mechanized Corps
Lajityyppi:
Toiminta
,
Indie
,
Simulaatio
,
Early Access
Kehittäjä:
Max Gaming Technologies, LLC
Julkaisija:
Max Gaming Technologies, LLC
Julkaisupäivä:
22. heinä, 2014
Kielet:
| | Käyttöliittymä | Puhe | Tekstitykset |
| --- | --- | --- | --- |
| englanti | | | |