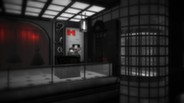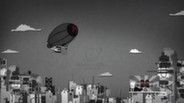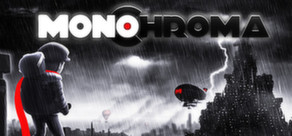 Monochroma is a cinematic puzzle platformer. It's a game about being a kid, growing up with a little brother that needs your help, facing obstacles, and solving unique puzzles in a dystopian 1950's setting.
Release Date: May 28, 2014
Watch all 3 trailers
June 12th, 2014
We want Monochroma to be remembered as one of the best platformers of all times.
Therefore we don't want technical issues to overshadow the real reason we developed Monochroma.

New features:
- Full Controller Support

Improvements in gameplay:
We reworked all the puzzles and action scenes that frustrates the players.
- Avoiding pixel jumps
- Avoiding trial and errors
- Avoiding unnecessary deaths
- Removing repetitive actions
- Improving the visibility of important parts, hints and interactables
- Reworking the camera zones and angles

Improvements in controls:
We wanted to smoothen the controls by:
-Fixing the jump distance while sliding (removing air-control during sliding state)
-Adding an auto-climb feature for objects that we can't hold on to.
-Shortening the recovery time of landing (the recovery time depends on how high you fall off)
-Removing the recovery time on ropes and ladders

Improvement in physics:
- Floating objects physics have been reworked
- Movables act more naturally when pushed off from edges

Bug fixes:
- Brightness adjustment on the menu is more effective
- Brightness issue of Mac version is fixed
- Several bugs that causes the player to get stuck have been fixed
- Fixed the problem that causes the character to not get hold at some edges
- Fixed lots of visual bugs
- Some minor localization fixes

Performance improvements:
- Lowered the GPU load of a few scenes on each chapter
- Lowered the memory exceptions and memory requirements of 2nd chapter

Known issues that will probably be addressed on later updates:
- We made the tests with Logitech gamepad, therefore it will be of great help if you leave your
feedbacks with different controllers
- Although very rare, there are some strange bugs effecting the animations at some Linux distros, we're investigating the issue.
- Approx. %2 of players reported that they had some unexpected crashes on 2nd Chapter of the game, we're hoping the the performance improvments will help lower these crashes but we require feedback.
- Catching animations might not run properly at some animation states
- Climbing ladders might require a jump at the end for some ladders

We're excited to hear your feedbacks about the new update. We're working hard to make Monochroma a great game, help us spread the word!
10 comments
Read more
Reviews
"Even if you don't play puzzle games, Monochroma should still entice you with its dark art style, mysterious plot and clever challenges"
9/10 – That Video Game Blog

"After the emotional roller-coaster Monochroma puts you through, you might wish for a happy ending, but not every ending is pleasant – and sometimes it's just good enough that something has ended. Play the game all the way through, and you'll know exactly what I mean."
Indie Game Magazine

"Nowhere Studios have proven that games can be a piece of art, and this one will tug at your heart strings."
5/5 – Invision Community

Controller Support

About the Game

Monochroma offers a deeply visual, intellectual and emotional experience. The game has a unique approach to storytelling without using any written or spoken words. Therefore it requires the player to be actively involved to understand the narrative.
The story itself becomes part of the puzzle. Gameplay, visuals and the very limited color palette are used in an expressionist way to help telling the story. The player will find lots of references to other movies, books and games in the dystopian world of Monochroma. The challenge of the game is to make the player question his responsibilities as an individual and as a member of the system we're living in.
Deriving from the story, the gameplay consists of a boy that has to take care of his younger brother who injures his leg in the beginning of the game. The younger brother is afraid of the dark therefore the player can only put him down under the light to be able to jump higher and move faster but the player can't leave him behind just as in real life.

- Silent Narrative in an average 6 hours of playtime told in 4 acts.
- Realistic locations and puzzles that naturally blend with the environment.
- Challenging puzzles without the arbitrary trial and error.
- Award winning visuals
- Award winning soundtrack
PC System Requirements
Minimum:


OS: XP or later

Processor: 2GHz or better

Memory: 2 GB RAM

Graphics: Shader Model 3.0 Support

DirectX: Version 9.0

Hard Drive: 4 GB available space

Sound Card: Direct X 9 Competible
Recommended:


OS: XP or later

Processor: Core 2 Duo 2GHz or better

Memory: 2 GB RAM

Graphics: Shader Model 3.0 Support, 512 MB Video Card or better

DirectX: Version 9.0

Hard Drive: 4 GB available space

Sound Card: Direct X 9 Competible

Additional Notes: Core 2 Duo 2GHz or better
Mac System Requirements
Minimum:


OS: Mac OS X 10.5 or later

Processor: 2GHz or better

Memory: 2 GB RAM

Graphics: Shader Model 3.0 Support

Hard Drive: 4 GB available space
Recommended:


OS: Mac OS X 10.5 or later

Processor: Core 2 Duo 2GHz or better

Memory: 2 GB RAM

Graphics: Shader Model 3.0 Support, 512 MB Video Card or better

Hard Drive: 4 GB available space
Linux System Requirements
Minimum:


OS: Ubuntu 12.04 or later

Processor: 2GHz or better

Memory: 2 GB RAM

Graphics: Shader Model 3.0 Support

Hard Drive: 4 GB available space
Recommended:


OS: Ubuntu 12.04 or later

Processor: Core 2 Duo 2GHz or better

Memory: 2 GB RAM

Graphics: Shader Model 3.0 Support, 512 MB Video Card or better

Hard Drive: 4 GB available space
Helpful customer reviews
Title:
Monochroma
Genre:
Action
,
Adventure
,
Indie
Developer:
Nowhere Studios
Publisher:
Nowhere Studios
Release Date:
May 28, 2014
Languages:
| | Interface | Full audio | Subtitles |
| --- | --- | --- | --- |
| English | | | |
| French | | | |
| Italian | | | |
| German | | | |
| Spanish | | | |
| Bulgarian | | | |
| Czech | | | |
| Danish | | | |
| Dutch | | | |
| Finnish | | | |
| Greek | | | |
| Hungarian | | | |
| Japanese | | | |
| Korean | | | |
| Norwegian | | | |
| Polish | | | |
| Portuguese | | | |
| Romanian | | | |
| Russian | | | |
| Simplified Chinese | | | |
| Swedish | | | |
| Thai | | | |
| Turkish | | | |
See all 23 supported languages
Awards