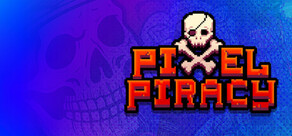 Pixel Piracy is a side-scrolling 2d, real time strategy/sandbox/simulation game created by indie developer Vitali Kirpu and produced by Alexander Poysky. In the game, the player leads the life of a pirate captain. Recruit a crew, outfit and customize your ship and set sail on the open seas.
Release Date: Jul 31, 2014
Watch HD video
August 15th, 2014
Hello there everyone, Alexander Poysky here.

I've been quite silent since launch, that's due to the fact that it's been 12 months since I've actually had a single day off and I NEEDED (more than wanted, mind you!) to take a whole week and simply disconnect.

The amount of stress and pressure launch placed upon Vitali (who is now in Russia for a week) and I was immense, and the trials and tribulations that launch presented afterwards were as well, but we are obviously well on our way to getting Pixel Piracy where it deserves to be thanks to the fantastic work of Mikko, and Jesus's dedication to the community.

I've been asked where Quadro Delta is heading from here, and while I cannot give away any surprises, let me say that we DO have a few in store for the upcoming future.

Support for Pixel Piracy, as you can see, is going to continue for a long time, and Vitali and I are now doing "other things" that we cannot disclose for now!

Stay tuned for updates ;)

-Alex
23 comments
Read more
August 13th, 2014
Bug Fixes

Fixed bug where difficulty settings were not being saved properly

Healing item tooltips did not display correct info about how the items work

Player was able to grapple onto sinking boats and boat pieces after plundering

Pirates can now walk on destroyed ship blocks
Improvements
Added a window displaying latest changes, fixes and improvements when starting up the game

Added a confirmation message when trying to sail away from an enemy ship without plundering it
Mikko is hard worker! I think next week there won't be any patch but day after that week we will have a bigger one!
Stay tuned Sailors!
- Vitali out!
21 comments
Read more
Reviews
"Wow, a 10/10, but why?! Why? because this game managed to captured my heart immediately, with its excellent sound effects, cute, even if unpolished, pixel art and the ability to not only lead a pirate life, but do it with your own customized ship and crew. the promised features will make it from a 8/10 right now to the 10/10 it could be. should be. will be. this one is bound to be a classic, and not reviewing it as such would only make me look fool in hindsight."
10 – Indiedb

"Pixel Piracy is a loveable game with its own barrel of charm the mood seems perfect and I can just forget all my other needs. I can't help but hear the sounds the pirates make every now and again even when I'm not playing. Very interested to see where this games goes down the line. The loss of my pirates may seem a bit unforgiving at the moment but I'l only try harder next time ! If you like a bit of randomness and the ability to design your own ship, assemble your crew whilst managing their needs then you might as well try this out."
9.5 – Indiedb

"I don't give games a 10/10 that often, if not ever. But this game has so much going on for it, and it is under the radar right now. So, do yourself a favor, download the demo, have an awesome time, and then buy this game, cause it really is a gem. If you like pirates, and high sea adventure in highly randomized generated worlds, this is the game for you! It is very unforgiving, so you have to be very sure about your intentions when you play. One false planning and you have to start over from scratch (although there outside methods to save your game if you want to "cheat" save so do not worry). But the gameplay is fun, the art style, and sound effects are smarmy and swaggy. If you don't like this game, just walk the plank, because you don't enjoy fun things evidently :)"
9.7 – Indiedb

About the Game
Pixel Piracy is a side-scrolling 2d, real time strategy/sandbox/simulation game created by indie developer Vitali Kirpu and produced by Alexander Poysky.
In the game, the player leads the life of a pirate captain. Recruit a crew, outfit and customize your ship and set sail on the open seas. There you'll use any combination of aggression, diversion and trade to become the most infamous pirate crew of the seven seas! You can raid, pillage and plunder everything in your path, divert and lie to get what you want or trade for a quick buck. Remember to be careful though, death is everywhere and quite permanent! Adventure awaits…


Current features:

Sandbox open world Pirate simulator.
Procedurally generated world that changes each new game you play. While not a Roguelike in the strictest of sense, it does strike of one.
Vast over-world map full of danger, loot, and people to prey on.
Comprehensive loot system, upgrade-able weapons and armor, special and secret loot to deck out your sailors.
Parrots, Pets and Plunder!!
Death around every corner, our permadeath system will have you tearing your hair out at each loss and shrieking in delight at each victory.
Each playthrough will require around 20 hours to get through (with at least 4 playthroughs needed to see all the game has to offer)
CONSTANT updates and content patches. We update on a weekly basis (Friday), and will continue to do so for at least a year after launch in order to provide many new systems, fixes, and bits of content.

For more details on the game visit or follow us @pixelpiracygame or @alexpoysky or visit www.piracysim.com
PC System Requirements
Minimum:


OS: Windows 7

Processor: 1.6 GHZ

Memory: 1 GB RAM

Graphics: Pixel Shader Capable Graphics card

DirectX: Version 9.0c

Hard Drive: 200 MB available space
Mac System Requirements
Minimum:


OS: 10

Processor: Intel I-3

Additional Notes: MAC USERS must take the following steps to make the game work : http://steamcommunity.com/app/264140/discussions/0/34093781621606512/
Recommended:


Additional Notes: http://steamcommunity.com/app/264140/discussions/0/34093781621606512/
Linux System Requirements
Minimum:


OS: UBUNTU

Processor: 1.6 GHZ

Memory: 1 GB RAM

Hard Drive: 200 MB available space

Additional Notes: SOME LINUX/UBUNTU USERS HAVE BLACK SCREEN PROBLEMS, THE FOLLOWING FORUM LINK SHOWS HOW TO RESOLVE THEM http://steamcommunity.com/app/264140/discussions/0/34093781621606512/
Recommended:


Additional Notes: http://steamcommunity.com/app/264140/discussions/0/34093781621606512/
Helpful customer reviews
Title:
Pixel Piracy
Genre:
Indie
,
RPG
,
Simulation
Developer:
Vitali Kirpu
,
Alexander Poysky
Publisher:
Quadro Delta
,
Re-Logic
Release Date:
Jul 31, 2014
Languages:
| | Interface | Full audio | Subtitles |
| --- | --- | --- | --- |
| English | | | |
| French | | | |
| German | | | |
| Spanish | | | |
| Finnish | | | |
| Portuguese-Brazil | | | |
See all 6 supported languages
Awards
Indiedb IOTY Editors choice 2013