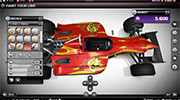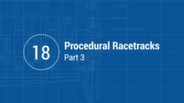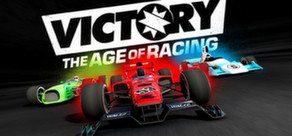 Victory is an unique racing game with unprecedented car handling and user generated cars inspired from the different eras of racing. Victory proposes a thrilling racing experience through multiplayer events competition and get drivers involved in an addictive team career.
Release Date: Feb 10, 2014
Watch all 3 trailers
Early Access Game
Get instant access and start playing; get involved with this game as it develops.
Learn more about Early Access.
What the developers say:
"Early Access gives you the opportunity to experience Victory during its beta stage and to actively support its development. Victory was designed to have additional content and gameplay features added overtime. Scroll down the page to find out all the details of our ambitious Development Roadmap.

We didn't design Victory based on marketing research, we did it only following our passion and to create the racing game we have always dreamed about, our ultimate goal is to create a sandbox racing game.

During the next months we'll polish the core features and improve the graphics, add full Steam integration and introduce new features like single player career, procedural racetracks, constructors with Steam Workshop, a league manager and more.

The core game experience is already in place so you can enjoy the game along with reporting bugs and giving us precious suggestions to create the great racing game you want.

That's why we're offering you the game at a discounted price for Early Access, and grant you the final version of the game without any additional charge. Get a Founder Pack and be welcome aboard.

You can find a complete list of the game's current and upcoming features in the game description down below."
Read more
Buy Victory: The Age of Racing - Steam Founder Pack
Buy Victory: The Age of Racing - Steam Founder Pack Deluxe
Downloadable Content For This Game
April 15th, 2014
ːvictoryː XInput compatibility and new supported devices
Hey guys! still working hard on controllers support: we've improved our calibration, introduced better compatibility with XInput (now the 360 controller has dual axis support!) and we now support a larger variety of devices, including external pedals and less supported steering wheels!
Improved calibration

Better compatibility with XInput

New supported devices (pedals and wheels)
Please continue to feedback us on the forums, we're working with you testers to improve the game, as always!
3 comments
Read more
April 11th, 2014
ːvictoryː Controllers patch 2
We're working hard on our controllers support and thanks to your feedback it's getting better every patch: thanks a lot guys.
After last week patch we received lots of new ideas and feedback and we've corrected the client accordingly: we increased keyboard and joypad sensibility and improved the general feeling.
Please
re-calibrate your controllers
after today's patch and report your feedback on the forums: as always, we're listening!
ːvictoryː Bug fixing
We fixed a couple of reported bugs on our Engagement Points system, please continue to report bugs, thank you guys!
2 comments
Read more
Steam Greenlight
About the Game
Victory is an unique racing game with unprecedented car handling and
user generated cars inspired from the different eras of racing
. Victory proposes a
thrilling racing experience
through multiplayer events competition and get drivers involved in an addictive
team career
.
You can be a ruthless driver pushing your car over the limits, a talented designer by creating unique user generated cars and a high skilled technical director by enhancing your car's performance and tackling advanced settings. Join the competition and get victorious by racing in Victory.

Enter the Steam Early Access for Victory and support the development of the game by buying one of our Steam Founders Packs at a very discounted price.
You will be able to play the game, receive frequent updates, check out the new features before anyone else and get great exclusive content:
-
Steam Founder Basic Pack

The entry point for every Steam player, this pack includes:
Access to Victory Early Access program

7500 Gears Credits (enough to start your multiplayer career or create a brand new racing car from scratch)
-
Steam Founder Deluxe Pack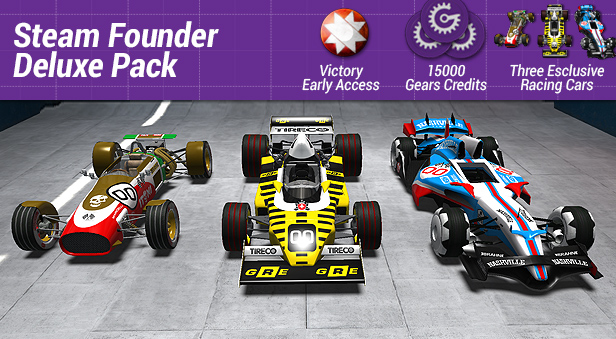 The Deluxe Pack gives you more Gears Credits and three exclusive cars that you can use on ordinary tracks or in dedicated and reserved events that we'll launch during the Early Access period. This pack includes:
Access to Victory Early Access program

15000 Gears Credits (enough to fast forward your multiplayer career or create some racing cars from scratch)

3 Special Deluxe Founder racing cars (super fast 60PI cars, 1 legend car, 1 classic car and 1 formula car, exclusive to this offer, also give you access to reserved events!)

We are an Independent Game Studio and we've already ran a long Beta period offering the game for free in order to build our first beta testers community.
Thanks to Steam Early Access and your support, we have now the opportunity to
take online racing to the next level
making the game that we want and you want.
Our ultimate goal is to create a sandbox racing game
, where you can create your cars, tracks, championships, live events... giving the player the freedom to be a racer, a technical director, a car designer, a team manager, a constructor. It's up to you guys how far we can go.

-
Procedural Racetracks
We are facing one of the major challenges of racing games:
being able to create unlimited racetracks
having both a proper functionality and a great visual impact.
Our R&D team is working on a procedural an algorithm that randomly creates straight lines, chicanes, sharp turns, Esses, hairpins, etc. opening the way to structured
weekly events based on always different tracks
where players handle tires consumption, pit stops, weather conditions and limited car damages.

A fully featured
race track editor
will be the next step, letting players to create endless and different race tracks to be shared in the game and on Steam Workshop as well.
-
Constructor Expansion and Steam Workshop integration

Victory is going to be fully integrated with Steamworks' features. We'll add support for Steam Achievements, integrating them with our own achievement system (already working in the game).
We'll also add Steam Leaderboards and Friend system support, Along with that, we are leveraging our great car customization tool to create a Constructor Expansion with superior cars development capabilities to allow players to create and sell powerful and fancy cars in the game and also on Steam Workshop.
-
League Manager
Racing events are the juice of motor-sport games: we're designing an easy to use
League Manager
to allow players to create custom events by choosing car classes, regular or random generated race tracks, hotlap, qualify, practice, races and having a full set of rules and modifiers such as no collisions, handicap mode, last car standing, fixed PP, etc. All the events will be scheduled by a calendar and shared with Steam and Facebook friends.
-
Brand New Graphics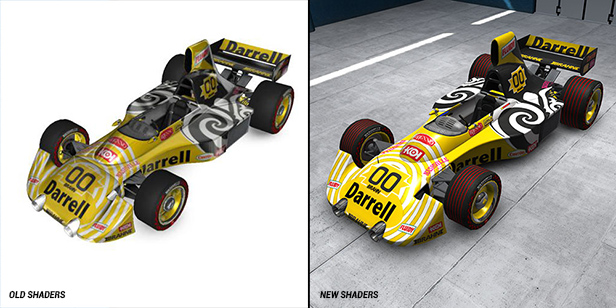 We are currently updating the textures, 3D models and shaders of all the car blocks, accessories and race tracks in the game. The results are amazing and will hugely improve the graphic quality of the game.
What you see in the image below is not a high-poly 3D model like the ones used for loading/garage screens in other games, but it's the actual car model you will use on the tracks in Victory.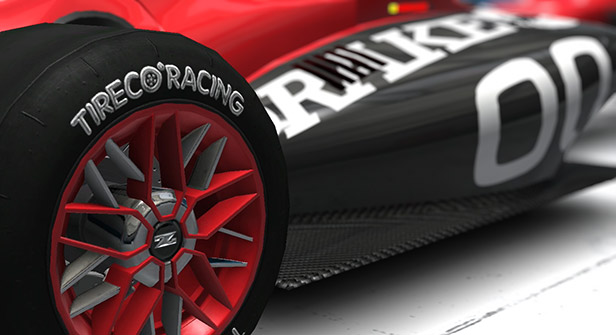 We're trying to find the perfect balance between realism and performance. With the new shader models we bring both of them to the game: stickers and colorable shapes are better rendered, materials are more realistic and a better depth of field is a joy for the eyes.
The updated engine will bring major improvements in terms of graphics and performance. We will be able to support more cars on the track during a race while the game will run smoother and faster.
This big update takes a very long time to be completed, but fortunately we started it months ago; we're now at 80% so we expect it to be available soon.
-
Polishing and Optimization
After the completion of the new graphics we'll proceed to eliminate every minor bug, memory leak and other annoyances still present in the game. Before proceeding to the final polishing, we need to complete every major feature, but rest assured that the final game at the end of the Steam Early Access period will be flawless.
-
Single player career
We want you to enjoy Victory both in multiplayer and in single player mode: We are developing various single player modes that will create a career you can enter whenever you want to race against AI drivers.
-

Victory is already a fully featured multiplayer online racing game that you can enjoy in multiple ways. Here's what you get right now by entering this Early Access. We're also working on some cool brand-new features, so be sure to
check out the development roadmap down below.
Racing cars in Victory can be
User Generated
: this gives the players an unprecedented level of freedom in choosing car blocks, parts, colors, decals and colorable shapes for their own customized car. We also created the
Block System
, where you can switch different body parts of your racing car to finally reach your favorite result.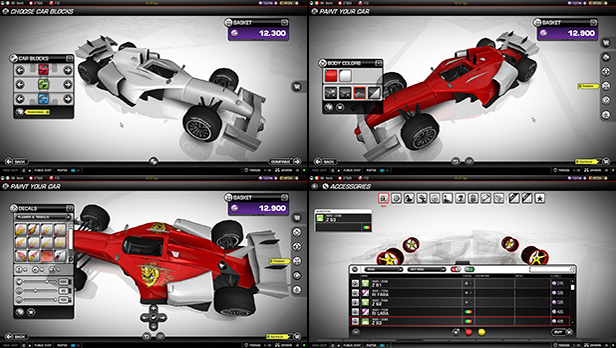 You can choose between
gamepad, keyboard, steering wheel
or even the
mouse
as the primary control method in Victory.
Keyboard controls with Assisted steering

Full gamepad compatibility (Xbox 360, PS3, Logitech pads and more) with force feedback support

Full steering wheel compatibility with force feedback support

Mouse controls (move the mouse to steer, left/right click to throttle and brake)

Oculus Rift support (coming soon)
This gives the game great versatility and doesn't force you to always have the gamepad with you. We've worked hard to create
the best keyboard controls
available on the market for a racing game: an integrated artificial intelligence helps you steering, braking and throttling simulating analog controls when you're using a digital one like the keyboard.

Victory is an arcade racer with
realistic physics
specifically tuned to give an unprecedented car handling and an addictive racing experience. We started with a top-notch car physics engine developed in collaboration with
Stefano Casillo
, the author of the acclaimed racing simulator,
Assetto Corsa
: we then added improved driving assistance systems so you can experience the game the way you want, enabling or disabling driving aids whenever you want.

PvP competitions
with
multiple game modes
and multiplayer
events
created live for inactive players.
Events, championships, daily races, different game modes... Everything is created in real time based on the status of connected players: a central server checks who's online and what he's doing, then creates live events that pop up on your main screen.
In Victory you can be active and choose what you want to do or just wait for the game to propose you new ways to race online and have fun.
Game Modes
Hotlap (single player mode)

Hotlap Party (multiplayer hot lap mode, up to 100 players, usually lasts 1 hour)

Hotlap Championship (multiplayer hot lap mode, can lasts for days, with online rankings in real time)

Quick Race (multiplayer race), various settings are available:

Handicap Race (multiplayer race, who wins get an handicap for the next one)

We also support LAN mode: race with your friends, create a LAN Party!
Race Settings
Collision mode: On, Off, Delayed

Zero PI mode: On, Off (once enabled every car will have the same performance in race)

Race Access: Public, Password protected

Race Restrictions (you can restrict your race only to particular performance groups of cars)

Grid Policy: Sorted, Random, Race Result, Race Result Inverted

Race Zone and Track rotation (sequential, random, fixed track)

Number of laps
Race Zones & Tracks
3 different racing zones around the world

15 different racing tracks

Car attributes, car setups, different engines, tires, accessories and more: It's your customized car!
Each car in Victory is described by six different attributes: Weight, Aerodynamics, Traction, Grip, Brakes and Power.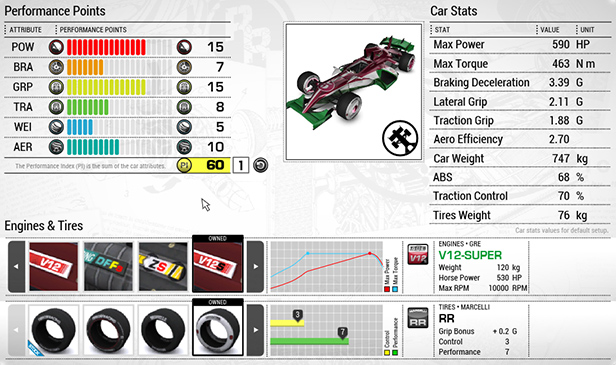 Like in a role playing game, you have to spend
Performance Points
in six different attributes to finally reach the perfect attributes combination for your driving style and racing conditions. You can have multiple cars in the game and customize them for different game modes or race tracks!

Choose from different official teams and start your racing career. Each of the three car classes in the game has a dedicated World Championship where different racing teams are looking for the best driver: are you ready to put the pedal to the metal and wear the colors of your team on the track?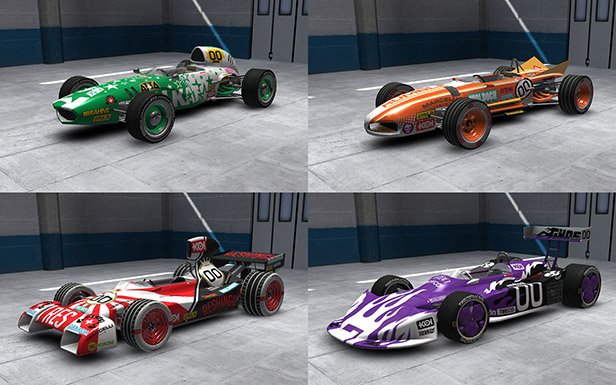 Each team will offer you different racing cars and you will have to unlock multiplayer achievements to progress in the team career, unlock new cars and reach the top of the rankings.

Achievement system with rewards (money, widgets, driver titles) and over 300 different achievements to unlock (soon to be integrated with Steam's achievements)

Fully integrated website with real time rankings and statistics of almost everything in game: check your rankings, different stats, every single car created in the game can be shared and voted!

Integrated Social Bar with race chat, race log, "last played with" panel, public chat, race invites, integrated friend system, online status settings and more!

7 different game cameras: choose your favorite one when playing, each camera got different effects (shake, motion blur, helmet movement simulation, etc.)

As it's completely cloud-based an internet connection is required to play this game.
-
System Requirements
Minimum:


OS: Windows XP SP3, Windows Vista, Windows 7, Windows 8

Processor: Dual-core 2.0 GHz or Equivalent

Memory: 2 GB RAM

Graphics: DirectX(R) 9 Compatible Graphics Card with 512 MB RAM

DirectX: Version 9.0

Network: Broadband Internet connection

Hard Drive: 500 MB available space
Recommended:


OS: Windows 7, Windows 8

Processor: Quad-core 2.4 GHz or Equivalent

Memory: 4 GB RAM

Graphics: DirectX(R) 9 Compatible Graphics Card with 1 GB RAM

DirectX: Version 9.0

Network: Broadband Internet connection

Hard Drive: 500 MB available space
©2014 Vae Victis Srl. Victory and the Victory logo are trademarks and/or registered trademarks of Vae Victis Srl. in the U.S. and/or other countries.
Helpful customer reviews
Title:
Victory: The Age of Racing
Genre:
Early Access
,
Indie
,
Racing
,
Simulation
,
Sports
Developer:
Vae Victis Games
Publisher:
Vae Victis Games
Release Date:
Feb 10, 2014
Languages:
| | Interface | Full audio | Subtitles |
| --- | --- | --- | --- |
| English | | | |
| French | | | |
| Italian | | | |
| German | | | |