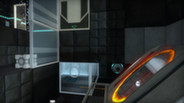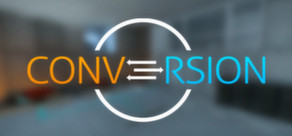 There are holes in this story, questions left unanswered! Conversion is here to fill some of these holes. You will see completely new locations of the Aperture Science facility, and use new testing elements. You will travel with new companions and encounter new foes.
Udgivelsesdato: 2015 (demo release - Summer 2014)
Se HD-video
This game requires that you own
Portal 2
.
Tilgængelig: 2015 (demo release - Summer 2014)
2 Marts 2014
Greetings from Team Conversions. We are sorry to announce that there will be a slight delay in Conversion Demo release.

Most of our dev team members are located in both Ukraine and Russia. As you may have heard, there is a political crisis currently happening in Ukraine, and tensions are very high between Ukraine and Russia. I don't want to imagine the worst, but some analysts believe we are on the edge of war.

We are getting so many reports, facts, rumors, and gossip from so many sources all the time, and trying to make sense of it all is very difficult and time-consuming.

As you can imagine, it makes it very hard to work on game development in such an atmosphere! Therefore, we will have to delay the demo release for at least three months while we focus on the events in our respective countries and also to finish the work on the demo.

What's left:

Bug fixes for the second and fourth chapters

Main character model

Voice acting for GLaDOS, Administration Core, Security Core and Secret Character (in both Russian and English)

Scripting and adding sounds and voices to maps

Videos for introducing new testing elements

Video for main menu

Some retexturing work for HD Remake

Linux build testing
We have also made a working build of the mod for Linux.
Our core dev team is very talented and dedicated to this project, however due to the scope of the mod, we are reaching out to the community for people who would like to volunteer to help.
We are currently looking for: (for free)
Source mappers (hammer work)

Model makers (need to know how to export models for source)

Translators (Russian-to-English)

Russian voice actors (we need people with good microphones and with some experience)

Scripters, scene makers (on Source, of course)
If you would like to apply for one of the above, please send me an email at patrstarr@gmail.com with subject
"Conversion dev team candidate"
(please don't email me to ask for a copy of the demo; I won't give it out before the release, or if you are not yet a member of our dev team)
Thank you for your time, and please accept our apologies for the delay.
[RUS TRANSLATION]
Задержка выхода Демо версии Conversion и набор в команду
Команда разработчиков Конверсии приветствует вас. К сожалению, мы вынуждены сообщить, что релиз Дэмо-версии Конверсии задерживается.
Причина такой задержки простая: большинство членов нашей команды разработчиков проживают как в Украине так и в России. Как вы уже знаете, сейчас у нас в Украине политический кризис, а также накал в отношениях между Украиной и Россией. Не хочется каркать, но некоторые аналитики говорят, что мы на пороге войны.
Кроме того, из-за тонны информации, новостей, фактов и слухов, которые приходят в течении всего дня - нам очень сложно работать. Мы просим у вас хотя бы 3 месяца задержки, чтобы восстановить рабочую обстановку и закончить дела, которые остались.
Работа, которую осталось сделать:
Исправление багов второй и четвёртой глав

Модель главного персонажа

Озвучка ГЛаДОС, Административного Модуля, Модуля Безопасности и Секретного Персонажа (как на русском так и на английском)

Закончить со скриптингом и добавить звуки и голоса в карты

Сделать видео, которые презентуют новые тестовые элементы.

Видео для главного меню

Некоторую работу по текстурингу для HD Remake

Протестить билд на Линуксе
Мы также сделали работающий билд Конверсии на Линуксе
У нас очень сильная команда разработчиков, но нас недостаточно для такого огромного мода.
Мы набираем людей в команду (на добровольно-бесплатной основе):
Мапперы на Source (работа с хаммером)

Моделлеры (Вы должны уметь экспортировать модели в формате используемом на движке Source)

Переводчики (с Русского на Английский)

Актёры русской озвучки (нам нужен человек с хорошим микрофоном и с толикой опыта)

Скриптеры, создатели сцен (на Source конечно же)
Если вы подходите к одной из вышеперечисленных должностей, пожалуйста напишите на мой e-mail: patrstarr@gmail.com с темой
" Conversion кандидат в команду разработчиков "
(пожалуйста не пишите на мой e-mail если хотите попросить у меня дэмо-версию, я не отдам его до релиза или времени когда вы будете полноправным членом нашей команды разработчиков)
Спасибо за ваше терпение, прошу принять наши извинения за задержку релиза Дэмо-версии.
85 kommentarer
Læs mere
16 December 2013
Thank you for your support, if you have upvoted us on Greenlight. And, we would like to thank everyone who posts comments, news, pictures about us, we do see that and appreciate.

In this announcement, I wanted to clarify some rumors going around Conversion. This might disappoint you, but we don't want to mislead you. Conversion is not a Portal 3, it is not even made by Valve. The store page states that we are Indie developers – "Hidden Valley" team. Not Hidden Valley® Ranch as I heard somewhere.

Valve does not provide us any information about their universe. Conversion's storyline is based on different theories and our imagination. Does it mean that our story is bad? It may not be canonical, but we try our best to fit it in Portal universe.

If you have already seen our store page, you could see some mistakes and actually bad English (or even right here, in the announcement). We want to make an apology about that. You see, Hidden Valley is a Russian/Ukrainian team, and we have no one who have English as a mother language. We will try our best to fix it and provide you a better description in some time. If you are a native English speaker and know Russian, please contact us on patrstarr@gmail.com (we make our mod for free, so we don't have any budget and money to pay you for translating).

Moreover, we heard that there were many people who were upset that we didn't show our new characters: Ben and August. Well, we actually did show them on our Greenlight page, but we have updated screenshots section on our store page just for you. How kind of us 'eh? Please, welcome Ben, the security core (he has yellow "eye") and August, the administration core (blue one). We are so sorry, but we can't reveal more information. I know that you want to know more, for example, the origin of both this core and their characters. We promise to make a video that will contain more information about them, so be sure to check our store page for updates!

Thanks for your attention, be awesome.
Your Hidden Valley Team.

60 kommentarer
Læs mere
Steam Greenlight
Steam Big Picture

Om spillet
We all know what happens; Chell deactivates GLaDOS, gets put in extended relaxation only to be reawakened years later to fight again and escape. But what really happened in Aperture Science during the intervening years?
Have you ever wondered: Why does Aperture look so different in Portal 2?
There are holes in this story, questions left unanswered! Conversion is here to fill some of these holes. You will see completely new locations of the Aperture Science facility, and use new testing elements. You will travel with new companions and encounter new foes.
Familiar constructs like that of GLaDOS and Wheatley will return! In addition new companions such as The Administration Core, August, The Security Core, Ben, will help you save Aperture Science!
Some of our new areas are F-STOP inspired, such as "The Lost Complex". This area will feature new gameplay never before seen in a Portal game.
Did you think that Portal games were too linear? Would you have liked to make more moral choices? It could be fun to use this conception in Conversion, but here, in Hidden Valley, we think that it is important make gamers feel immersed and that their decisions have a very real impact on their experience and their companions. We do not want to give you a "press-a-button-to-choose-an-ending" experience; you are the master of your story.
Features
Main Features:
New "Lost Aperture" gameplay

Nonlinear plot

New characters

Solid storyline extending the Portal universe
New Testing Elements:
High-energy Pellet

Pneumatic Diversity Vent

Reflection Gel

Heavy Duty Thermal Reflection Panel

High-Energy Ring

Heavy Duty Super-Colliding Super Button Reverse Gravity Field (HDSCSBRGF)

High-energy Thermal Discouragement Beam Battery
Systemkrav til PC
Minimum:


OS: Windows 7 / Vista / XP

Processor: 3.0 GHz P4, Dual Core 2.0 (or higher) or AMD64X2 (or higher)

Memory: 1GB XP / 2GB Vista GB RAM

Graphics: Video card must be 128 MB or more and should be a DirectX 9-compatible with support for Pixel Shader 2.0b (ATI Radeon X800 or higher / NVIDIA GeForce 7600 or higher / Intel HD Graphics 2000 or higher).

DirectX: Version 9.0c

Sound Card: DirectX 9.0c compatible
Systemkrav til Mac
Minimum:


OS: MAC OS X 10.6.7 or higher

Processor: Intel Core Duo Processor (2GHz or better)

Memory: 2 GB RAM

Graphics: ATI Radeon 2400 or higher / NVIDIA 8600M or higher / Intel HD Graphics 3000
© 2014 TEAM CONVERSION. VALVE, STEAM AND THE STEAM LOGO, SOURCE ENGINE ARE TRADEMARKS OR/AND REGISTERED TRADEMARKS OF VALVE CORPORATION
There are no public reviews for this product yet
You can write your own review for this product to share your experience with the community. Use the area above the purchase buttons on this page to write your review.
Titel:
Conversion
Genre:
Action
,
Eventyr
,
Gratis at spille
,
Indie
Udvikler:
Team Conversion
Udgiver:
SignHead Studio
Udgivelsesdato:
2015 (demo release - Summer 2014)
Sprog:
| | Grænseflade | Fuld lyd | Undertekster |
| --- | --- | --- | --- |
| Dansk | | | |
| Engelsk | | | |
| Tysk | | | |
| Russisk | | | |
| Fransk | | | |
| Spansk | | | |
| Tjekkisk | | | |
| Hollandsk | | | |
| Finsk | | | |
| Ungarsk | | | |
| Koreansk | | | |
| Portugisisk | | | |
| Portugisisk-Brasilien | | | |
| Rumænsk | | | |
| Forenklet kinesisk | | | |
| Svensk | | | |
| Thai | | | |
| Tyrkisk | | | |
| Ukrainsk | | | |
Se alle 19 understøttede sprog