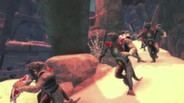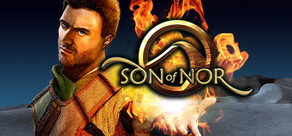 We are live on Early Access! Son of Nor is a third person action-adventure that combines telekinesis and terraforming with elemental magic spells. Play solo, co-op online, or local split screen. The World is your Weapon. Use it wisely.
Release Date: Jul 24, 2014
Watch HD video
Early Access Game
Get instant access and start playing; get involved with this game as it develops.
Note: This Early Access game may or may not change significantly over the course of development. If you are not excited to play this game in its current state, then you may want to wait until the game progresses further in development. Learn more
What the developers have to say:
Why Early Access?
"One of the great things about being indie is that we can get close to our fans and talk to them directly. Going with Early Access on Steam allows us to get valuable, practical feedback that we can use to make improvements to provide a unique and truly innovative gaming experience.
This Early Access version is a look at the first few levels of the game without all of the planned features in place. We are particularly looking for feedback on the existing puzzles, combat and story progression to iterate on comments from our internal and external testing results."
How long will this game be in Early Access?
"Given the current state, we expect to be in Early Access for about three months."
How is the full version planned to differ from the Early Access version?
"The Early Access version gives you a great experience as a single player – you'll be able to test out the terraforming, telekinesis and use spells and their combinations against various enemy types. It's available for WIN and MAC only right now but coming soon on LINUX. Some of the updates you can look forward to as we prepare for full release are:
Cross-platform online multiplayer

More levels and enemies

English and German voice overs

More polishing

Cool intro and outro sequences

Full compatibility with Tobii Eyetracking , Oculus Virtual Reality and Emotiv EPOC

Steam achievements

Steam leaderboards

Steam controller support

Steam cloud

Linux support

Full German localization
"
What is the current state of the Early Access version?
"This first Early Access version is in Beta state and gives access to the first 14 levels. It's a stable single-player experience, but we're looking constantly for new bugs and hope you can help us find them too. As we add more features, we want your feedback on what works and what doesn't!"
Will the game be priced differently during and after Early Access?
"Yes, we are running an Early Access Launch Promotion so it's 10% off for the first week of Early Access"
How are you planning on involving the Community in your development process?
"Beginning with our successful Kickstarter campaign and continuing through the Steam Greenlight process, our Community has been vocal and supportive of our efforts! We take your feedback seriously and your direction has provided valuable key ideas for the gameplay. Now that we're launching on Steam Early Access, we expect to get even more feedback to tailor and polish the player experience even further to what we have today.
To make providing feedback easy, we have integrated a reporting tool within the game that makes it easy for players to give useful feedback directly to us. By pressing F4 during the game, players can add their feedback or bugs to our database. This also provides us (anonymous) game state data that makes it easier for us to address comments quickly (e.g. find and reproduce reported bugs)."
Read more
September 17
Hello everybody!




We are currently participating with Son of Nor in the Austrian Content Award Vienna '14 and we need your vote.

You can help us by going to this website:

http://www.contentaward.at/voten/1034

And then pressing on the small box that says "100".

For this you will need to create an account (is very fast an easy) here:

http://www.contentaward.at/registrierung

In the case that you don't speak german and the browser doesn't automatically translates the website you can use this tool here to help (doesn't require downloads):

https://translate.google.com/translate_buttons

- We are very thankful for your support! Have a nice day and happy gaming!
0 comments
Read more
September 15
AWESOME UPDATE THIS WEEK! Bury enemies in the sand, destroy trees, dragon! If anything, watch this week's dev diary :)

https://www.youtube.com/watch?v=EfukX_T3QFA

We finally managed to implement some more complex things (that also took more time) you guys were commenting on and requesting! If anything, THIS dev diary is the proof that we're listening and keep improving Son of Nor bit by bit!

HUUUUGE content update coming this week! New main menu, new customization options, new playable characters, featured map, new loading screen, loading screen tips, new fun sandbox map, visual improvements, much better player guidance and improved gameplay in level 1, destroyable trees, pick up branches and use them as weapon, and BURY ENEMIES! And new levels will be available with this content update, too.

Our main question to you: What do you think of the new sand-burying mechanics?
Thanks for watching and see you next week!
0 comments
Read more
About the Game
We are launched in Early Access! We know there are bugs and you will find them – please be vocal but nice! For this version of the game, we are especially interested in feedback on the puzzles and your multiplayer experiences. You can leave feedback on the discussion board or just by pressing F4 during the game. This also provides us (anonymous) game state data that makes it easier for us to address comments quickly (e.g. find and reproduce reported bugs).
We are planning frequent build updates so we appreciate your feedback! Please use the forums or use the F4 key in the game to let us know what you think.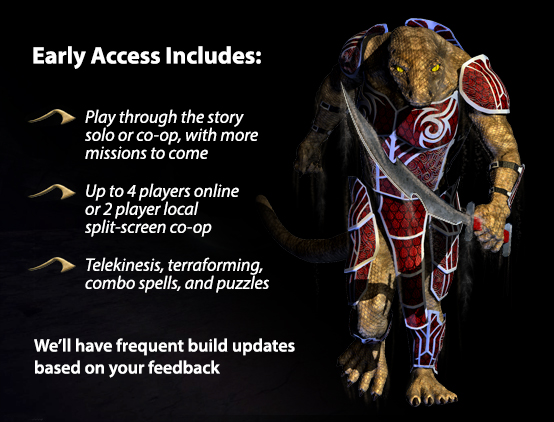 As a Son of Nor, consecrated by the Goddess of the Night, it is up to you to protect the human race against total extinction. While the few remaining humans are cornered in The Edge of a vast desert world, you fight the Sarahul, an enemy from the past. On your journey you discover a labyrinth of ancient tunnels and magical, long forgotten powers that are well guarded by puzzles and traps. These mysterious structures were left behind by an unknown race thousands of years ago.
Starting with the abilities granted by your goddess Nor, telekinesis and terraforming, you will explore the world of Noshrac, gain access to new and mysterious powers, fight through enemy territory, and solve intricate puzzles.
As a Son of Nor, the World is your Weapon. Use it wisely.
Features in Early Access:
Progress through a large portion of the story with more to come.

Multiplayer debut with up to 4 players via Steam Matchmaking, or 2 players in local split screen co-op, or simply play alone.

Move and shape the desert using terraforming: raise or lower sand to gain tactical advantage, create barriers, trigger traps, or escape to higher ground.

Play your style - use telekinesis to pick up objects around you and use them as weapons or create levitating bridges.

Tear rocks out of canyon walls and hurl them at opponents, or use your telekinetic abilities to solve rewarding puzzles.

Enhance your abilities by gaining elemental powers like fire and wind to further enhance your powers. You can combine these elemental abilities to create even more powerful spells.

Become immersed in the world of Son of Nor: no GUI or HUD, everything is embedded naturally and intuitively in the world's environment.

Includes a subtle atmospheric sound track composed specifically for Son of Nor

Currently available on WIN and MAC right now, but coming soon for LINUX
Gadgets:
Supports SteelSeries Sentry Eye tracking and tobii Eye tracker: Control your powers intuitively by using your eyes

Supports Oculus Virtual Reality headsets: Get ready for a truly immersive 3D experience

Supports Emotiv Brain Computer Interface: Unleash the power of your mind by casting magic with your thoughts for a truly immersive experience!
*Implementation of Oculus and Emotiv Brain Computer are currently being implemented. Stay tuned for more information coming soon!
PC System Requirements
Minimum:


OS: Windows® XP, Windows Vista®, Windows® 7, Windows® 8

Processor: Intel® Core® 2 Duo / AMD® Athlon™ x2 6400+ or faster

Memory: 2 GB RAM

Graphics: nVidia® 8800 GT / AMD® 4670 or faster with 512 MB VRAM (not compatible with all laptop/mobile video chipsets)

DirectX: Version 9.0c

Network: Broadband Internet connection

Hard Drive: 3 GB available space

Sound Card: DirectX 9.0 compatible sound card
Mac System Requirements
Minimum:


OS: Macintosh® OSX 10.9.3

Processor: Intel® Core® 2 Duo

Memory: 2 GB RAM

Graphics: nVidia® 8800 GT or faster with 512 MB VRAM (not compatible with all mobile/laptop video chipsets)

Network: Broadband Internet connection

Hard Drive: 3 GB available space
© stillalive studios GmbH & Viva Media, Inc. Published under license by Viva Media, Inc.
Helpful customer reviews
Title:
Son of Nor
Genre:
Action
,
Adventure
,
Indie
,
Early Access
Developer:
stillalive studios
Publisher:
stillalive studios
Release Date:
Jul 24, 2014
Languages:
| | Interface | Full audio | Subtitles |
| --- | --- | --- | --- |
| English | | | |