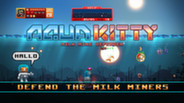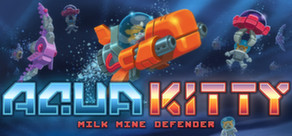 Aqua Kitty is a fast paced retro styled submarine arcade shooter with optional 2 player local Co-op. Blast through hordes of mechanical sea monsters in your kitty sub and defend the deep sea milk mining kittens! THE MILK MUST FLOW!
Release Date: Feb 3, 2014
Watch HD video
February 10th, 2014
A new version of the game has a small fix to level 20 that people were finding the difficulty spiking on. This quick update is to keep parity with the GOG version.
1 comments
Read more
February 5th, 2014
Hi, we have updated the build on Steam. Here are the changes:

1. Removed the Windows Media Player dependency that the game had for music playback.
This had been a problem for some people, so we are happy to let you know the game now no longer requires WMP to be installed.

2. Fullscreen issue where the game was unplayable for some people if the game was set to be fullscreen.
We have added a command line option `-forced_windowed`
Adding this forces the game to be windowed on loading. If you had an issue where the game
could not be played if set to fullscreen, then close the game, add this command line and try
running the game again.
NOTE - GAME MANUAL HAS BEEN UPDATED WITH COMMAND LINE INFORMATION.

3. Rare controller issue. If the game crashes and you do not have any controllers OR you have Xbox 360 controllers try adding this command line:
`-use_xna_pad`
It forces the game to use only xinput controllers.
NOTE - GAME MANUAL HAS BEEN UPDATED WITH COMMAND LINE INFORMATION.

4. In single player mode you can now use left CTRL as a purchase button in Arcade mode.

5. Main menu, the version number has been updated to v1.04.

If you have any issues running the game, as ever please do post in the forums and we will do our best to resolve them as soon as we can.
2 comments
Read more
Reviews
"Aqua Kitty-Milk Mine Defender is a cute little arcade shooter that is too good to pass up. The graphics are pretty, the music is awesome, and it felt appropriately difficult on its own merit rather than me fighting the system. I've got little but praise for this game and felt it worth the price."
Approved! (they dont score) – Indie Gamer Chick

Steam Greenlight

About the Game
Aqua Kitty
is a fast paced retro styled submarine arcade shooter with optional 2 player local Co-op.
Blast through hordes of mechanical sea monsters in your kitty sub and defend the deep sea milk mining kittens!
THE MILK MUST FLOW!

Story
Due to a sudden shortage of milk, cats around the world are forced to seek out new sources to get their fix.
You and your team of milk mining kittens have overcome a fear of water to drill down under the ocean seabed and begin extracting vast reserves of what seems to be naturally forming full-fat milk.
Get ready for fast paced submarine action, defending the kittens from disruptive mechanical sea creatures.
Key Features

Optional 2 player local CO-OP
.

Branching map
progression of levels.

3 Main Game Campaign Modes

Normal Mode
- the standard game of branching levels full of mechanical enemies with differing behaviours.

Easy Mode
- a version of Normal mode in case you found it too hard, with more health and easier enemies.

Arcade Mode
- a special survival mode where you must collect gems to purchase powerups.

Depth based power-up systems
which gives partial control on the type and location of the power-ups created (allowing tactical advantage).

Classic infinite mode
milk-free level, that never ever ends - for the hardcore challenge.

Dual firing submarine
with a rechargeable secondary weapon that needs to be managed carefully (upgrades through game progress in Easy and Normal Modes, but upgrades via a shop system in Arcade Mode).

Varying sea depths
per level which subtly affect gameplay.

Chain kill combo system
allowing the more skilled player to maximise score.

Steam online leaderboards
to challenge and achievements to obtain.

Hand drawn
pixel art graphics, displayed at a crisp 720p.

Awesome
chiptune music taking inspiration from the best of the C64 and Amiga days.
Development history
Hello, here is a short history of this indie games' development which we hope will be of interest.
Aqua Kitty was made by a core team of two people with audio created by Electric Cafe and the game box art by artist David Hankin.
It began as a small modern-retro styled PC game, designed to run at a crisp 1280x720 it was created with a love of the 16bit gaming era and late 80s video arcade games.
There are 3 core versions of the game available of different hardware - PC, XBox360 and Sony PSM.
Sony version is the oldest and smallest version. A critically acclaimed launch title for PSM (Vita).
XBox version is the Sony version with extra added levels + enemies + refinements.

PC version is the most feature rich and improves on the XBox one with new Weapons + Gradius style Arcade mode + yet further refinements and extra details (with the Steam version being unique in having online leaderboards and achievements).
All the new things we have added to the Steam version will also be rolled back into the other PC versions unless Steam specific (ie Online leaderboards, achievements, trading cards are STEAM ONLY).
System Requirements
Minimum:


OS: Windows XP / Vista / 7 / 8

Processor: 1.2Ghz Processor

Memory: 1 GB RAM

Graphics: DirectX 9.0c-compatible graphics card with 128 MB VRAM

DirectX: Version 9.0c

Hard Drive: 140 MB available space

Sound Card: DirectX 9.0c

Additional Notes: Controls: Joypads or Keyboard. Xbox 360 controller recommended.
© 2014 Tikipod Ltd. All Rights Reserved.
Helpful customer reviews
Title:
Aqua Kitty - Milk Mine Defender
Genre:
Action
,
Indie
Developer:
Dugan
,
Gabor
,
Electric Cafe
Publisher:
Tikipod Ltd
Release Date:
Feb 3, 2014
Languages:
| | Interface | Full audio | Subtitles |
| --- | --- | --- | --- |
| English | | | |
Awards
Nomination for PC version:
For Xbox version:
Awards/ nominations for Sony Vita version: