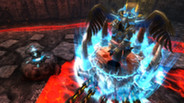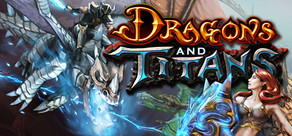 Dragons and Titans is a fast paced MOBA with classic RPG elements. Select from over 30 unique dragons and 30 legendary weapons. Upgrade dragons and forge weapons to unlock more power. Free your Titan in 5v5 PvP battles across 3 different map types or play in 'Adventure Mode', traveling across different regions and unlocking rewards.
Release Date: Mar 12
Watch HD video
Downloadable Content For This Game
September 17
Bug Fixes:


Fixed bug where un-owned weapons showed up in the Forge.

Various performance and stability improvements.
Balance Changes:
Dragon Nightmare:


Fear Swarm (breath): reduced chance to apply Fear from .05/.07/.09 to .04/.06./08

Firewings: reduced duration from 6.5 to 5.5
Weapon Doomshard:


SpinShard: added 50% falloff to Beam
1 comments
Read more
September 10
Greetings Dragon Lords! We are proud to bring you our new Titan Pass. Why are we doing this? Check out this interview with Scott for more info http://www.pcgamesn.com/dragons-and-titans/why-one-moba-developer-turning-away-free-play.

We're attaching the FAQ below for the most common questions, but please if you have more questions let us know!



Q: What is the Titan Pass?

The Titan Pass is the single purchasable item in Dragons and Titans. With this purchased you receive all the content we have built since the game was created and additionally you receive all the new content we release for 1 year after your purchase. In addition players will receive 4x the crystal rewards from playing matches for the year after purchasing the Titan Pass as well.


Q: Why did you change to the Titan Pass ?

We wanted to create something that we felt was priced fairly that would allow more of our players to have everything in the game unlocked and experience everything we have created. We also wanted to make sure that in no way did people feel our game was pay to win.


Q: What else has changed with the release of the Titan Pass ?

We have removed Dragon Bucks, Ingots, Warmarks, Bundles, Potions.
Additionally:
Forging is now instant.
Forge elements drop from each act in Adventure now as well.
Rune combining is instant now as well.



Q: What happens to anything I purchased before the Titan Pass?

You still own all dragons, weapons, acts, skins, and avatars you purchased pre-Titan pass.



Q: What happens to the Dragon Bucks, Potions, Warmarks and Forge Ingots I already had?

We are converting all of those to crystals at the following rates.

Dragon Buck – 2000 Crystals
War Mark – 400 Crystals
Forge Ingot – 10 Crystals
Potion – 2000 Crystals



Q:What if I had already spent money in the game?

As a special thank you for players who have supported us in the past, any player who had paid over $20 will be awarded a one time Veterans Dragon Pack of 10 Random Tier II Dragons when they log into the game.
Q: What are the bonus avatars?

We have created 4 special avatars as a thank you for all players who have played Dragons and Titans. Each is awarded to you automatically based on playing the minimum number of months.

Water Elemental – 3 months
Fire Elemental – 6 months
Gorglot – 9 months
Dragonborn – 12 months



Q: What about avatars that are special rewards, for example placing top 100 in a season?

Special award avatars are not included in the Titan Pass and will still only be available to players as before.



Q:Can you still buy individual items?

No, the only item now purchasable in Dragons and Titans is the Titan Pass.



Q: How do you get tiered dragons now?

You still can earn crystals by playing matches and use those crystals to unlock random dragon eggs which you can combine with your existing dragons to create higher tiers.



Q: Will I still be able to play without buying anything?

Absolutely, you can play Dragons and Titans for free. Dragons and Weapons will still have a free rotation and can be unlocked with crystals.



Q: Can I still buy dragon eggs?

Only with crystals.



Q: I just want to buy one dragon. Why did you change it?

With the Titan Pass you not only unlock every dragon we have ever made, but all the new dragons we will release for one year from the time your purchase the pass. We feel this incredible value and the simplicity that there is nothing else to buy is the best decision for the game.

- See more at: http://www.dragonsandtitans.com/game-info/titan-pass-faq/#sthash.DIZnnkFy.dpuf
6 comments
Read more
About the Game
Dragons and Titans is a fast paced MOBA with classic RPG elements, where your champions are Dragons and a variety of game modes gives you the power on how to play. Show true courage and skill to become the ultimate Dragon Lord as you embark on your quest to free your Titan from captivity.
Select from over 30 unique dragons and 30 legendary weapons, each with unique abilities and progression levels. Take your battle to the next level by upgrading your dragons as you gain experience and improving your weapons in the Forge. Free your Titan in fierce 5v5 PvP battles across 3 different map types or delve deeper into the story in 'Adventure Mode', traveling across different regions in the Lands Below, earning Dragons as you complete each set of missions. Gain favor with the Titans and climb the PvP leaderboards to prove your true worth as the ultimate Dragon Lord!
Become the Ultimate Dragon Lord - Master over 30 Dragons, each with unique abilities. As you gain experience, level up your Dragons to dominate in combat!

Discover a Deeper Story– Explore the vast regions of The Lands Below, embark on quests and be handsomely rewarded with Dragons for your heroism.

Forge Your Weapons – collect elements during combat and upgrade weapons in the Forge to harness their true power!

Take to the Skies Your Way - battle times of 10-15 minutes means you'll be able to complete more matches across a variety of maps: traditional MOBA, Capture & Hold and ARAM. Choose your play style with 5v5 PvP, Co-Op or single player Adventure Mode!

Dominate the leaderboards – compete against other opponents each Season to see who the ultimate Dragon Lords are and show off with exclusive winner avatars.
PC System Requirements
Minimum:


OS: Windows® XP/Windows Vista®/Windows® 7/Windows® 8 (latest service pack)

Processor: Intel® Pentium® D or AMD Athlon™ 64 X2

Memory: 1 GB RAM

Graphics: NVIDIA® GeForce® 7600 GT or ATI™ Radeon™ X800 XT or better

DirectX: Version 9.0c

Network: Broadband Internet connection

Hard Drive: 1 GB available space
Recommended:


OS: Windows® 7/Windows® 8 (latest service pack)

Processor: Intel® Core™ 2 Duo E6600 or AMD Athlon™ 64 X2 5000+ or better

Memory: 1 GB RAM

Graphics: NVIDIA® GeForce® 8800 GT (512 MB) or ATI™ Radeon™ HD 4850 or better

DirectX: Version 10

Network: Broadband Internet connection

Hard Drive: 1 GB available space
Mac System Requirements
Minimum:


OS: Mac® OS X 10.7.X (Latest Version)

Processor: Intel® Core™ 2 Duo

Memory: 1 GB RAM

Graphics: NVIDIA® GeForce® 9400M or ATI™ Radeon™ HD 2600 Pro or better

Network: Broadband Internet connection

Hard Drive: 1 GB available space
Recommended:


OS: Mac OS® X 10.8 or later

Processor: Intel® Core™ i3 or better

Memory: 1 GB RAM

Graphics: ATI™ Radeon™ HD 4850 or NVIDIA® GeForce® GT 650M or better

Network: Broadband Internet connection

Hard Drive: 1 GB available space
Helpful customer reviews