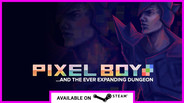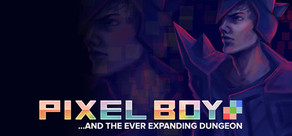 Pixel Boy and the ever expanding dungeon is an Action-RPG Shoot-em-up with dynamically generated stages across twenty levels and four acts each with an epic boss. Players can stack and combine power ups into over 6000 different powerful weapons as well as craft custom armours to overcome the dangers of the dungeon.
Megjelenés dátuma: 2014. máj. 30.
Nézd meg a HD videót
június 26.
Just a quick heads up to let everyone know that Pixel Boy is in the Steam Summer Sale Community vote for the next 7 hours, if successful it will be slashed to 35% off. We hope that everyone will vote for the Rogue Like category and give Pixel Boy a chance to be exposed to more people.

VOTE RIGHT HERE

We can win this David Vs Goliath vote battle.

Thanks.
0 megjegyzés
Tovább
június 19.
These are the latest fixes and changes to Pixel Boy. Thanks to the community and everyone that has helped us find errors.

+A hardcore mode is now able to be started from the main menu. When you die, thats it, you start over. (more changes to come to this mode in the future now that it's in place)
+There is now High Score tracking for hardcore mode. (looking into leaderboards on steamworks)
+Your Top Hardcore Score will now be displayed on the main menu
+Added a separate scene upon death for hardcore mode, showing current score from that run and top score before shipping you out to the main menu to try again.
+Added new music to deathUI's (ooh chilling)
+Switch room now has treasure chest for loot, awards a single powerful power up, ammo and coins.
+Added minimap Icons for the Switch Room and the RGB key pieces. They will only appear once Pixel Boy has been very close nearby or after an extended period of time.
+There are now destructible objects throughout the environment. These things can be smashed and broken to award coins and ammo. (Link would be proud) Due to this, prices in Resolutia have risen.
+Several new sounds have been added to new and old functions

-Astral shot should no longer shoot through most walls just through enemies.
-When PenGUIN is dizzy shieldspin will now properly trigger damage.
-Ammo has been tuned to a lower drop frequency and quantity
-Weird unexplained explosion on begining of some scenes should no longer exist.
-Health Pots purchased from the shady old shaman now only award five health points per potion.
-The enemies HP levels have been re tuned.
-Baby slimes should now die+slow when they impact with Pixel Boy, you monster.
-Pixel Boys death has become more dramatic and colorful
-All bosses have been tweaked and made so that they can no longer be one shot, they should always be a formidable foe now.
-Treasure chest icons will no longer appear on the map until Pixel Boy has been close to them.
-The elevator will now appear on the map once Pixel Boy has been nearby.
-All main menu elements have had their sounds corrected and the about box goes fullscreen now and can be exited by clicking 'about' again.
-Sorted the scoring system to be more advanced and reasonable, as well, added some new things that reward score
-When using the Anvil in the dungeon, and clicking the button to repair you should no longer waste ammo
-Decimals have been removed from stats menu, crits and hopefully everywhere.
-Really large shield combos should no longer be tossing enemies about. (looking at you turtles)
-The trap rooms have had their enemies adjusted and tweaked.
-The rushing enemies from the switch room have been removed temporarily.
-The scene changing system has been rewritten and should hopefully address all the unusual places people have wound up.
-Treasure chests have had their treasure altered.
-A weird heat seeker error has been resolved, was causing weird frame rate problems.
-Mobs now drop different treasure rates. Most powerful power ups must be retrieved from switch rooms.
-Costs of powerups has been in some cases increased dramatically based upon strength
-Cost of crafting becomes substantially more expensive as time goes on
-Cost of anvils has increased.
-Cost of armour crafting has been increased

If you find more issues or there are any inconsistencies please email us at info@giantboxgames.com or post it on the forums.

Thanks for the patience and support.
1 megjegyzés
Tovább
A játékról:

Pixel Boy is an Action-RPG Shoot-em-up with dynamically generated stages across four acts each with an epic boss finale. Players can craft custom armours as well as stack and combine power ups into over 6000 different powerful weapons to overcome the dangers of the dungeon.
Four uniquely themed acts each with dynamically generated dungeon levels within.

Epic Boss Battles at the end of each act with unique mechanics and challenges

Many different Combine-able and Stack-able Weapons and Power ups for OVER 6000!!! unique combinations

Crafting system with five types of armour each with several tiered levels that have different effects and powers

Character leveling with customize-able builds across several base stats

Multiple Vendors and shops to purchase better items, power ups, and equipment

A wide variety of enemies with unique combat approaches

Steam Achievements

Steam Trading Cards

Pixel Boy features an awesome electronic original soundtrack composed entirely by popular and talented French artist Pyramid.

Pick up the soundtrack today!
http://0pyramid0.bandcamp.com/album/pixel-boy-ost

Help Pixel Boy on his arduous journey to become the Hero of Resolutia and this year's Dungeon Runner's World Champion!
Pixel Boy is a dungeon crawling top down Action Shooter. You control Pixel Boy and enter the randomly generated dungeons below the town of Resolutia. There are four acts in total, each with a powerful boss at their climax. Every dungeon is filled to the brim with aggressive and deadly enemies. As Pixel Boy you will encounter swarms of giant ants, packs of snapping dogs and even lethal dungeon birds. To help Pixel Boy bear this burden there are many tools at your disposal. Various pixel powerups can be found or purchased to help Pixel Boy overcome the treacherous dungeons beneath Resolutia.
Spreadshot, Shields, Splitshot, Heat seekers, Critical Strike Modifiers, Time Stoppers and much more are available. Three pixel powers can be equipped at a time and are stackable AND combinable so that Pixel Boy can find the best combination of over 6000 powers to defeat his adversaries most efficiently.
Various types and tiers of armours can be crafted by obtaining the appropriate armour orbs dropped within the dungeons depths. Each piece of armour has different effects, abilities and levels of power dependent on its tier and orbs used to create it.
Throughout the dungeon Pixel Boy may encounter a variety of randomly generated unique rooms. Make sure Pixel Boy pockets any keys he finds, as treasure rooms have chests that are always locked to protect their secrets. Be wary every time Pixel Boy moves from room to room, as simply entering a room could trigger a dangerous trap; locking him in the room until every monster has been defeated within. Pixel Boy should also pay close attention to torches as they could lead the way to secrets and treasures. Collect all the coins Pixel Boy finds and spend them on items, powerups and armour at the shops back in town.

Daily Dungeon Mode (very soon)

Additional powerups

Costume rewards

Several more narrators

Playable Pixel Girl (due to popular request)

Full Controller Support

We hope to be able to continue to update the game and add these kind of features continually after release, free of charge of course.
So don't hesitate to send your suggestions and ideas.
We would like to extend a big thank you to everyone that has supported us along our journey in the development of Pixel Boy, you all kick butt and have made it super worthwhile. If you would like to follow us or discuss anything Pixel Boy related, feel free to visit our site, twitter, and like us on Facebook. Please don't hesitate to let us know about a bug, error, exploit or heck, even just something you dislike, we are always listening.
Giant Box Games
http://pixelboygame.com
http://www.facebook.com/pixelboygame
Twitter - @TeamPixelBoy
PC-s rendszerkövetelmények
Minimum:


OS: Windows XP +

Processor: Dual Core

Memory: 1 GB RAM

Graphics: 256mb at least and nothing over... let's say, five years old.

Hard Drive: 500 MB available space

Additional Notes: It shouldn't be too much of a feat to run Pixel Boy, but if you are trying to play on a modded refrigerator, purchase at your own risk.
Recommended:


OS: Windows 7/8

Processor: Quad Core

Memory: 4 GB RAM

Graphics: The newest of the new is obviously recommended. How much of a difference it will make, well of that we're not sure.

DirectX: Version 9.0

Hard Drive: 500 MB available space

Sound Card: Creative Labs Sound Blaster AWE32 or Tandy 1000

Additional Notes: If these specs don't play it, there is probably something wrong with your computer, or you. Also, the sound card was a joke, sorry, bad taste to all those that are still holding out for the Sound Cards triumphant return.
Mac-es rendszerkövetelmények
Minimum:


OS: OSX 10.5+

Processor: Dual Core

Memory: 1 GB RAM

Graphics: 256mb at least and nothing over... let's say, five years old.

Hard Drive: 500 MB available space
Linuxos rendszerkövetelmények
Minimum:


OS: Most 32-bit and 64-bit Linux OS

Processor: Dual Core

Memory: 1 GB RAM

Graphics: 256mb at least and nothing over... let's say, five years old.

Hard Drive: 500 MB available space
Hasznos vásárlói értékelések
Cím:
Pixel Boy and the Ever Expanding Dungeon
Műfaj:
Akció
,
Szerepjáték
Fejlesztő:
Giant Box Games
Kiadó:
Giant Box Games
Megjelenés dátuma:
2014. máj. 30.
Nyelvek:
| | Felület | Hang | Feliratozás |
| --- | --- | --- | --- |
| Angol | | | |