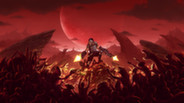 Thousands of aliens, giant spiders, mutant lizards, and more are on the attack - can you survive the onslaught? Crimsonland is a top-down shooter with a touch of RPG. Unlock over 30 weapons and over 50 perks from quirky to brutal. Complete the quest and show your skills in five survival modes.
Release Date: Jun 11, 2014
Watch HD video
September 22
Crimsonland is now available on OS X! Normal Steam features like leaderboards and achievements are naturally supported. The game also supports at least PS4 and PS3 controllers on OS X at the moment. In addition several other brands of modern controllers should work too.

In other news we're also working on the Linux version. We don't have a release date yet since we have Linux controller support to implement and one Linux sound engine to write still but we're getting there!
0 comments
Read more
September 9
Great news for OS X gamers: Crimsonland for OS X is now available in the beta branch. To try it, activate the update_beta beta. There's some awesome stuff there like support for Retina Displays and support for game controllers. We've mainly used PS4 controllers as they work out of the box on the OS X. Some controllers might require additional software depending on the model. So, give it a try and give us feedback! Once we've weeded out any bugs in this beta version, we'll go public with the release.
1 comments
Read more
Reviews
"I really like Crimsonland. It's unpretentious and straight-forward in its delivery, and yet, underneath its façade rests an addictive top-down shooter with solid mechanics and a hardcore slant."
7.5 / 10 – IGN

"Crimsonland is a quality twin-stick shooter."
7 / 10 – Game Informer

"If you like shooting infinite hordes of monsters from a top-down perspective, Crimsonland is one of the best options you have."
4 / 5 – Hardcore Gamer Magazine

About the Game

Thousands of aliens, giant spiders, mutant lizards, and more are on the attack - can you survive the onslaught? In Crimsonland you will unlock new weapons and perks constantly improving your abilities and arsenal. Your screen will be filled with literally hundreds of monsters and thousands of giblets. Grab your gun and prepare for endless hours of intense top-down shooter fun!
The original Crimsonland was released in 2003. After the game was greenlit at the end of 2013, 10tons decided to give the game a complete tune-up. The brand new 2014 version introduces countless gameplay fixes, a new chapter with new enemies, new perks, and new weapons. On top of that we've done a complete art overhaul!
What are perks?
Perks
are like talents in an RPG game. You earn
XP
by killing monsters and with XP you earn levels. After leveling up you get to choose a perk. For example, a perk called
Fastloader
enables you to reload extremely fast. During a session perks will stack up a and every game will be a bit different. You'll unlock perks during the quest mode after which they become available in the survival game modes.

We've created a huge arsenal of
30 unique weapons
ranging from the humble pistol to the mysterious Shrinkifier 5k. The weapons are unlocked by playing the quest mode and they become available in survival game modes as well. The better your arsenal - the better chances you have at scoring higher outside the quest mode.

Crimsonland features up to four player local co-op. All game modes including the quest can be played in co-op mode. There are also separate leaderboards for co-op games so gather your friends and show the internet who wields the gauss shotgun like a pro!

Quest mode with six chapters

FIVE survival modes: Survival, Rush, Blitz, Weapon Picker, and Nukefism

30 unique weapons

55 awesome perks

Steam leaderboards: global and friends

Leaderboards for co-op: Gang up on them!

Steam achievements & stats

Full controller support

Up to four player local co-op
Old Customers
If you have proof of purchase of the old Crimsonland you can apply for a Steam key for the new version. To do this you need to send the proof of purchase (the whole e-mail receipt you received after the purchase) including the original e-mail address used to make that purchase to crimsonland(dot)classic(at)10tons.com. Please note that since this process is manual it will take some time. During June most of us here are on vacation so expect a
delay of 5 to 10 business days
. In August the response time will be quicker again.
Things of Future
Fix any bugs which we didn't catch before release.

Mac Version (Aug-Sep 2014)

Linux version (Aug-Sep 2014, mainly Ubuntu)

Steam controller support (if we get one somewhere)
PC System Requirements
Minimum:


OS: Windows XP / Vista / 7

Processor: 1 Ghz

Memory: 512 MB RAM

DirectX: Version 8.1

Hard Drive: 200 MB available space

Additional Notes: Gamepads must support XInput
Mac System Requirements
Minimum:


OS: 10.6+

Processor: 1 Ghz

Memory: 512 MB RAM

Hard Drive: 200 MB available space

Additional Notes: Tested gamepads include PS4 and PS3 controllers. Other modern gamepads work probably too.
Helpful customer reviews