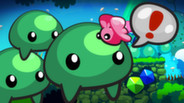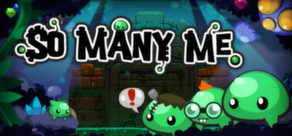 A charming puzzle platformer starring Filo and his band of misfit clones as they attempt to save a world threatened by an ancient, malevolent evil. Using their combined powers, Filo and his fellow Me must puzzle their way through a land of exotic creatures, devious traps and evil minions.
Release Date: Jul 17, 2014
Watch HD video
July 24th, 2014
List of changes is this version:
New:
Changes:
Reduced Boss Health in The Mine VIII from 4 down to 3.
Bug fixes:
Bugs fixed in various UI.

Fixed mouse and keyboard priority.

Fixed "Collect All Costumes" achievement not awarded in some situation.
0 comments
Read more
Reviews
"A wonderful game. Very well designed and highly playable. The only thing letting it down (and this is probably merely a matter of taste) was the boss fights."
90 – CalmDownTom

"So Many Me is an outstanding puzzle-platformer that fans of the genre should pick up. It makes brilliant use of the doppleganger mechanic allowing you to both solve puzzles and beat the crap out of enemies at will."
80 – Hardcoregamer

"So Many Me is adorable. It's clever. And it's punishing. If you are looking for a fun puzzle platformer that's easy on the eyes, I highly recommend So Many Me."
80 – Twinfinite

About the Game
So Many Me
combines
puzzle-solving platform
gameplay and the careful resource management of classic games like Lemmings!
You play as an unassuming green blob named
Filo
, who has an incredible ability: to control his many, many clones -- referred to as the "
ME
". These clones possess all sorts of fun abilities that can be used to solve puzzles throughout the game. As you progress further through Filo's adventure, you will find a variety of new types of clones. Understanding and harnessing their unique powers are key to your success.
Filo's myriad of adventures take him to a whimsical universe. It features a colorful art genre filled with
adorable characters
in their world's
mysterious environment
.
IndieCade E3 Showcase – IndieCade

Unity Showcase – GDC, China Joy, Tokyo Game Show, Korea Games Conference & G Star Global Game Exhibition
Key Features:
Discover new transformational abilities as you progress through each chapter. Learning to master these forms and using them in sequence, is key to solving the game's many puzzles.

Filo's endless adventures take you to a wondrous world of color filled with delightfully, intriguing characters.

Ride massive and powerful creatures. Utilize their unusual abilities to solve special puzzles and to smash through pesky obstacles on your way to the goal!

Boss monsters, each with their own distinct characteristics, will try to eliminate you. Challenge and overcome them.

Earn your rewards when you have solved the puzzles! Dozens of adorable costumes, ancient artifacts, and bonus levels are waiting for you!

PC System Requirements
Minimum:


OS: Windows Vista, Windows 7 and Windows 8

Processor: Intel Core™2 Duo Processor, AMD Athlon x2 Processor

Memory: 2 GB RAM

Graphics: NVIDIA GeForce 7600 series, ATI Radeon HD 2400 series

DirectX: Version 9.0c

Hard Drive: 1 GB available space

Sound Card: DirectSound compatible (DirectX 9.0c or higher)
Mac System Requirements
Minimum:


OS: OS X Maverics

Processor: 1.7 GHz Intel Core i5

Memory: 2 GB RAM

Graphics: Intel HD Graphic 3000

Hard Drive: 1 GB available space
© 2014 Extend Interactive Co., Ltd. All Rights Reserved.
Helpful customer reviews