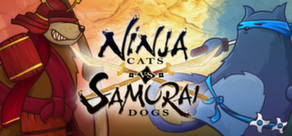 TIGA award nominated Ninja Cats vs Samurai Dogs combines the addictiveness of a tower defence game with the depth and tactical variety of a Real Time Strategy title. Choose your side in a fast paced and frenetic battle for canine or feline supremacy! Leading an army of Ninja Cats or Samurai Dogs has never felt so compelling!
Udgivelsesdato: 21 Feb 2014
Se HD-video
This item does not have support for your local language. Please review the supported language list before purchasing
Køb Ninja Cats vs Samurai Dogs
23 Februar 2014
Thanks for all the great feedback on our launch weekend! We have just updated the game with a number of bug fixes and features. In particular...

- New Difficulty Modes: We have added difficulty settings to the options window. Normal & Hardcore (the game previously defaulted to Hardcore).

- Clear Queue buttons: Buttons have been added to the tactics window to clear the currently producing card and the queue.

- Added the resolution configuration box on start-up by default.

- Solved issue where escape would quit the game.

- Updated various tutorial messages for clarity.

0 kommentarer
Læs mere
Om spillet
TIGA award nominated Ninja Cats vs Samurai Dogs combines the addictiveness of a tower defence game with the depth and tactical variety of a Real Time Strategy title. Choose your side in a fast paced and frenetic battle for canine or feline supremacy!
Leading an army of Ninja Cats or Samurai Dogs has never felt so compelling! Construct buildings, gather resources and command your forces to victory across 65 exciting battles. Unlock new units, buildings and abilities through the deep skill tree and put your skills to the test to defeat your mortal enemies once and for all!
Key Features
65 levels on an interactive map.

35 skills to earn and 5 artefact skills to find.

Easy to learn hard to master.

Combine Magic, Might and Martial abilities to create your own play style.

Multiple unit types alongside towers, traps, magic and interactive martial abilities.
Systemkrav
Minimum:


OS: Windows Xp, Vista, 7

Processor: 1.6 Ghz

Memory: 2 GB RAM

Graphics: OpenGL 2.0

Hard Drive: 700 MB available space
Helpful customer reviews
43 af 58 personer (74%) fandt denne anmeldelse brugbar
855 products in account
21 reviews
4.0 timer bogført
Ninja Cats vs Samurai Dogs is horrifically ported across and not even a good strategy/tower defense game either.

The game doesn't explain itself well and the tips it does offer it directs you to a forum post on the official forum for the game, which it alt tabs you from the game. When you do return back to the game it either crashes the game or puts it into windowed mode and guess what the options menu doesn't give you the option to go full screen again. Talking about the option menu, it's awful it has a sound option and how long you've been playing thats it. No resolution, no key bindings nothing just turning up or turning down the sound, I don't know what genius thought "This'll do". Don't press esc or the game will turn itself off no confirmation just boom off. The achievements are bugged it doesn't tell you when you get achievements and when you try to look at what achievements you do have it just gives a list of the all the achievements but with no breakdown as to what you have and what you're missing.

The gameplay is basically a 5 lane system, where you send your respective animal (cat or dog) down the lane of your choice to try and get to the end of the enemies lane and destroy their building that they have put in that spot. Obviously the CPU does the same as well to try and attempt to beat you. There are 4 different classes standard type soldier, archer, cavalry and artillery, they each have there own strengths and weaknessses for you to figure out which lane to put them down to be most effective(If you think this is a standout great feature on a strategy game, you're a ♥♥♥♥♥).
You also have traps and spells and other smaller bits. Whilst playing I find myself questioning though where the CPU gets the funds to build some of the stuff they have as im scraping soldiers together and it sends them out in droves as well as littering the field with traps.

Even 2 hours into the game im really struggling, I'm not a beginner at tower defense games but the learning curve on this game is appalling. The tutorial is lacklustre as well teaching you the very basics and then not really following through with further lessons as you unlock more items. It has a talent tree which is supposed to add some sort of depth (again if you think this talent tree is good you're a ♥♥♥♥♥, even WoW has a better one and Blizzard destroyed characters talent trees like a year ago) but really all it is, is for you to use extra stuff in battles the problem is you need this stuff in the beginning of the game so effectively you have to grind losses and the occasional win to get experience to unlock the skills you need.

Yes the game is cheap but so are other better games, you can even go on trading sites to swap TF2 keys for better games for a cheaper price. Don't make the ♥♥♥♥♥♥♥♥ excuse of it's good value for money, a happy meal is good value for money doesn't mean its worth buying because of what it will do to your ♥♥♥♥♥♥♥ the next day. Don't buy this or game or do its your money this is just what I think about the game.
46 af 71 personer (65%) fandt denne anmeldelse brugbar
349 products in account
8 reviews
1.1 timer bogført
So for anyone doubting to buy this, let me be clear. Yes this is a mobile port. So if you dislike these games, just avoid this one. Now for anyone else who wants a review for this game let me continue on:

This is a lovely little game. I really like it. First of all, it's just simple Tower Defence. So imagine a lot of gameplay style like Plants vs Zombies and Ironclad Tactics. You build certain building, you deploy units and they fight with the enemy. Each unit has his strong and weak point, like I said simple Tower Defence. So if you like these kind of games. You're on the right track.

Next thing I wanna adress are the graphics and the sound/music. Don't expect anything fancy here, again it's a mobile port so you have to work with that. Yet I have to say the graphics suprise me very well. Both the cats and the dogs have very good looking sprites and the units are easy to reconigize. Also the music is what really sells me in this game. Remember Okami or Okamiden? Well that kind of music is what you are gonna get in this game, it really helps to strengthen the mood.

So anybody looking for a fancy story? Well, I have to hold you there. Nothing to big of a story here. Also the controls are still set to the phone version, so swipe and wipes are expected to happen. One note I have to attach to that one is, that in some cases that might cause slight problems with Windows 8. But you can work around that.

I would really recommend this game to people who loved Plants vs Zombies or Ironclad Tactics.
7 af 10 personer (70%) fandt denne anmeldelse brugbar
30 products in account
1 review
3.6 timer bogført
Well, my first experience had been that it didn't want to work. For those who get this game and find that you've an issue running it, find the game folder in steam, and run the app from there. You will need steam running, but this by-passed my issue. I thank daveh667 for that help. Now, I have actually gotten to play the game. It isn't a hard game to get the feel of how it works. It does however, throw some truely wicked curves at you on some maps. Also, I can't help but enjoy watching cats and dogs do epic battle. Anyways, I wasn't disappointed with getting this game. it certainly had me thinking of new and better ways to try and defeat the rival faction. if you like strategy, or just like dogs and/or cats, do check this game out.
21 af 41 personer (51%) fandt denne anmeldelse brugbar
340 products in account
2 reviews
1.3 timer bogført
This is an unplayable port on most PCs.

It needs a touch screen to work and has virtually none of the options you'd expect on even a half decent PC game.
4 af 8 personer (50%) fandt denne anmeldelse brugbar
186 products in account
3 reviews
0.9 timer bogført
Godawful game. The concept is simple, I have no problems with that, but just beyond the tutorial, games are already impossible to win due to unfair additional bonuses conveyed to the enemy team. Do not buy, even at 3 euros it's not worth it.
Titel:
Ninja Cats vs Samurai Dogs
Genre:
Indie
,
Strategi
Udvikler:
Eutechnyx
Udgiver:
Eutechnyx
Udgivelsesdato:
21 Feb 2014
Sprog:
| | Grænseflade | Fuld lyd | Undertekster |
| --- | --- | --- | --- |
| Engelsk | | | |