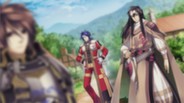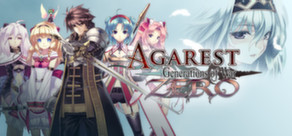 From the void, the gods of darkness and light created Agarest, a most perfect and divine world. As the generations passed, paradise sadly fell to the ravages of time. War darkened the skies and Agarest soon became a torturous hell as the gods divided and immense armies clashed, desecrating the once beautiful...
Date de parution: 17 avr 2014
Visionner la vidéo HD
Contenu téléchargeable disponible pour ce jeu
30 mai
The third Agarest Zero DLC bundle is out now.

The bundle contains:

Tomorrow's Hero Pack
Contains:
Leonhardt's sword
Tenma Sword
Alfa Beld Spear
Destructor
Issei Fubi
Parochial Megasuit

Schie's Bargain Pack
Contains:
Wiether wurst
Ice cream
Deshimaru
Brother Stave
HIROKO's

Extra TP Pack
Contains 2500PP and 20000TP
0 commentaires
Lire la suite
21 mai
Taken from the latest Ghostlight blog http://blog.ghostlight.uk.com/post/important-agarest-news-an-announcement-sale

Hi everyone. We've got lots of Agarest news for you all today. First of all I'm pleased to inform you that both Agarest: Generations of War and Agarest: Generations of War Zero are now on sale on Steam. Agarest Zero is receiving a mighty 33% discount ($13.99 / £10.04 / 13,39€) and can be picked up from here while Agarest: Generations of War is receiving an incredible 66% discount ($5.09 / £3.73 / 5,09€) and is available from here.

It might come as little surprise to you , but while I'm on the subject of Agarest I'm very pleased to confirm that we will be releasing Agarest: Generations of War 2 on Steam later this year. This sequel to the bestselling original game introduces a whole new battle system as well as a raft of other features.

Once again we will be using the team over at Laughing Jackal to port this popular console JRPG to PC.

Now, as some of you may have noticed, Agarest 2 is not a dungeon crawler and has been released in the West :). So, those of you looking forward to finding out which dungeon crawler we're bringing to Steam (as discussed in my previous blog) will be pleased to know that this announcement is still due to come on Thursday. So do keep your eye on the blog.

More on Agarest: Generations of War 2

THE THIRD INSTALMENT IN THE THRILLING AGAREST SERIES!

One day, the world was enveloped by a mysterious blinding light causing terrible destruction. The central continent, from where the light is believed to have originated, fell silent whilst demons began to spread throughout the world like a plague.

Sometime afterwards, a young man by the name of Weiss, suffering from amnesia, encounters the enigmatic Eva, from whom Weiss learns that he has committed the grievous sin of deicide. In order to atone for his crime, he must become the "Vessel" in which the power of the divinity he slaughtered will be stored. For it will be that power which will be used to resurrect the one whose life he stole.

For those who betray the divine will pay for their sins in the space which separates salvation and damnation, as will their progeny...

Revamped Battle System: Unlike the first two games of the series, Agarest 2 battles are fought with an engaging active grid-based battle system.

HD graphics: Enjoy your favourite characters, environments and CGs in high-definition!

Mini-games: Engage in Bathtub, Shiatsu and Massage mini-games.

New Agarest Universe: Roam freely in the newly designed Agarest Universe
16 commentaires
Lire la suite
Articles
"All around, Agarest Zero is a great Strategy RPG that PC gamers should be delighted to have."
Gamepinion

"The story, the characters, the art style, and the addicting combat all tie in together to make a beautiful package."
8.5/10 – Chalgyr's Game Room

À propos du jeu
DÉCOUVRE L'ÉPOPÉE QUI PRÉCÈDE AGAREST: GENERATIONS OF WAR
Du néant, les dieux de l'ombre et de la lumière créèrent Agarest, un monde parfait et divin. Mais à mesure que les générations se succédèrent, ce paradis sembla succomber tristement aux ravages du temps. La guerre finit par assombrir le firmament et Agarest devint vite un enfer lorsque les dieux se divisèrent et que d'immenses armées se heurtèrent, souillant de sang cette terre autrefois sacrée …
… Mais cette guerre semblait ne jamais pouvoir se terminer, jusqu'au jour où Sieghart, un jeune officier des armées de la lumière, passa les monts Stigmates pour accomplir une périlleuse mission. C'est alors qu'il croisa le chemin d'une étrange jeune femme. Une rencontre qui allait à jamais bouleverser le destin du monde.
• Regarde l'histoire se dérouler tout en combattant des hordes de créatures pendant plus de 80 heures de combats palpitants.
• Utilise le nouveau système de cartes de capacités pour créer un personnage unique en son genre.
• Nouveaux et superbes portraits de personnages animés.
• Le système Soul Breed fait son retour ! Le choix de ta bien-aimée détermine les caractéristiques de la prochaine génération de héros.
Inclus avec cette version est la suivante DLC gratuit
A Deputy's Gift Pack: Contains 4 Flame elements, 4 Ice elements, 4 Thunder elements, 4 Wind elements, 4 Earth elements, 4 Darkness elements and 4 Light elements

Upgrade Pack 1: Contains 2 STR UP, 2 VIT Up, 2 Agi Up, 2 Int Up. 2 LUK Up and 2 Max HP Up

Healing Hand Pack: Contains Healing Hand Pack

Upgrade Pack 2: Contains 2 STR UP+, 2 VIT Up+, 2 Agi Up+, 2 Int Up+. 2 LUK Up+ and 2 Max HP Up+

Health and Guard Pack: Contains 2 Marfile Seed, 2 Vessels of life, 1 Revive, 1 Dryad's Soul and 1 Requiem Bracelet

Legendary Items Pack: Contains 2 Divine Branch, 2 Unicorn Horn, 2 Moon Fragment, Magic Crystal Chip, 1 seed of Happiness and 1 Bracelet of Feicui

Dream Prophecy Pack: Contains 2 Damascus, 2 meteoric iron, 2 generation crystal, 2 lapis noster, 1 shiny fang and 1 whispered dream

Logistic Support 1: Contains railgun, divine guard, crystal bracelet, dark bracelet and bracelet of light

Fall from Grace Pack: Contains Big Black, Black bustier, Angel Halo and Angel Wing

Stout Defense Pack 1: Contains extra frame, chaos frame, Heaven's End and E.O.M

Squalid Chicken Pack: Contains rusty sword, rusty bracelet. rusty ring, funky chicken and chicken ring

Nobility Pack: Contains Princess Bustier, Princess's Tiara, Imperial Guar and levitation stone

Loral Beast Pack: Contains Seiryu's sword, Genbu's gauntlet, Byakko's Bracelet and Suzaku's Ring

Stout Defense Pack 2: Contains Dragon frame, Demon frame, Mighty ring, Dismal Sylph and Prometheus Bound

Extra Points Pack 1: Contains 5000 gold, 50PP 150TP and 250EP

Extra Points Pack 2: Contains 50000 gold, 150PP, 350TP and 5000EP

Add-on Dungeon 1: An Add-on Dungeon for Generation 1 - A new adventure awaits in the Fohites Ruins

Add-on Dungeon 2: An Add-on Dungeon for Generation 2 - Explore the Neige Snow Field
Configuration requise
Minimum:


OS: Windows XP

Processor: 2.13GHz Intel Core2 Duo or equivalent

Memory: 1 GB RAM

Graphics: DirectX 9.0c compatible graphics card with 64Mb RAM and support for v3 shaders

DirectX: Version 9.0c

Hard Drive: 5 GB available space

Sound Card: DirectX 9.0c compatible sound card
Recommended:


OS: Windows XP or later

Processor: 3GHz Intel i3 or equivalent

Memory: 4 GB RAM

Graphics: DirectX 9.0c compatible graphics card with 128Mb RAM and support for v3 shaders

DirectX: Version 9.0c

Hard Drive: 5 GB available space

Sound Card: DirectX 9.0c compatible sound card
Agarest: Generations of War Zero ©2014 COMPILE HEART / RED. Published under license by Ghostlight LTD.
Évaluations intéressantes des utilisateurs
Titre:
Agarest: Generations of War Zero
Genre:
Aventure
,
RPG
,
Stratégie
Développeur:
Idea Factory
Éditeur:
Ghostlight LTD
Date de parution:
17 avr 2014
Langues:
| | Interface | Son | Sous-titres |
| --- | --- | --- | --- |
| Anglais | | | |
| Japonais | | | |