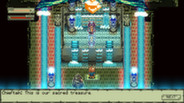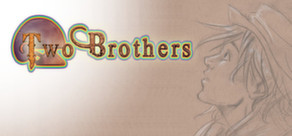 Two Brothers is an Action Adventure game that features a classic Gameboy aesthetic. Roy Guarder, inventor, scientist, and philosopher, is on an expedition to discover the origins of life. This quest has brought him to "The Cursed Lands," a stretch of land so dangerous and shrouded in mystery that it hasn't been explored in over...
Дата на излизане: 3 декември 2013
Преглед на HD видео
16 септември
Hey guys!

Here is the dealio with the Mac/Linux/Wii U release. When I developed Two Brothers I did it on the weekends and I worked my butt off making it the best game it could be... and it some regards people love it, in other aspects it fell short in my own expectations due to MY time constraints of developing weekends and night time. Moon Lighting as a game developer is very difficult, and I hadn't imagined anyone would even back Two Brothers!! I am really happy you all did, and I am so grateful.

I made Two Brothers inside of Multimedia Fusion 2... and to be quite honest, it's a terribly buggy program... and this lead to all the issues Two Brothers has in terms of glitches on some machines.

The original plan was to port to Mac and Linux using Anaconda. Which is a great method, but it feels terrible for a game the size of Two Brothers. Some playthroughs can take 20 or so hours, and it's just too much for that engine to handle... so it runs, but it's really slow and just not worth your time.

so here is what I had to do...

Since january I've been remaking the engine inside of Unity and it feels LOADS better. I ported/redesigned the more boring dungeons/ with Tiled and the game is loads more polished. I also added leveling up and other RPG elements that some people desired in the original release.

Because Unity can build to every platform porting the game will be REALLY easy.

Also the engine is mostly done and now I just need to get all the levels in and redo the cutscenes in Unity, which wont take too long since all the dialogue is written and the animations are all there.

It should only be a few more months and will hopefully be out before the end of the fall!!!

A friend of mine is taking over the process of getting the physical rewards out for me and they should go out this month (the ones that still haven't gone out. We had shipped out quite a few but then realized the company who filled our order didn't send the proper amounts and they made our lives hell in making more without us paying them again... but that's a story for another time)

Anyway, you've probably seen that I am working on another game called Y2K.

I want everyone to know that Chromophore release takes priority for ME, personally. I started Two Brothers and I will FINISH IT the way everyone will love it.

So here is the deal with Y2K... Some people (who will go unnamed for a bit) liked my work enough to publish/fund the development of a new game... and that game is Y2K. I was able to leave my terrible animation gig that was 2 hours away from my house, work closer to home, and devote all of my time to game development. Everyone who worked on Two Brothers also got to leave their jobs and they are working on Y2K full time, whereas I am splitting my time between Two Brothers and Y2K.

This was a deal I HAD to take as my mother is extremely ill and me being 2 hours away from her was difficult for her, and terrible for my own mental health... so now I am able to live my dream.

Anyway Chromophore is the updated version of Two Brothers... changed the name because everyone confused it with Brothers:Tale of Two Sons for some reason. Anyway, obviously it's free for everyone who backed us as an update or buys it on steam BEFORE the update comes out... even then the price point will remain the same.


Thanks for your extreme patience and kindness with my Mom and my situation BTW. I am so thankful for everyones outreach and support! Can't wait to get an even better version of the game in to your hands soon!!!

-Brian

2 коментара
Прочетете още
28 май
Hey guys!
Quick update on life. My moms treatment is continuing as planned so thanks a lot for all the emails asking how she is doing! She is fighting her best and I am hopeful. Thank you all for your kind words.

So sadly due to the poor nature of the MMF2 engine I used to craft Two Brothers there are a variety of issues on certain hardware.

I've been programming the game from the ground up with a new engine and it plays like a dream. I will be releasing this update for free (obviously) as soon as possible.

I also changed somethings in the engine to make the game better after I read some criticism aside from the glitches in the initial launch. Enemies will be much smarter, the game will have a wide screen option without stretching and some graphic updates have been made from things that always bothered me with the animations. There is no longer the Z sorting issues so no one will stand on anyone else... so that's another fix...

I'm sorry I disappeared! More updates coming soon. I'll also post a trailer that someone cut of the new version and release info next month.

The Linux and Mac versions will come along with this update. Hopefully only a few more weeks til I put this up!

For the tech minded up of you here are some details of what we did. We reprogrammed the engine from the ground up in Unity and imported the maps. So besides remaking the cut-scenes and the engine it wasn't TOO much work so it's been a very realistic task.

<3 - Brian
27 коментара
Прочетете още
Рецензии
"...The soundtrack for Two Brothers is elaborate and enchanting. It's a slow burn that's going to take a long time for you to fully digest, but if you like game soundtracks, I'd be hard pressed to offer you a better one. Full of original content, and drawing from the most memorable games of previous generations, it will give other composers something to aim for when they score their companies next title."
KBMOD

"Two Brothers is a wonderful retro-inspired game with an interesting concept and solid core gameplay underneath it all so it isn't just another love letter to the past that offers nothing else but nostalgia."
Gamecepticon

"Between the great story, amazing music, and fascinating world, I'd definitely recommend players to check out Two Brothers. While there are certainly some problems with the game, there's a lot here to enjoy you'll be hard-pressed to find elsewhere."
Average Joe Gaming

Относно играта
Two Brothers is an Action Adventure game that features a classic Gameboy aesthetic.
Roy Guarder, inventor, scientist, and philosopher, is on an expedition to discover the origins of life. This quest has brought him to "The Cursed Lands," a stretch of land so dangerous and shrouded in mystery that it hasn't been explored in over 700 years. When Roy finds what he's looking for, he is met with a terrible fate. Roy no longer finds himself a living man. He is greeted with a world of colors he never believed could have existed! One obsession leads to another and Roy begins to walk the line of life and death - sometimes intentionally ending his own life - just so he can see this land of beauty and color again.

But something is strange: Why is Roy the only man who can cross so easily between the worlds of the living and the dead? What has given him this unique ability? How will he reconcile the existence of an afterlife he never believed could even exist?
▪ Explore a vast non-linear world and story with multiple endings, and deep side quests!
▪ Take the game world from black and white 8bit to full color 16bit!

What makes Two Brothers unique:
Two Brothers takes a long hard look at death in video games... when the player is killed in combat or triggers a deadly trap, instead of being greeted a familiar GAMEOVER screen, the player finds himself in what we call the "Afterlife Hub".
This realm of the dead is a colorful and mysterious place where the player can explore, find clues, and interact with characters who have passed on in the games story... sometimes even bringing some of them back from the dead.
When the player wants to return to gameplay, they can jump from the edge of the heavens and get back in to the action and exploration!
This mechanic is vital to the gameplay, as sometimes interacting with the dead is just as important as interacting with the living... this feature often requires the player intentionally ending their session in a game over, just to cross over to the other side.
Системни изисквания
Minimum:


OS: Windows XP

Processor: Processors with 2.8GHz or great

Memory: 1 GB RAM

Graphics: Intel HD Graphics or equivalent, capable of Shader Model 2

Hard Drive: 700 MB available space
Two Brothers © Ackk Studios LLC 2012-2013
Полезни рецензии от клиенти