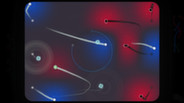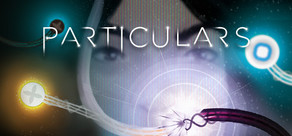 Particulars is a game with a unique combination of arcade-action and puzzle gameplay, set in the mysterious world of subatomic particles. Taking control of a single quark, you must negotiate the fundamental forces of the universe.
Release Date: Dec 6, 2013
Watch HD video
Early Access Game
Get instant access and start playing; get involved with this game as it develops.
Note: This Early Access game may or may not change significantly over the course of development. If you are not excited to play this game in its current state, then you may want to wait until the game progresses further in development. Learn more
What the developers have to say:
"Particulars is currently in the alpha stage of development. This means that the game is still being made and will be improved upon on a regular basis. Updates will add new features and content, as well as optimisation, bug fixes and polish. Please give us feedback and report bugs, and we will continue to improve the game for you!" Read more
September 10

A consistent problem in Particulars has been helping the player locate the particle they control. You'll be playing the game, moving some particles around, and then BOOM!, there's an explosion, BAM!, there's another, and three seconds later you realise that your eye is tracking a particle that you aren't controlling.

This becomes especially problematic in the last two chapters of the game. With both the electromagnetic and strong forces turned on, particles can no longer be on their own, and neither is the player: you're usually part of a group of two or three. If you then change your type (as allowed for by the weak force), it can get quite easy to lose yourself in the noise.

Part of the problem is that the player particle isn't just a blank player avatar, but a particle which has the same properties as many of the other particles on screen. It's really important that the player particle look like the other particles of the same type, while also looking distinctive enough to be visible.

Another part of the problem is the sheer amount of stuff on the other particles. In particular, the old decay timers for larger particles (which were, essentially, rings around the particles) made it quite difficult to use rings to differentiate the player (because every second particle has rings as well).

So recently, to help with the problem, we removed the decay rings. We're working on a new way to represent decay, which is still a work in progress, but it's making a pretty big difference in finding the player (whose data ring really stands out nicely).

That's just the latest prong in a four-prong attack against player's getting lost. The other three prongs are:


Making the player particle's 'iris' (one of the bits that moves when you do) a special 'player colour' (green in the first half, purple in the second)


Having a really faint fuzzy ring of the same colour surround the player particle, to help locate the general area quickly.


Turning down the brightness and/or saturation of everywhere else to highlight the player, and doing this more in levels which cause more confusion.
We're still tuning all of this as we get closer to getting the game done, and think that together, these strategies will help you all to play the game smoothly and easily. We'd love to hear your thoughts though, as well as any levels that you've found particularly* troublesome.
*So using 'particularly' to talk about Particulars has, for me at least, transcended the pun and just become normal again, which is quite nice. Apologies if it grates for anyone else.
1 comments
Read more
September 2




Difficulty curves are, perhaps unsurprisingly, difficult. The theory is simple enough: add a mechanic, teach it, test it, combine with the existing mechanics, slowly ramp up to a climax (or 'boss'), optionally have an easy level to celebrate the player's success, repeat until you run out of mechanics or development time.

The problem is that it never really goes that smoothly. Some mechanics are more complex than others, and should therefore need more time. Story and experience constraints (how long you want a player to play before giving them a break) can affect or dictate pacing. The number of mechanics the game needs can be dictated by considerations that aren't the development time (such as 'what will make the game feel complete', and 'there are 4 fundamental forces of physics'), and players are notorious for being individuals who each approach a given game very differently.

Particulars, as you may have guessed, has hit a number of these hurdles. Specifically, the second half of the game contains mechanics that are significantly more complex than the first half, but for many varied reasons (story, pacing, development time), the second half is essentially the same length as the first. This means we have to get through a lot more content in the same amount of time.

This might make it seem like the second half of the game is doomed, but not to worry - we do have some tricks up our sleeve. If the problem is that the player needs to learn more, more quickly, the solution becomes apparent: we need to treat learning as a skill that the player needs to learn. That way, by the time players hit Chapter 6, players are used to having to work out some of the physics for themselves. The key then is to give them the right tools for the job.

As luck would have it, we're already doing a lot of this: Chapter 4, in particular, increases the amount of thinking and examination that players need to do. We give a lot less direction there (mostly because we hadn't gotten to it yet, but I'm not above using serendipity as part of the design process), and players have generally enjoyed the greater freedom that goes with it. With some more work, we'll be able to smoothly transition into that mode of play (it's a bit abrupt at the moment).

Which brings us to the other half of the equation: having the right tools available to players. To that end, we're adding what we're calling 'helpers' - they're panels of information about each of the forces which help you to figure out how each of them work. These then link into the examination mode tooltips for particles.

Clearly, we need to teach players to use these helpers, but that's a task for another week.

As of today, we've got panels for the Weak and Strong forces in the game. If you want to check them out, just go into a level in chapters 6-8, press control to go into examination mode and try them! We'd love to know what you think.

2 comments
Read more
Reviews
"I haven't cried playing a video game before; it's not like it's a habit. But there's something about the loneliness of being a down quark all alone in a subatomic space that really underlined the joy in finding an anti-down quark to combine with."
The Guardian

"The game feels fantastic. It's a joy to whiz around the simple environment. This game illustrates the idea that a game doesn't have to be visually packed to look good; indeed, its artistic style is reminiscent of flOw."
Kotaku AU

"It's a story-led, arcade puzzle game that seems to have a lot of intelligent thought about it."
Rock, Paper, Shotgun

Are you a Supporter or Devotee?
The Supporter and Devotee packs are ways to give extra support to the developers of Particulars, and get extra goodies! The listed bonuses will be added to your account as they become available closer to the full release of the game.
About the Game
Particulars is a game with a unique combination of arcade-action and puzzle gameplay, set in the mysterious world of subatomic particles.
Taking control of a single quark, you must negotiate the fundamental forces of the universe. Other particles will push and pull at you - you'll always be on the brink of losing control and being dragged towards annihilation!
Woven through the game is the story of Alison, a young physicist with a troubled past. Her journey through the subatomic world is drenched in memories (both good and bad), and will ultimately lead her to some surprising revelations.
Current Features
Absorbing combination of arcade and puzzle gameplay elements

Physics-based mechanics built on real-world physics research

The beginnings of a deep, character-driven narrative

Meditative soundscape

Over 50 challenging levels across four chapters
Future Plans
100+ challenging levels across ten chapters

New gameplay elements, including black holes

Numerous additional story elements (cut-scenes, in-game narrative and voice acting)

"Examination mode" and "Particlepedia" will put information about gameplay elements and subatomic physics at your fingertips!

Improved audio and additional music

Improved menus and user interface

Steam Achievements

Steam Trading Cards
PC System Requirements
Minimum:


OS: Windows XP

Processor: 2.0 GHz Dual Core CPU

Memory: 2 GB RAM

Graphics: 512MB Graphics Card

DirectX: Version 9.0c

Hard Drive: 300 MB available space
Mac System Requirements
Minimum:


OS: OSX 10.6

Processor: 2.00GHz Dual Core CPU

Memory: 2 GB RAM

Graphics: 512MB Graphics Card

Hard Drive: 300 MB available space
Linux System Requirements
Minimum:


OS: Ubuntu

Processor: 2.00GHz Dual Core CPU

Memory: 2 GB RAM

Graphics: 512MB Graphics Card

Hard Drive: 300 MB available space
©2013 Surprise Attack Pty Ltd
Helpful customer reviews
Title:
Particulars
Genre:
Indie
,
Early Access
Developer:
SeeThrough Studios
Publisher:
Surprise Attack
Release Date:
Dec 6, 2013
Languages:
| | Interface | Full audio | Subtitles |
| --- | --- | --- | --- |
| English | | | |