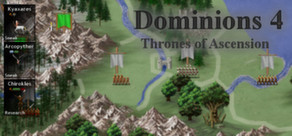 You are a God! You are master and ruler of a loyal nation. You have unimaginable powers at your disposal. You have claimed this world as yours. But there are others who stand in your way. You must defeat and destroy these pretenders. Only then can you ascend to godhood and become the new Pantokrator.
Release Date: Dec 5, 2013
Watch HD video
April 12th, 2014
This is a quick patch to fix the music that doesn't loop properly and a crash bug when hosting an old game in Linux. Dominions 4.05b is fully compatible with version 4.05 and those versions can be mixed in multiplayer games.

0 comments
Read more
April 9th, 2014
This update of Dominions brings story events to the game. These are events that requires more interaction than usual or has really powerful effects, e.g. the northmen can start raiding coastal provinces all over the world. There are also a few new pretender gods to choose from including the Celestial Carp for the east Asia inspired nations. In addition to this there are many other new features and bug fixes, see below for more detailed information.

Game
Story events
Press 'i' for province info and history
New pretenders: Maharishi, Raksharani and the Celestial Carp
Shrinked affliction was not properly permanent
A map could appear twice in load maps, fixed
Map fixes (wrong terrains and incorrect connections)
No separate messages for items found after battle
New weapon effect: Lesser swallow (can only be used on human size or smaller)
Hill Giant got 'grab and swallow' attack
Vafur flames improved
Items in forge that are too high level are shown, but grayed out
Shift+tab to go backwards in graphs
Shift+click to reverse AI difficulty selection
Dark skies had -1 penalty in non dominion too, fixed
Press 9 to show province names on map in map editor
Button to change province name color in map editor
Volume setting no affects 'new turn ready' sound too
Gave a lot of maps black province names
Green highlight on allies when choosing receiver for message
Description fixed for Oceania and more
Message when God is recalled
Forest Troll Tribe summons 15 trolls and cheaper
Celestial Chastisement didn't enslave
Lifeless weren't immune to Bloodletting
Umbral summons corrected
Speed up particle effects too when fast forwarding
Ice weapons are not affected by fire bless
Whip of command commands more but gives morale penalty
Scale Walls ability for some assassins
Improved information for targets of Wrath of God and some other powerful spells
Boots of the Messenger reinvigoration 2 -> 3
Red numbers for Vortex of Unlife too
Fixed starting age for Golem and some other constructs
Bunch of maps didn't support wrapping properly
The hero Sialuk got his proper name now
Fix scrollbar when choosing nation to play
Need not eat canceled gluttony and supply bonuses, fixed
New look for elf shot
Sprites from summon sprites shoots instead of doing a flying charge
Wraith Lord commander for ghost riders is back
Improved weapon info
HP capped at 10000.
T'ien Chi will no longer get land troops in underwater PD.
T'ien Chi also gets indep commander at PD 20.
Swallowed units are killed hard at end of battle.
It was possible to start underwater with overwater nation on Talis map.
Print heal effect in site info.
Never create provinces with no exits
More restrictive showing of the map raid symbol.
Alt+home = select prophet
Robe of Caelius the Druid resistances 5 -> 10
The Iron and Silver throne spreads 2 dominion
Print actual worth of thrones from when game was started
Seasonal mages
Fire and death bless arrows now requires a hit to take effect
Banefire bow no longer armor piercing
Starting client with --ipadr cleared old connections.
Improved detection of dead prophets
Don't get an arena prize

AI
AI improved item distribution
AI improved thug creation
AI improved research item creation

Mac
Changed OSX priority for finding data directory
Mac version no longer default to multiple CPUs for AI processing

Modding
#defector should work now
New commands: #deathpower and #deathrec
Different maxages for shape changer forms now only prints a warning
possible to combine e.g. #nodemon and #noundead
#iceprot always had 2 as value
Commands #onlygeosrc, #onlygeodest, #likesterr, #hatesterr didn't work

7 comments
Read more
About the Game
You are a God! You are master and ruler of a loyal nation. You have unimaginable powers at your disposal. You have claimed this world as yours. But there are others who stand in your way. You must defeat and destroy these pretenders. Only then can you ascend to godhood and become the new Pantokrator.

In Dominions you take control of a powerful being that rules a nation and aspires to godhood. The type of Pretender Gods can vary from magically powerful arch mages to huge titans or large monuments. The pretender gods have different strengths dependent on what kind of god you choose and what nation you play.

When you start the game you decide what kind of god you are and how your Dominion affects your lands and followers. It is an expression of your divine might and the faith of your followers. If your dominion dies, so do you. Your dominion also inspires your sacred warriors and gives them powers derived from your dominion.

In order to win and become the one true god you have to defeat your enemies one of three different ways: conquer their lands, extinguish their dominion or claim the Thrones of Ascension.

In Dominions 4 you can also play team games where one of the players take the role of supreme god, and the other members of the team are his servants and loyal subjects. The lesser gods rule their nations, but you all share the dominion of the supreme god.

Dominions is set in a fantasy world that draws inspiration from historical nations, cultures and myths. You will not encounter the elves of conventional fantasy in this game. Instead you might lead a nation of vanir from old norse myth. Aztecs, romans, israelites, greeks, shona and kievian rus are just a few of the inspirational sources of the game.

The first Dominions game was released in 2002 and was well received by strategy gamers. Since then Dominions has been much refined and Dominions series is still actively played making it one of the longest running 4x turn based strategy games.

Dominions 4 is also a highly moddable game. You can create your own monsters, spells and entire nations. Since Dominions 3 there has been a vivid modding community and Dominions 4 will enhance this capability even further.
PC System Requirements
Minimum:


OS: Windows XP/Vista/7

Processor: 1 GHz

Memory: 1024 MB RAM

Hard Drive: 500 MB available space
Mac System Requirements
Minimum:


OS: 10.3 or later

Processor: 1 GHz

Memory: 1024 MB RAM

Hard Drive: 500 MB available space
Linux System Requirements
Minimum:


OS: any 32 or 64-bit distro

Processor: 1 GHz

Memory: 1024 MB RAM

Graphics: OpenGL and libSDL1.2

Hard Drive: 500 MB available space
Helpful customer reviews
Title:
Dominions 4: Thrones of Ascension
Genre:
Indie
,
Strategy
Developer:
Illwinter Game Design
Publisher:
Illwinter Game Design
Release Date:
Dec 5, 2013
Languages:
| | Interface | Full audio | Subtitles |
| --- | --- | --- | --- |
| English | | | |