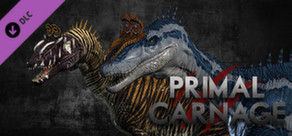 Om dit spel te kunnen spelen moet je het originele spel Primal Carnage hebben.

Releasedatum: 22 okt 2013
Downloadbare inhoud
Om dit spel te kunnen spelen moet je het originele spel Primal Carnage hebben.
Primal Carnage - Cryolophosaurus 2-Pack- Premium kopen
Pakketten die deze game bevatten
Primal Carnage Skin Bundle kopen
Bevat 9 items: Primal Carnage - Dinosaur Skin Pack 1 DLC, Primal Carnage - Pilot Commando DLC, Primal Carnage - Agent Trapper DLC, Primal Carnage - Experimental Dinosaur Skin Pack 2 , Primal Carnage - Dinosaur Skin Pack 3, Primal Carnage - Dinobuster Skin, Primal Carnage - Oviraptor - Premium, Primal Carnage - Tupandactylus - Premium, Primal Carnage - Cryolophosaurus - Premium - 2 Pack
Info over het spel
The Cryolophosaurus Premium skin pack includes 2 variants for the Dilophosaurus dinosaur class.

"Glacial" Cryolophosaurus

When the decision was made to clone the Cryolophosaurus species the "hilariously funny" guys in the lab decided to play a practical joke and make one seemingly designed for colder climates. They made it blue and marketed it as an "Ice variant of the Dilophosaurus". They couldn't help snickering as they pitched the animal but what they didn't plan on was that nobody outside of themselves ever actually got the joke. The "Glacial" Cryolophosaurus was green lit and cloned en mass. The Irony being that apart from being blue the animal actually stands very little chance of surviving in freezing climates and is actually far more biologically suited to living in environments such as Hawaii. The lab boys never attempted to be funny ever again.


"Striped Devil" Cryolophosaurus

Overkill is a rather overused and diluted word these days, but when the order is given to take what is already penned as one of the most vicious and aggressive dinosaurs ever cloned by Phoenix and make it "meaner" there is very little in the way of words to describe the outcome. The "Striped Devil" Cryo is named as such for a very good reason, it's a vicious little monster which seems to hate EVERTYHING it sees and is hell bent on separating object A from object B, which was first noted when object A was a dino feeders left arm and object B was his hand. Reports on this behaviour were noted in the logs that day as "encouraging" and as for the feeder he was denied compensation by Phoenix and ordered to resume work the following Tuesday on the grounds that he was in fact right handed.
Systeemeisen
Minimum:


OS:Windows XP, Vista, 7

Processor:Intel Core 2 Duo 2.4 GHz or AMD Athlon X2 4800+

Memory:3 GB RAM

Graphics:ATI 3850HD 512 MB or NVIDIA GeForce 8800 GT 512MB

DirectX®:9.0c

Hard Drive:1.5 GB HD space

Other Requirements:Broadband Internet connection
REVERB PUBLISHING, and the related design logo, are trademarks of Reverb Communications, Inc., in the United States and elsewhere.
Er zijn nog geen openbare recensies voor dit product
Je kunt je eigen recensie voor dit product schrijven om je ervaring met de community te delen. Gebruik het gebied boven de aankoopknoppen op deze pagina om je recensie te schrijven.
Titel:
Primal Carnage - Cryolophosaurus - Premium - 2 Pack
Genre:
Actie
,
Indie
,
Strategie
Ontwikkelaar:
Lukewarm Media
Uitgever:
Releasedatum:
22 okt 2013
Talen:
| | Interface | Spraak | Ondertiteling |
| --- | --- | --- | --- |
| Engels | | | |