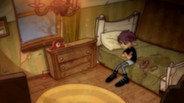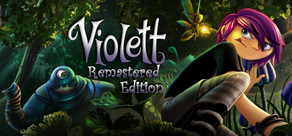 Dragged by her parents, a young and rebellious teenage girl – Violett, moves to an old spooky house in the middle of nowhere. Forced away from her friends and life in the city; she imagines how boring life in countryside will be: spending day after day, bored in her room with absolutely nothing to do.
Release Date: Dec 13, 2013
Watch HD video
Special Offer
Buy Violett on Steam and get the fantastic Soundtrack from the game for free. A set of catchy tunes will accompany you wherever you want!
Steam Greenlight
About the Game
Set in a world full of wonders, quirks and things from beyond our reality, Violett is a remarkable adventure game that will push your brain to the limits and engross you completely.

Dragged by her parents, a young and rebellious teenage girl – Violett, moves to an old spooky house in the middle of nowhere. Forced away from her friends and life in the city; she imagines how boring life in countryside will be: spending day after day, bored in her room with absolutely nothing to do. But what she cannot imagine, is that in just few moments, she'll have the adventure of her life.

A spark of light from the nearby mouse hole catches her attention, she reaches inside and in a blink of an eye she's in a completely different place. So familiar, yet so distant. So magnificent, and yet dangerous. A place where frogs singing operas are daily occurrence, garden gnomes are emissaries from another dimension and power of telekinesis is not freaking anyone out. Now only your wit and luck can help her unite with her parents.

Rack your brain on intricate puzzles that will allow you to move forward. Use the power of telekinesis to get you out of your troubles. Fight the evil spider queen that wants to make you her new trophy. Use your touch to roam the beautiful and psychedelic world, inspired by Alice in Wonderland, Dali and other great works. Immerse yourself in the soothing sound track

- Fantastic 2,5D point-and-click adventure game
- Unique world inside the 'rabbit-hole'
- Multitude of puzzles and riddles
- A spooky atmosphere of mystery and uneasiness
- Evil Spider Queen who's trying to prevent you from ever coming back
- Paranormal forces to manipulate objects
- Beautiful hand-painted graphics full of quirkiness and style
- Full parallel reality inspired by Alice in the Wonderland and other great works
PC System Requirements
Minimum:


OS: Windows 7

Processor: Dual core from Intel or AMD at 2.0 GHz

Memory: 2 GB RAM

Graphics: nVidia 320M or higher, or Radeon 7000 or higher, or Intel HD 3000 or higher

Hard Drive: 2 GB available space
Mac System Requirements
Minimum:


OS: OSX 10

Processor: Intel Dual Core

Memory: 2 GB RAM

Graphics: nVidia 320M or higher, or Radeon 7000 or higher, or Intel HD 3000 or higher

Hard Drive: 2 GB available space
Linux System Requirements
Minimum:


OS: Ubuntu 12.4

Processor: 2 GHz

Memory: 2 GB RAM

Graphics: OpenGl 2.1 compatible

Hard Drive: 2 GB available space
Helpful customer reviews