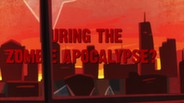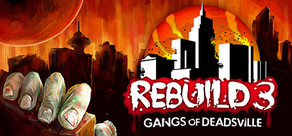 Rebuild a ruined city in this post-apocalyptic mix of strategy and simulation. Manage survivors, scavenge for food and supplies, deal with rival gangs, illness, interpersonal strife and zombie attacks.
Дата виходу: 16 тра 2014
Переглянути відео в HD-якості
Гра з дочасним доступом
Отримайте доступ і відразу почніть грати, беручи участь у процесі розробки.
Увага: ця гра з дочасним доступом може як істотно змінитися за час розробки, так і ні. Якщо вам не дуже кортить зіграти у неї в її поточному стані, то радше зачекайте, доки гра не прийме більш завершений вигляд. Дізнайтеся більше тут
Що бажають сказати розробники:
Чому дочасний доступ?
"I'm making Rebuild 3 by popular demand. Fans of the first two games asked for it, and this time we're doing it together. Every step of the way I've been gathering ideas and feedback from fans. After a successful Kickstarter we had a private alpha test, and now that the game is in beta, Steam Early Access is the perfect fit."
Як довго гра буде у дочасному доступі?
"I plan to reach version 1.0 release in early 2015."
Чим повна версія гри буде відрізнятись від версії для дочасного доступу?
"The biggest update to come will be Campaign Mode, a progressive journey through a dozen cities of increasing size and difficulty. I'm also working on new events, plotlines, survivor relationships & children, and more ways to win the game. There will be hundreds of new survivor faces & outfits, and equipment that actually looks like what it says it is. A new zombie type, and balancing & tweaking of every aspect of the game based on YOUR feedback."
Який поточний стан версії для дочасного доступу?
"The base game is complete and you can play skirmish mode through to the end. The difficulty and some strategy elements need balancing, but the game is fun and very playable right now. What's missing is mainly story, events and survivor/item art."
Чи буде відрізнятись ціна гри на протязі дочасного доступу та після його завершення?
"$15 is the price of the game now, and after release."
Як ви плануєте залучати спільноту до розробки гри?
"I'm always looking for feedback and ideas. If you run into any issues or have a suggestion for Rebuild 3, please report it inside the game using the @feedback button in the config menu. I'm also checking the forums both on Steam and at forums.rebuildgame.com. But it's a lot of work so please bear with me!

- Sarah Northway" Читати далі
Придбати Rebuild: Gangs of Deadsville
Придбати Rebuild: Gangs of Deadsville - Deluxe Edition
Придбати Rebuild: Gangs of Deadsville - Deluxe Upgrade
Rebuild: Gangs of Deadville owners can purchase the Deluxe Edition upgrade to receive the additional content from the Deluxe Edition.
17 вересня
Lots of new content in there being fun and unbalancin' things. Next month will be more balancing and working on, happiness, relationships, & endings, now with my husband Colin on the team as a second programmer & designer.

If you find any bugs with this new build, please report them in the game via the @feedback button in the config menu. Cheers!

- Sarah

Rebuild Version 0.666 changelog:
beginning relationships
click a survivor's happiness icon to open the relationships menu (temp art)
survivors have have friends, enemies, and get married
friendships & rivalries grow stronger when they do missions together
60 new backstories
11 new survivor perks
5 new main leader jobs
new random events
new art for faction units, zombies and map elements
replaced a couple tempart menus & old resource icons
optimizations - combined roads in buildings
no longer perpetually 7:00PM
schools train faster but initially take longer to change job
added tooltips to radial menu
automatically grant bonus jobs if steam deluxe dlc detected
better support for retina displays on macs... I think?
can no longer trade food for food etc
FIXED MEMORY LEAK.... I HOPE???
fixed done button issue... maybe?
fixed minor save/load bugs with buildings & missions
fixed "null" event after talking to someone in the middle of another event
fixed main leader "dying" if zombies take the building where they're injured
fixed whip now a melee weapon
fixed good cook, hobo dog no longer appear at max food
fixed available perks no longer change when you change your mind
fixed steam overlay keyboard bug... maybe?
fixed medkit doesn't change face
fixed "too far away" bug after demolishing large buildings
fixed fog issues after demolishing large buildings
fixed issues with banshee event
fixed minor typos & event issues
Коментарів: 4
Читати далі
Про гру
It's been a few years since the zombpocalypse turned the world's cities into graveyards and sent the few survivors into hiding. Now you must gather them up and restore civilization to a ruined city, one building at a time.
Rebuild 3
is a strategy sim game with a good helping of narrative and dark humor. It's a thoughtful game that'll make you fond of your survivors before you send them to their deaths for the greater good. As you expand your fort to new buildings, you'll decide between farms or fortifications, housing or hospitals, and make tough decisions to fend off raiders, illness, starvation, and madness. And the dead are still out there wandering the streets, hungrier than ever.
Gangs of Deadsville is the third of my Rebuild series, and the first one available on Steam. It's a totally new, much bigger game than the first two. In many ways Rebuild 1 & 2 (mobile) were prototypes for this game.
Features in the game now
4X style strategy and city (re)building

Endless replayability with randomized cities and events

Survivors with individual personalities, skills, perks, and stories

Rival NPC forts with their own agendas, friendly or otherwise

Interactive zombie and faction attacks

Play in either real-time or turn-based and swap on the fly

Half a book's worth of text events (the other half coming soon)

Strategic fort defense (interactive attacks coming soon)

5 skills: defense, leadership, scavenging, building, engineering

20 survivor jobs: scavenge for food, kill zombies, farm, fish, trade, bartend...

35 node research tree

50 building types with unique uses and/or scavengeable resources

50 survivor traits: Melee Training, Green Thumb, Light Sleeper...

60 types of equipment (though they all look like crowbars right now...)
Coming soon in regular monthly updates
Campaign Mode, a progressive journey through a dozen cities of increasing size and difficulty

Hundreds of new random events (many already written, I just need to hook them up!)

Longer multi-event plotlines for each faction

New zombie types and smarter, more dangerous faction raiders

Survivor relationships & children

Hundreds of new survivor faces and mix & match outfits

Equipment that actually looks like what it says it is

A proper ending to the game, and some other secret ways to win

Making Impossible actually impossible... or at least harder

Balancing and tweaking of every aspect of the game based on YOUR feedback!
Bonus features in the Deluxe Survivalist Edition
Desktop version of Rebuild 1 (previously only available in browsers)

Desktop version of Rebuild 2 (including "seasons" mobile content)

5 bonus professions for your main leader

COMING SOON: 5 corresponding unique items

COMING SOON: PDF artbook delivered when game is complete
Вимоги до системи (Windows)
Minimum:


OS: Windows XP +

Processor: 1.6Ghz

Memory: 1 GB RAM

Graphics: Most cards. Check here: http://helpx.adobe.com/x-productkb/multi/stage3d-unsupported-chipsets-drivers-flash.html

Hard Drive: 200 MB available space
Вимоги до системи (Mac OS)
Minimum:


Processor: 1.6Ghz

Memory: 1 GB RAM

Graphics: Most cards. Check here: http://helpx.adobe.com/x-productkb/multi/stage3d-unsupported-chipsets-drivers-flash.html

Hard Drive: 200 MB available space
Copyright Sarah Northway & Northway Games
Корисні рецензії покупців
Назва:
Rebuild 3: Gangs of Deadsville
Жанр:
Інді
,
Симулятори
,
Стратегії
,
Дочасний доступ
Розробник:
Northway Games
,
Sarah Northway
Видавництво:
Northway Games
Дата виходу:
16 тра 2014
Мови:
| | Інтерфейс | Озвучення | Субтитри |
| --- | --- | --- | --- |
| англійська | | | |