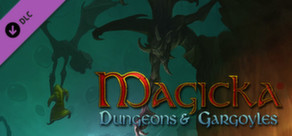 Questo contenuto ha bisogno del gioco di base Magicka su Steam per funzionare.

Data di rilascio: 31 Ott 2013
Guarda video HD
Contenuti scaricabili
Questo contenuto ha bisogno del gioco di base Magicka su Steam per funzionare.
Acquista Magicka: Dungeons and Gargoyles
Pacchetti che includono questo gioco
Acquista Magicka Collection
Include 23 oggetti: Magicka, Magicka: Wizard's Survival Kit, Magicka: Vietnam, Magicka: Marshlands, Magicka: Nippon, Magicka: Final Frontier, Magicka: The Watchtower, Magicka: Frozen Lake, Magicka: Party Robes, Magicka: Gamer Bundle, Magicka: The Stars Are Left, Magicka: Holiday Spirit Item Pack, Magicka: Horror Props Item Pack, Magicka: Lonely Island Cruise, Magicka: The Other Side of the Coin, Magicka: Mega Villain Robes, Magicka: Aspiring Musician Robes, Magicka: Peculiar Gadgets Item Pack, Magicka: Heirlooms Item Pack, Magicka: Grimnir's Laboratory, Magicka: Dungeons and Daemons, Magicka: Tower of Niflheim, Magicka: Dungeons and Gargoyles
Informazioni sul gioco
Continue the adventure beneath Castle Aldrheim and discover the fate that has befallen the buried city of Old Aldrheim and its inhabitants.
Magicka Dungeons & Gargoyles is a new expansion to Magicka that continues the tale where Dungeons & Daemons left off. Hop on the tour for adventure along the streets of the buried city of Old Aldrheim, find out what happened to its previous inhabitants, blast things in the face(s) while ultimately trying to find a way back home...
Due to popular demand the hard mode from Dungeons & Daemons makes a return as well but since we like to keep it a secret we can't talk much more about it. (It's to the left…)
Key Features
Tumble into the second chapter of a new brilliant tale in the Magicka universe

Explore the streets of Old Aldrheim

Look for secrets in the back alleys of a lost buried city.

New creatures and adversaries.

Test your skills in the chapter's unforgiving "hidden" hard mode

Innovative and dynamic spell casting system with thousands of possible combinations

Up to four player co-op in all game modes as well as single player option

Experience the parody and satire of a cliché fantasy world
Requisiti di sistema
OS: Windows XP/Vista/7 (32- or 64-bit)

Processor: Intel® Pentium® IV 2.4 GHz or AMD 3500+

Memory: 2 GB RAM

Hard Disk Space: 2 GB Available Space

Video Card: NVIDIA® GeForce 8800 or ATI Radeon® X1900 (Integrated Video Cards not recommended)

DirectX®: DirectX 9

Sound: DirectX-compatible sound card

Additional: 3-button mouse, keyboard and speakers. DSL Internet connection for multiplayer. .NET 3.5 required
Paradox Interactive, MAGICKA® Copyright© [2013] Paradox Interactive AB All rights reserved. www.paradoxplaza.com
Non ci sono ancora recensioni pubbliche per questo prodotto
Puoi scrivere una recensione per questo prodotto per condividere la tua esperienza con la Comunità. Utilizza l'area sopra i pulsanti di acquisto su questa pagina per scrivere la recensione.
Titolo:
Magicka: Dungeons and Gargoyles
Genere:
Azione
,
GDR
Sviluppatore:
Pieces Interactive
Editore:
Paradox Interactive
Data di rilascio:
31 Ott 2013
Lingue:
| | Interfaccia | Audio completo | Sottotitoli |
| --- | --- | --- | --- |
| Italiano | | | |
| Inglese | | | |
| Russo | | | |
| Francese | | | |
| Tedesco | | | |
| Polacco | | | |
| Spagnolo | | | |
| Ungherese | | | |
Mostra tutte e 8 le lingue supportate