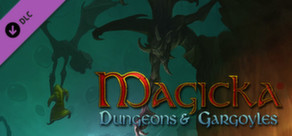 Om dit spel te kunnen spelen moet je het originele spel Magicka hebben.

Releasedatum: 31 okt 2013
HD-video bekijken
This product does not have support for your local language. Please review the supported language list below before purchasing
Downloadbare inhoud
Om dit spel te kunnen spelen moet je het originele spel Magicka hebben.
Magicka: Dungeons and Gargoyles kopen
Pakketten die deze game bevatten
Magicka Collection kopen
Bevat 23 items: Magicka, Magicka: Wizard's Survival Kit, Magicka: Vietnam, Magicka: Marshlands, Magicka: Nippon, Magicka: Final Frontier, Magicka: The Watchtower, Magicka: Frozen Lake, Magicka: Party Robes, Magicka: Gamer Bundle, Magicka: The Stars Are Left, Magicka: Holiday Spirit Item Pack, Magicka: Horror Props Item Pack, Magicka: Lonely Island Cruise, Magicka: The Other Side of the Coin, Magicka: Mega Villain Robes, Magicka: Aspiring Musician Robes, Magicka: Peculiar Gadgets Item Pack, Magicka: Heirlooms Item Pack, Magicka: Grimnir's Laboratory, Magicka: Dungeons and Daemons, Magicka: Tower of Niflheim, Magicka: Dungeons and Gargoyles
Info over het spel
Continue the adventure beneath Castle Aldrheim and discover the fate that has befallen the buried city of Old Aldrheim and its inhabitants.
Magicka Dungeons & Gargoyles is a new expansion to Magicka that continues the tale where Dungeons & Daemons left off. Hop on the tour for adventure along the streets of the buried city of Old Aldrheim, find out what happened to its previous inhabitants, blast things in the face(s) while ultimately trying to find a way back home...
Due to popular demand the hard mode from Dungeons & Daemons makes a return as well but since we like to keep it a secret we can't talk much more about it. (It's to the left…)
Key Features
Tumble into the second chapter of a new brilliant tale in the Magicka universe

Explore the streets of Old Aldrheim

Look for secrets in the back alleys of a lost buried city.

New creatures and adversaries.

Test your skills in the chapter's unforgiving "hidden" hard mode

Innovative and dynamic spell casting system with thousands of possible combinations

Up to four player co-op in all game modes as well as single player option

Experience the parody and satire of a cliché fantasy world
Systeemeisen
OS: Windows XP/Vista/7 (32- or 64-bit)

Processor: Intel® Pentium® IV 2.4 GHz or AMD 3500+

Memory: 2 GB RAM

Hard Disk Space: 2 GB Available Space

Video Card: NVIDIA® GeForce 8800 or ATI Radeon® X1900 (Integrated Video Cards not recommended)

DirectX®: DirectX 9

Sound: DirectX-compatible sound card

Additional: 3-button mouse, keyboard and speakers. DSL Internet connection for multiplayer. .NET 3.5 required
Paradox Interactive, MAGICKA® Copyright© [2013] Paradox Interactive AB All rights reserved. www.paradoxplaza.com
Er zijn nog geen openbare recensies voor dit product
Je kunt je eigen recensie voor dit product schrijven om je ervaring met de community te delen. Gebruik het gebied boven de aankoopknoppen op deze pagina om je recensie te schrijven.
Titel:
Magicka: Dungeons and Gargoyles
Genre:
Actie
,
RPG
Ontwikkelaar:
Pieces Interactive
Uitgever:
Paradox Interactive
Releasedatum:
31 okt 2013
Talen:
| | Interface | Spraak | Ondertiteling |
| --- | --- | --- | --- |
| Engels | | | |
| Russisch | | | |
| Frans | | | |
| Duits | | | |
| Italiaans | | | |
| Pools | | | |
| Spaans | | | |
| Hongaars | | | |
Alle 8 ondersteunde talen weergeven