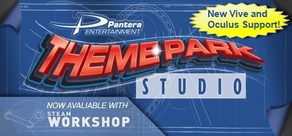 Theme Park Studio is a powerful suite of tools that allow players to design, build, and experience stunning amusement parks of their own design. Players can build whatever they can imagine, and then share it online for others to experience.
Release Date: Feb 27, 2014
Early Access Game
Get instant access and start playing; get involved with this game as it develops.
Learn more about Early Access.
What the developers say:
"PLEASE READ OUR DEV ROAD MAP BELOW. ANIMATED RIDES COMING PHASE 2, COASTERS PHASE 3 Theme Park Studio is still in development and is being released in stages. Please only purchase if you are interested in being involved in the ongoing development of this exciting project. This includes testing, debugging, and supplying new feature requests! We listen to our backers! We have been, and continue to be, a community based project!!!

PLEASE NOTE: Coaster construction is 60 percent complete and will be released in a future stage (see development roadmap below).

Current Status:

As described on our Kickstarter update, this first release basically allows our community to get started designing their parks, creating custom assets, and importing/sharing custom scenery.

Most modules are 70 percent complete. Each will be released in phases, with additional modules unlocked as we polish and add new features requested by the community.

Looking back, the game has branched out way beyond its original design, as we listened to our customer base. We have held focus group meetings with backers, interacted with forum members, and truly set out to build the ultimate theme park sandbox game, shaped by the community.

Below is our current development road map:

The Current Build Includes:

Full featured editor with easy to use transform tools and helper functions.

Dynamic Custom Scenery Builder. Using our build sets, or your own custom sets, create unlimited custom scenery that give your park a unique style. Objects created can saved with embedded meshes, textures, and thumbnails, then shared with friends. When finished simply drop into your library folder and they instantly become part of the custom libraries.

Extensive importing/exporting tools for easy file sharing. We have put extra effort into allowing players to easily share all their amazing designs with simple one click imports! Custom scenery, materials, lights, paths, parks and skies can be easily exported to a single file with an embedded thumbnail. When finished, simply drop into your library folder and they instantly become part of the custom library for easy inclusion into your projects.

Powerful real-time path tools. Please see the videos for a detailed view. This extremely powerful tool allows players to quickly build, layout their park with complex curved paths, walls, bridges, and foundations. You can even attach trees, meshes, or particles effects like torches that will be automatically created, and positioned, for you.

Particle Library - A few particle effects are included in this build, with the full particle editor coming in a future update. Particle effects are 80 percent complete.

Built in object libraries including shops, cafes, castle, and more... Easy placement makes creation a snap:

Full tee library using our proprietary 3d procedural vegetation system with automatic LOD generation.

Flat ride library: PLEASE NOTE: Flat rides are static and just for aesthetics. The animation module is 60 percent complete and will be unlocked in a future update.

Light Library: Place lights easily with fully adjustable properties including color and attenuation;

Terra-forming. Our engine will procedurally paint your landscape based on user specified textures and parameters. 12 textures are used to accomplish the final result, so smooth transitioning is done for you. However we realize some may want to paint paths and since this tech already exists in the engine, we are looking at painting in an upcoming update (based on user request). Other than that, the terra-forming is very complete and powerful. Creating complex landscape is very simple, and easy to use.

Environmental library with customizable properties

Water with customizable properties.

Our next Phases Include
Phase 2:
Custom flat ride designer and animator, with ultra realistic physics. This module is one of our finest. It includes proprietary tools and technologies that allow players to build custom rides from scratch, with amazing realism, using patented technology. This module is currently 60 percent complete.

Phase 3:
Coaster construction. This module quite a lot already finished including on the fly rail type changing, coloring, station linking, rail supports, lifts, cat-walks, and more... However we want to continue to add additional features requested by the community.

Phase 4:
Music streaming with new custom DLC sound tracks.

Phase 5:
Custom train design. This module is extremely powerful and almost fully complete. Please refer to our videos for a detailed look. Here you can create almost any custom train imaginable, including importing your own custom meshes, built by you or downloaded from the community

Phase 6:
Keyframer. This powerful module is 80 percent complete and is for advanced users that want to hand animate objects and physics for that extra detailed touch. Please see video library for a detailed look.

Phase 7:
Particle Effects. Particle effects are 80 percent complete.

Phase 8:
Guest integration with path-finding AI and behavioral trees."
Read more
Reviews
"For all the people who want to be an Imagineer , this is the game for you"
Orlando Attractions Magazine

"Theme Park Studio should make a lot of the Roller Coaster Tycoon fans very happy as well as breathing new life into the theme park and roller coaster sim market"
Micechat.com

"Theme Park Studio is everything you could want in a theme park simulation game. Roller Coasters, Flat Rides, Theming, the entire package is absolutely fantastic!"
ThemeParkReview.com

About the Game
Theme Park Studio is a powerful suite of tools that allow players to design, build, and experience stunning amusement parks of their own design. Players can build whatever they can imagine, and then share it online for others to experience.

'Theme Park Studio Professional Edition' is scheduled for use in 2014 by Intamin Amusement Rides to showcase their newest coaster designs.

Theme Park Studio has been in development for 1 1/2 years and integrates our proprietary game engine and IDE used in the serious games industry.

Please join us, through early access, in continuing this exciting project. Early Access will provide the means to take this title even further, and make Theme Park Studio the ultimate theme park simulator.

Using our rich toolset, players begin by sculpting their terrain, creating lakes, rivers, and raising knolls and mountains. Next, the opening gate is set and paths are placed with our easy path tools. No staggered or sharp edges here, just smoothly curved pathways procedurally built on the fly. With the click of a button, fences are created, stairs are generated, and trees are procedurally placed. Now it's time to build some rides. Coaster creation is both easy and flexible. Coaster rails can be bent, twisted, and shaped into almost any design imaginable. Add brakes, accelerators, tunnels, or have the coaster scream through a custom mesh, like a volcano. There is virtually no limit to what you can come up with. Prefabricated template pieces are also provided as helpers. Want to add a batwing or cobra roll? Simply click the icon and it will drop right in. All the power combined with all the ease of use.

Theme Park Studio broke new ground when we unveiled our custom flat ride designer. This unique module allows to design, build, and invent custom rides. Physics can be applied to objects connected by custom joints. Next, animations are applied to these physics objects. Animation properties include, Torque, Force, Dampen Torque, Dampen Force, Position, Rotation, and Scale. With this functionality the number of flat rides you can create with Theme Park Studio is virtually unlimited! If building custom flat rides is not your thing, no problem, simply select from our library of pre-built rides. In just one click, the ride drops right in to your park, with full physics and animation built in.

Next, fill out your park with restaurants, gift shops, bathrooms, etc.. You can pick from our built in libraries, or download custom meshes and import them for maximum customization. Turn your park into a stunning, picturesque environment with our procedural vegetation libraries. With a simple click drop in trees, hedges, bushes, and flower beds, that subtly sway in the wind. Using our particle effects engine, add fountains, fireworks, smoke, and torches for the final touch. Finally, open the park to guests and watch the peeps tour your park and ride your custom coasters and flat rides. You can also take a first person virtual tour through your park, and experience your own rides. Theme Parks are easily saved and archived. You can upload them to one of the Theme Park Studio coaster exchange sites that will be coming out soon. Theme Park Studio is a product built for the community where players can truly build the amusement park of their dreams.

Theme Park Studio features include:
- Custom coaster creation. Players can bend, pull, and stretch coasters into any design they wish. Prefabricated templates are provided as helpers, if desired

- Custom Flat Rides. Design your own flat ride from the ground up, or select from our pre-built ride library.

- Park guests: After opening your park, watch park guests (peeps) tour your theme park and hop on your coasters and flat rides.

- Mesh importing: Build your own environmental objects and import them for maximum customization.

- Particle effects, including fire, smoke, fountains, fireworks, and weather effects. Our particle effects module is very versatile, allowing the player to create a wide range of effects. Particles can have triggers for setting up shows or like coasters splashing through water.

- Landscaping: Import your own height maps and textures to create stunning landscapes, or custom sculpt one of your own design.

- Water: Control water parameters like speed, level, color, and ripple size.

- Vegetation: Our engine features an advanced vegetation solution. Our proprietary technology allows players to build everything from grass to elaborate oaks. Trees are procedurally generated and can be controlled by custom wind and turbulence settings. This technology has been integrated into Theme Park Studio.

- Oculus Rift Support: Due to overwhelming requests for this support, we are proud to announce this cutting edge technology will be included in all versions of Theme Park Studio.
System Requirements
Minimum:


OS: Windows XP or later

Processor: 2.2 GHz dual core processor

Memory: 2 GB RAM

Graphics: Nvidia 8800 GPU

DirectX: Version 9.0

Hard Drive: 5 GB available space

Sound Card: DirectX compatible
Recommended:


OS: Windows XP or later

Processor: 2.2 GHz dual core processor

Memory: 3 GB RAM

Graphics: Nvidia 8800 GPU

DirectX: Version 9.0

Hard Drive: 5 GB available space

Sound Card: DirectX compatible
Helpful customer reviews
Title:
Theme Park Studio
Genre:
Early Access
,
Indie
,
Simulation
Developer:
Pantera Entertainment
Publisher:
Pantera Entertainment
Release Date:
Feb 27, 2014
Languages:
| | Interface | Full audio | Subtitles |
| --- | --- | --- | --- |
| English | | | |