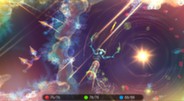 Control the evolution with the touch of your finger. Climb your way through the evolutional ladder. Start as a little organism and transform into a magnificent aquatic being. Explore the abyss in search of nutritional elements. Attack other species whenever you run out of other food sources.
发行日期: 2011年11月20日
欣赏高清视频
评测
"Sparkle 2 Evo is probably one of the more unique titles"
9 – 148apps

"Sparkle 2 is definitely a game that has atmosphere and generally good gameplay"
7 – lowdown

Steam 青睐之光

特惠
Buy Sparkle 2: EVO on Steam and get the fantastic soundtrack from the game for free. A set of ambient tunes will accompany you wherever you want!
关于游戏
Control the evolution with the touch of your finger. Climb your way through the evolutional ladder. Start as a little organism and transform into a magnificent aquatic being. Explore the abyss in search of nutritional elements. Attack other species whenever you run out of other food sources. Enjoy beautiful surreal visuals and relax with minimalistic ambient soundtrack.

Can you grow the biggest Sparkle in the world?

Subtle, captivating, addictive. These three words describe the world of Sparkle - world in which you make a tiny aquatic creature evolve into becoming a grown, magnificent being.

We give you control over your Sparkle's development and wellbeing, and you have one goal - to evolve. Whilst exploring the Sparkle Void, you find various nutritious elements to eat. Sometimes you will even have to fight for food with other species. You become what you eat - you get to choose whether your sparkle becomes a fast and aggressive carnivore, a sluggish but fast-eating herbivore, or an omnivore, whose features lie somewhere in between. Insight to your Sparkle's DNA strand will give you information about the progress and will help you plan which microelements you want to focus on eating next. You will also get to fight giant bosses from time to time.

But there's no rush to keep the game in full swing at all times. You may as well just relax, play the game on a slow pace, explore the sparkle void, consume nutritional elements, enjoy simple and surreal surrounding and listen to the ambient music soundtrack. The choice is all yours.


- Three different ways to evolve. Become a fast and agressive carnivore, a sluggish but fast eating herbivore, or an omnivore whose features lie somewhere in between
- Play through 13 dreamlike looking levels.
- Use GenLab to check your Sparkles DNA strand, your progress, status of your special skills, and plan what to eat next accordingly.
- Relax with great chilled-out ambient soundtrack.
- Compete against other Sparkle in fast-paced competitive mode
系统需求(PC)
Minimum:


OS: Windows 7

Processor: Dual core from Intel or AMD at 2.0 GHz

Memory: 2 MB RAM

Graphics: nVidia GeForce 6800, ATI/AMD Radeaon HD2600

Hard Drive: 180 MB available space
系统需求(MAC)
Minimum:


OS: OSX 10

Processor: Intel Dual Core

Memory: 2 MB RAM

Graphics: nVidia 320M or higher, or Radeon 7000 or higher, or Intel HD 3000 or higher

Hard Drive: 180 MB available space
系统需求(Linux)
Minimum:


OS: Ubuntu 12.4

Processor: 2 GHz

Memory: 180 MB RAM

Graphics: OpenGl 2.1 compatible

Hard Drive: 180 MB available space
有价值的用户评测