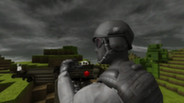 CastleMiner Z is an infinite world filled with deep places to explore, and horrifying monsters to slay. Build structures out of blocks, craft weapons and tools from raw materials, and explore the vast and frightening world around you.
Release Date: Nov 9, 2011
Watch HD video
May 18th, 2014
We have released update 1.7 based on the community feedback that we have gotten from you. Here is what you can expect...


Complete graphics overhaul, we have changed almost everything in the game. It looks very different, especially on high end systems.

Full support of any resolution, without letterboxing. In doing this we also completely re-did the UI and menus to make it more visually appealing and functional for the mouse/keyboard

New set of game options, such as graphics options etc.

Support for Modding

Ability to pick your language despite how your system is set.

Fixes for connection problems

Various other small features and bug fixes

33 comments
Read more
May 18th, 2014
This is bug fix release.

Specifically:
- Fixed issue where control bindings disappear when upgrading
- Fixed issue where game would hang after pressing "Join Online" from the main menu.
- Various improvements to weapon animations and graphics.


6 comments
Read more
Update 1.7
We have done a massive overhaul on the game with the recent 1.7 update, giving the game a major face-lift and integrating many of the features requested by the community.
1.7 New Features
Complete Graphics Overhaul
Completely New UI to Make Crafting Easier
Full Support for Any Display Mode
Rebind-able Keys
Mod Support
Enhanced Graphic Detail Settings
About the Game
CastleMiner Z is an online coop survival horror game in a block based environment. Travel with your friends in a huge, ever-changing world and craft modern weapons to defend yourself from dragons and the zombie horde!
Game Play
CastleMiner Z is an infinite world filled with deep places to explore, and horrifying monsters to slay. Build structures out of blocks, craft weapons and tools from raw materials, and explore the vast and frightening world around you.
Play by yourself or online with friends in any of these exciting game modes:
Endurance Mode: There are tales of a place beyond the mountains where Hell itself has torn through. How far can you get before you succumb to the zombies, dragons, skeletons, or other enemies that thirst for your blood? Run, fight, and sneak your way across dry deserts, snowy mountains, and icy expanses on your quest to vanquish the ultimate guardians of the abyss. In Endurance Mode, the world is randomized each game and the death of your party is permanent.
Survival Mode: If you enjoy Endurance, but would rather build permanent structures and defenses, Survival Mode is where you'll spend your time.
Creative Mode: With simplified crafting and the ability to adjust or eliminate the enemy threat, Creative Mode is a great place to build vast structures in peace.
Dragon Survival Mode: For those who like their trophies big and their hair singed and smoking, Dragon Survival Mode brings you up close and personal with wave after wave of the biggest, meanest, scaliest brutes in the game.
Worlds can be saved in any game mode (except endurance) so try building a castle with enemies turned off, then grabbing some friends and loading it up with enemies turned on!
System Requirements
Minimum:


OS: Windows 8, 7 , Vista, XP

Processor: 2.8 GHZ Dual Core

Memory: 1 GB RAM

Graphics: DirectX 9.0c or better with 500 mb memory

DirectX: Version 9.0c

Network: Broadband Internet connection

Hard Drive: 100 MB available space

Sound Card: Direct X Compatible
Recommended:


OS: Windows 8, 7

Processor: 3.0 ghz Quad Core or Better

Memory: 8 GB RAM

Graphics: DirectX 9.0c or better with 1 GB memory

DirectX: Version 9.0c

Network: Broadband Internet connection

Hard Drive: 100 MB available space

Sound Card: Direct X Compatible
Helpful customer reviews
2,092 of 2,527 people (83%) found this review helpful
21 products in account
5 reviews
306.4 hrs on record
First, allow me to tell you that I am only going to be rating this product on solely what it is, I will not be comparing it to other products. Content in this review is subject to change when the product gets modified. If you would like to contact the developers with your opinions about this product or suggest future updates, contact them at
support@digitaldnagames.com
.
Since its launch on Steam in February this game has been criticized for having a multitude of issues ranging from having absolutely no graphic or control settings to no communication options. Recently, this product has
implemented
the following:
• Resolution settings. You can now change your resolution as you see fit.
• Render distance settings. Lowest, Low, Medium, High, and Ultra.
• Texture quality settings. Low, Medium and High.
These settings were needed in order to call this a PC game. Now that these issues have been addressed, allow me to criticize some of the things they have recently implemented and the things they still haven't. They recently implemented a fairly large health bar at the top of the screen. I find this rather odd considering health in Castle Miner Z almost immediately regenerates. I would prefer if I could move this around or just turn it off all together. Along with a nice HD retexture of every block in the game, they've also added a new blue user interface.
The game still lacks a variety of enemies, blocks, an antialiasing setting and a voice chat system. Also, text communication is rather limited. For example, if I wanted to say "Hello everyone, how are you all doing?" I would only have 5 characters left afterward. The ability to paste characters would be a lovely addition as well.
February 2014
:
Castle Miner Z's controls when it first launched on Steam
Castle Miner Z's graphic settings when it first launched on Steam
March 2014
:
Castle Miner Z's controls in March 2014
Castle Miner Z's graphic settings in March 2014
May 2014
:
Castle Miner Z's controls in May 2014
Castle Miner Z's graphic settings in May 2014
They've got a recommendation from me if they can implement some of the following features:
• A promise that whenever they update their game, worlds won't get refreshed or corrupted. Seriously, what's the point of even playing in the first place if all of the work you put into the game is just deleted after every update?
• Voice chat. A 30 character text system just simply isn't going to cut it. People need to communicate with their voice.
• A larger variety of enemies and perhaps some friendly NPCs. Multiple reskins of dragons, zombies, skeletons and Demons with the same exact sound effects just aren't enough.
• More blocks or at least a larger variety of things to craft with resources. Dirt, rock, wood, ore, Bloodstone, weapons, explosives, doors, walls, is what I would expect from an Alpha.
• Some sense of character customization, the ability to crouch, and feet animations for turning left and right.
Many of you commenting think I am hypocritical by spending over 300 hours in this game, I find this rather absurd. If anything, you should consider the time I spent on this game as thorough testing of the product. For those of you wondering, 2/3 of the time I spent playing this game went towards an achievement that requires you run the game consecutively for 100 hours. The first time I attempted this achievement the memory leakage was so horrible it immbolized my PC after the first three days. I tried once again in the lowest resolution and succeeded.
1,407 of 1,752 people (80%) found this review helpful
70 products in account
3 reviews
2.6 hrs on record
CastleMiner Z.. where do I even begin? CastleMiner Z is a Voxel FPS Horror game where your only goal seems to survive or go farther from your starting point, and go progress to get higher tiers to fight the zombies with.

First of all, the graphics; They are very poor and need work, and a lot of times glitch out.

Secondly there's the Gameplay: The gameplay is decent, but get's very repetitive, with nothing much to do other than go farther away from spawn and try not to die. The guns are very unabalanced and need work aswell. For a survival game, suprisingly you don't have to eat or anything, you can literally just sit in a hole in a mountain or something and not get killed ever, and once you're aware of that it becomes very stale.

Third of all, Optimization: This game isn't optimized very well, and has laggy FPS even on good computers. The porting from Xbox 360 to PC/Steam is poor aswell and feels like they put no effort into it. Even the Xbox 360 controller buttons are still there. It's missing basic features like a ingame chat that should be there already.

Lastly, the bugs. This game has a lot of bugs, like.. a lot of bugs. How could a game be released like this? Sonic 06 all over again. This game is okay, but needs imporvement, I wouldn't recommend it right now.

I'd recommend making this a early access game if possible, it has potential, but it feels like your not using it. It's very lacking right now. 04/10 at it's current state (1.6.3.3)
2,409 of 3,184 people (76%) found this review helpful
290 products in account
1 review
0.4 hrs on record
no
1,519 of 2,109 people (72%) found this review helpful
320 products in account
7 reviews
0.6 hrs on record
This review will not be helpful:

This is the dumbest thing ever.
916 of 1,266 people (72%) found this review helpful
155 products in account
1 review
0.5 hrs on record
no resolution settings and ambiguous error messages on 4/5 connections I attempt to make with player hosted servers. This is the first purchase I've ever made on steam that I have regretted enough to email steam's support and ask for a refund. ♥♥♥♥ty pc game at release, should have been far more polished before it was allowed through Steam's vetting system. Seems to me like they're trying to make a quick buck and it makes me sick.

Edit:
As of tonight (1.5 days after emailing steam support) I have yet to receive a response....
Steam has lost me as a customer unless or until I am able to get this resolved.

First I'd like to say that I purchased this game on the xbox and actually really enjoyed it but it is lacking major technical features for a full steam release title on the pc. Steam should have labeled this release as an early access title!

DigitalDNA Games, for you I have just spent 30 minutes troubleshooting your game, these are my results which are the same issues I was running into yesterday. Also I tested it on two known good systems both yesterday and today and I have a reasonably good internet connection: ping 25ms, DL 165 mbps, UL 8 mbps.

On both systems I occasionally experience an error where after selecting "Play online" I am presented with the message "connecting... please wait..." but the message just continues to flash and never disappears. I have waited as long as 5 minutes to no avail.

I seem to run into this error about 1/5 times.

When I am able to access the list of player servers I am having slightly better luck today, but still about 1/2-3/4 of the times I try to connect to one I am presented with an ambiguous error message of no use to me in troubleshooting whatever problem may exist. The text of this error is as follows:

"Connection Error

Connection failed: Host Disconnected

Ok"

Also if I accidently try to join a server that requires a password, the cancel button on the dialogue box allowing you to enter a password does not work. When I click it nothing happens at all. I have to select ok which takes me to the same ambiguous error message as above and then to the main menu.

Now that I have gone out of my way to reinstall your game and spent about 45 minutes to an hour of my time troubleshooting for you, I would ask that you contact me directly or through steam and offer me a refund on the $8.49 that I spent yesterday on your hastily released title.


2nd edit: The steam support ticked I opened that has yet to receive a response is ticket #5897-WEYV-9696.
Title:
CastleMiner Z
Genre:
Action
,
Adventure
,
Indie
Developer:
DigitalDNA Games LLC
Publisher:
DigitalDNA Games LLC
Release Date:
Nov 9, 2011
Languages:
| | Interface | Full audio | Subtitles |
| --- | --- | --- | --- |
| English | | | |
| Italian | | | |
| German | | | |
| Japanese | | | |
| Portuguese | | | |
| Russian | | | |
See all 6 supported languages