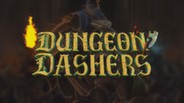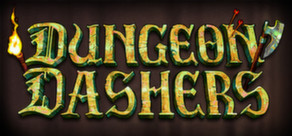 Dungeon Dashers is a fast-paced turn-based dungeon crawler, bringing the enjoyment of a tabletop board game with friends to the PC. The game's design streamlines the core dungeon crawler experience to its essentials, for an intense, loot-grabbing adventure.
Release Date: Oct 25, 2013
Watch HD video
Early Access Game
Get instant access and start playing; get involved with this game as it develops.
Learn more about Early Access.
What the developers say:
"Hello! We're excited to bring you an Early Access version of Dungeon Dashers, a fast-paced turn-based dungeon crawler which has been lovingly crafted by a small team over the past 18 months. During Early Access, Dungeon Dashers will be available for a discounted price. By purchasing now you get the current version of the game and all future updates for free.

Dungeon Dashers is still in development, so please read the planned features list below to see what's in the current build and what we're planning to add. We're always iterating on the design, so things are subject to change. But we're aiming to have a fun and unique dungeon crawling adventure that you can enjoy with friends.

Specifically, we're hoping to test out new multiplayer features so that the final release goes smoothly and we'd love to get your feedback the game so far.

Thank you for supporting our game, and we look forward to your feedback on its development."
Read more
February 5th, 2014
The latest build has just been updated on Steam. There are many changes since the previous version, but the highlights in this one are:

New difficulty modes: Normal, Hard, and Harder (change in options screen)

New dialogue, puns, and cutscenes across many levels. (checkout "Freedom?" especially!)

Lots of bugfixes

More levels, including the Ancient Tombs

Level Editor launch option
Coming next: More levels, enemy types, and equipment.
Post your thoughts on the game so far in the discussion boards, and I hope you all enjoy the new content.
* P.S. restart your Steam client to get the latest update.
8 comments
Read more
November 11th, 2013
I've just uploaded Build 282. This build should have significant performance improvements for everyone.

After some people reported the game running slow last build, I spent a long time to look for the source of the problem, and I've made a fix which I've tested on multiple machines and improves the speed a lot. Please try the game out and let me know how it runs for you.

Additionally, I fixed a couple of minor bugs in this build:
* fixed bug with "Next Build" information not coming up (after dragon)
* fixed dagger not showing up in "Freedom"

You can also press F12 during the main game to see your framerate. It should be at 60 for an optimal experience. Pressing F7 will turn off lighting effects.

If you do not see "Build 282" in the bottom right of the main menu, restart Steam to force an update of the game.
11 comments
Read more
Steam Greenlight
About the Game
Dungeon Dashers is a fast-paced turn-based dungeon crawler, bringing the enjoyment of a tabletop board game with friends to the PC. The game's design streamlines the core dungeon crawler experience to its essentials, for an intense, loot-grabbing adventure.
Accumulate wealth by smashing boxes full of gold, slaying monsters, and looting glowing chests. Use your gold to buy consumables to boost your abilities or craft upgrades for your equipment. Find new swords, bows, staffs, spells and other equipment hidden in chests obscured by challenges and quests.
Current Features
These are the features that are in the current build of the game so far:
Tactical and diverse combat mechanics

Epic dragon boss battle and over 15 enemy types to face (many more bosses to come, and more enemy types)

Custom loadouts for each class based on loot found in dungeons

13 unique player skills (30 skills planned)

11 levels spread out across 5 environments (40 levels planned)

More than 15 unlockable pieces of unique equipment including swords and armour (30+ pieces planned)

Level editor with user campaign creation support

Original full-length chiptune soundtrack composed by Nathan "Derris-Kharlan" Antony

Compelling narrative and character dialogue spanning the entire campaign
Planned Features
Dungeon Dashers is still in development and we're adding new features every day. Here's what we've got planned for future builds:
Hardcore mode for those who finish the game and want more of a challenge

Online co-operative gameplay for up to 4 players

Consumable items, such as potions

Weapon upgrades using the gold you've found from looting

Steam Trading Cards

Steam Achievements
What Others Are Saying
"They've nailed that feeling of moving little adventurer miniatures around on a board"
-Colony Of Gamers
"Dungeon Dashers promises traps, multiple styles of play, tons of replayability, additional challenges and objectives and online multiplayer. Honestly, the whole package sounds too good to be true."
-IndieGameMag
System Requirements
Minimum:


OS: Windows Xp / Vista / 7 / 8

Processor: 1.7 GHz Intel Dual Core Processor or equivalent

Memory: 1 GB RAM

Graphics: Intel HD Graphics or equivalent, capable of Shader Model 2

DirectX: Version 9.0c

Hard Drive: 100 MB available space
Copyright © 2013 JIGXOR PTY LTD
There are no public reviews for this product yet
You can write your own review for this product to share your experience with the community. Use the area above the purchase buttons on this page to write your review.
Title:
Dungeon Dashers
Genre:
Action
,
Adventure
,
Early Access
,
Indie
,
RPG
,
Strategy
Developer:
Jigxor
Publisher:
Jigxor
Release Date:
Oct 25, 2013
Languages:
| | Interface | Full audio | Subtitles |
| --- | --- | --- | --- |
| English | | | |
Awards

GDC 2013 Best in Play Honorable Mention
Freeplay 2013 Visual Art Honorable Mention
Freeplay 2013 Narrative Honorable Mention
Freeplay 2013 Design Honorable Mention