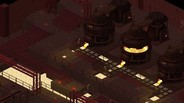 Underrail is an old school turn-based isometric indie role playing game that focuses on exploration and combat. The game is set in a distant future, when the life on the Earth's surface has long since been made impossible and the remnants of humanity now dwell in the Underrail, a vast system of metro station-states that, it seems, are...
Release Date: Sep 23, 2013
Watch HD video
Early Access Game
Get instant access and start playing; get involved with this game as it develops.
Note: This Early Access game may or may not change significantly over the course of development. If you are not excited to play this game in its current state, then you may want to wait until the game progresses further in development. Learn more
What the developers have to say:
"This game is still in development. By purchasing this game now you will gain access to the latest stable alpha build and you will receive the full game once it's complete.

Currently a good chunk of the campaign is finished and playable, but there is still a lot to come. As the development goes on, we will be adding more areas, quests, items, abilities and enemies, until the game is finished. Save game compatibility between major content releases is not guaranteed, but you will be able to export/import your characters and use them to explore the new content.

Help us make a bigger and better game by purchasing now." Read more
July 7th, 2014
Hey guys. We've been quiet lately, but that's only because we've been working hard on the biggest and the most difficult section of the game, center of the game world, the metropolis that is Core City.




The Core City is the place of extremes. On one hand we have the oligarch families and their associates who live lives of luxury (or at least what can be considered such in the world of Underrail) while on the other hand the slums are filled with the poor that perish daily from hunger, disease and gang fighting.

The masters of Core City know how to keep the masses complacent though. What started as place for gangs to settle their disputes has grown to become the most popular form of entertainment in the city and the whole of Underrail. We're talking about the Arena, the Roman style field of combat where they pit men against various deadly creatures as well as gladiator against gladiator. All for the viewing pleasure of the numerous Arena fans. Watching people die violently is the favorite pastime for the oppressed masses of Core City.




People from all over the Underrail pay for the privilege to watch direct broadcasts of these fights as well as take trips to Core City to watch the matches live, if they can manage to get hold of tickets which are always sold out quickly. The Arena and the its betting office have made the oligarch families rich.

Players will, of course, be given an opportunity to test themselves in the Arena and see if they have what it takes to climb all the way to the top and claim the title of Invictus.

Beyond that they will also have an opportunity to enter the Gauntlet, and new blood sport where the contenders race through series of rooms, each containing a unique challenge, to be the first to reach the finish line and claim the prize, or die trying.

* * * * *

This update will be taking us a bit longer than we expected, but in many ways this is the hardest section to develop. It encompasses more intractable NPCs than any other update, way more urban areas than any other city so far as well as multiple quest-lines. All this stuffs had us stretched a bit thin, but if we get this part of the game right it should be more or less smooth sailing to completion.
10 comments
Read more
May 23rd, 2014
Hey guys. The development of the next city-state in the world of Underrail is in full swing. Core City, the metropolis of the South Underrail, is the largest of the urban areas this game will feature. Here's a little sneak peek:




* * * * *

I've added more firearms: one new pistol, one new SMG, two more assault rifles and two more sniper rifles. Also added two new crossbows. One model from each of the weapon categories (pistol, SMG, crossbow, etc) will be only available through crafting. This doesn't mean it will necessarily be stronger than the others, just different.

I've tweaked the base stats (damage spread, crit chance, crit bonus, precision, etc) of each of the firearm and crossbow models to diversify them further and make the choice between them more meaningful when crafting or purchasing. I won't be adding any more craftable firearms or crossbows to the game (though we will be adding unique ones), instead I'll be adding more weapon enhancements you'll be able to add to the mix when crafting your weapon of choice. These new enhancements will only be available through crafting, meaning, they won't appear (or will appear extremely rarely) on randomly generated gear.

Additionally, in the future I will be adding more character feats that will play on strengths of thoughtfully crafted and enhanced custom weapons. E.g. if you make a character build that gives you a number of ways to perform on-demand critical hits, you'll want to stack critical damage bonus and use a slow hard hitting weapon; while on the other hand if you have feats that give you extra on-hit effects (such as flat damage bonus) with critical hits and have high dexterity you'll want to use quick light weapons with high critical hit chance.

* * * * *

In other news:


Items


Added throwing knives - they are fairly inexpensive and their damage scales with your throwing skill. While they are unlikely to replace your primary offensive skill, they do act as a nice ranged supplement for high dexterity characters, especially when you use the poisoned ones.

Added electrical pistols - a type of energy pistol that shoots electrical bolts that stun the primary target and jump a few times (similar to electroshock bolts)

Added two energy weapon enhancements - only applicable through crafting; one increases the critical damage bonus, while the other increases the special attack damage

Added 5 new crafting only meds and appropriate organs and chemicals that are needed to produce them

Creatures


Added the deadly coil spider

Psi


Added Thermodynamic Destabilization (metathermics) - You tag a creature with a debuff. If you kill it within 2 turns, it will explode, dealing heat and mechanical damage to everything around it. The amount of damage dealt scales with the metathermics skill and the amount of health the creature had when it was tagged

Added Enrage (Thought Control) - Enrages a living target for up to 4 turns which causes it to turn hostile to everyone.

Reworked Force Emission (Psychokinesis) - No longer provides extra range, but works with fist weapons as well.

Added Telekinetic Proxy (Psychokinesis) - Moves the telekinetic proxy from its current location to the specified location, dealing mechanical damage to everything in its path. If the proxy is not present, is too far away, or doesn't have a clear straight line path to the destination, a new one will be spawned. Telekinetic proxy will mimic your single target telekinetic psi abilities and effects (currently Telekinetic Punch and Force Emission) if the target is within its radius. The proxy lasts 3 turns, but the timer refreshes with each move or mimic.

Bug fixes


Fixed the overly heavy boots (will only affect the newly generated/crafted items, the old ones will remain heavy)

Crawler poison component now correctly named (was "Cave Ear" poison)

Plot items can no longer vanish when attempting to transfer them to the trading window (oops)

Opportunity feat now works with wrestling/tacklling (they are considered slows)

Balaclava repair category changed to fabric

Armor penalty calculation rounding errors fixed (Nimble feat should now apply properly in all cases)

Bleeding wounds from boots/armor enhancements will now stack as they should

Weapons of wheeled bots and turrets now considered firearms so vests should work correctly against them now

Dirty kick now triggers hostilities as it does in real life

You can now reload chemical pistol from the quick reload bar like other weapons (cannot unload, that's inteded)

Combo feat will now properly stack when using armors or boots that provide extra damage

You can no longer use Expose Weakness to kill The Beast or other stuff that's immune to mechanical damage

No longer possible to beat up some creatures to the point their "armor" degrades
That's all for now. Cheers.
6 comments
Read more
About the Game
Underrail is an old school turn-based isometric indie role playing game that focuses on exploration and combat.

The game is set in a distant future, when the life on the Earth's surface has long since been made impossible and the remnants of humanity now dwell in the Underrail, a vast system of metro station-states that, it seems, are the last bastions of a fading race.

The player takes control of one of the denizens of such a station-state whose life is about to become all that much more interesting and dangerous, as our protagonist is caught midst the conflicting factions of the Underrail as the violently struggle to survive in the harsh underground environment.
System Requirements
Minimum:


OS: Windows XP SP3

Processor: 1.6GHz

Memory: 1 GB RAM

Graphics: GPU that supports shader model 2.0

Hard Drive: 2 GB available space
Helpful customer reviews
Title:
UnderRail
Genre:
Early Access
,
Indie
,
RPG
Developer:
Stygian Software
Publisher:
Stygian Software
Release Date:
Sep 23, 2013
Languages:
| | Interface | Full audio | Subtitles |
| --- | --- | --- | --- |
| English | | | |