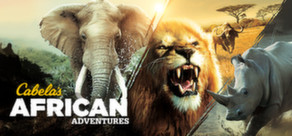 Explore the vast wilderness of Africa on foot and by vehicle, where you'll go head to head with the most ferocious beasts on the planet as you attempt to take down the biggest of the "Big 5:" The Rhino, Lion, Leopard, Cape Buffalo & African Elephant!
Release Date: Oct 16, 2013
About the Game
Explore the vast wilderness of Africa on foot and by vehicle, where you'll go head to head with the most ferocious beasts on the planet as you attempt to take down the biggest of the "Big 5:" The Rhino, Lion, Leopard, Cape Buffalo & African Elephant!
Key Features:
Features vast hunting areas 5x the size of any other Cabela's® console game

Highly memorable "Big 5"; challenging and fun boss animal fights.

All-new, exciting storyline to explore

Enter and leave your vehicle anytime, anywhere while you take on large herds of stampeding buffalo, packs of predators, and dream prey across 5 different biomes!

There are two exciting modes: Safari Mode: mission-based career progression; Shooting Galleries.

A wide selection of firearms and load-outs to stalk, dodge, and grapple with the most ferocious beasts alive
System Requirements
Minimum:


OS: Windows® XP 32-bit (with Service Pack 3)

Processor: Intel Core® 2 Duo E2200 @2.2GHz or AMD Athlon 64 X2 4400+ Socket AM2 @2.2GHz

Memory: 2 GB RAM

Graphics: NVidia GeForce 8600 GT 512MB/ AMD HD 4650 512MB

DirectX: Version 9.0c

Network: Broadband Internet connection

Hard Drive: 9 GB available space

Sound Card: DirectX Compatible Sound Card

Additional Notes: Internet connection required for activation.
Cabela's and the Cabela's logo are registered trademarks of Cabela's Inc. ©2013 Activision Publishing, Inc. Activision is a registered trademark of Activision Publishing Inc. All rights reserved. Opening the game box and using the software constitutes acceptance of the Software License Agreement available at support.activision.com/license. ESRB ratings icons are registered trademarks of the Entertainment Software Association (ESA) and may not be used without permission of the ESA. All other trademarks and trade names are the properties of their respective owners.
Helpful customer reviews
31 of 36 people (86%) found this review helpful
1,777 products in account
699 reviews
3.8 hrs on record
Cabela's African Adventures took me by surprise. I used to think these games were all about hunting in first person view, but they're actually played in third person. At least I was right about the hunting aspect.
The game is split up into big, open areas. You can collect treasures, explore the world, do sidequests and, later on, hunt for the bigger enemies (which act as some sort of boss fight). There are 5 or 6 worls, with different environments and the hunting aspect is in fact kinda fun to do. No, it's not brilliant or anything, but entertaining. But by the time you reach world 3 or 4 you've probably seen it all. That's where I grew tired of the game. I'm sure most of you will, too. But I had a good time with it. It's a good pastime.

One more thing; the menus are a ♥♥♥♥♥ to navigate so I had actually overwritten my savegame when I was 2 hours into the game. Had to start all over again... The fact that you can't select a resolution above 1920x1080 was also a bit of a letdown.
9 of 10 people (90%) found this review helpful
103 products in account
6 reviews
18.8 hrs on record
As all games from Cabela's, Cabela's African Adventures is focused in a story rather than real hunting. Once you finish the game, in story mode, there isn't much you can do here other than roaming around the areas hunting normal game animals or repeating the story.
Besides the story mode, this time, they also present a "Shooting Galleries" mode where you can walk along some tracks and shoot animals like an arcade game, which offers a bit more fun (and game time) to the game.
The game story is revealed with some nice animations resembling a comic book. Here, you get to be a big hunter called Mason going on a African safari, from the savannah to the desert and jungle.
Mason is payed to try to find the pieces of a lost tribal statue meanwhile hunting the dangerous animals, and in the course of the story it will also get a bit romantic.
As for the game, it has decent graphics (not too real, not too dummy-like) and a fair enough of everything, from weapons to animals, areas and missions. As you play along, you can upgrade the weapons by finding hidden objects (fossils) and besides the story missions you also have some free hunts you can do to earn XP and unlock hunting abilities.
After some time playing, you will start to feel that the missions resemble one each other, being to stalk or survive or shooting/boss fight, but they will have you entertained and busy while playing them.
As for the animals, they don't have that much dynamic. Not that they have fixed paths or behavior but after some time they also feel kinda repetitive and other times they even will get stuck in the environment. But like I said before, it's fair enough.
The price, as all cabela's games, is a bit high (imo) mainly because they are always kinda one use games – when you finish them, there isn't much to (re)play them again…
Overall, I had a great time playing this game and if you get it on Steam it also includes 33 achievements that you can try to hunt down.
Check my game play and maps at
http://hucorner.imbl.net
Title:
Cabela's® African Adventures
Genre:
Action
Publisher:
Activision
Release Date:
Oct 16, 2013
Languages:
| | Interface | Full audio | Subtitles |
| --- | --- | --- | --- |
| English | | | |