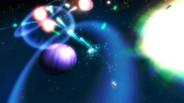 Top-down 2.5D action that combines elements of space shooters like Star Control, action-RPGs like Diablo, and space adventure games like Freelancer with an infinite weapons system that evolves unique guns to player preferences. Single-player and up to 32-player online coop and PVP with dedicated servers.
Release Date: May 31, 2014
Watch HD video
Buy Galactic Arms Race 4-Pack
Includes four copies of Galactic Arms Race - Send the extra copies to your friends
September 21
The Steam patch scheduled for 22 September includes:

new weapon effect 5% Speed Bonus

all lower tier gun ships received significant base speed boost

star system name displays on local system radar

nebula clouds slightly denser

astroid belts much denser

mp net code prediction adjustments
0 comments
Read more
September 2
- Recall Anchor cooldown now 30 seconds
- Recall cooldown now 5 minutes (this and the anchor were incorrectly reversed)
- Font size reduced on Recall and Recall Anchor hot bar buttons to display correctly on lower resolutions
- When a player is recalling in multiplayer they display the teleportation charge up glow effect
0 comments
Read more
About the Game
Overview

Pilot a gun ship and battle aliens, pirates, and other villainous enemies, to gain levels, skills, and most importantly, discover unique and potentially more powerful weapons. Through the unique cgNEAT content-generation technology, new weapons are constantly created by the game automatically.

Experiment

A key objective of this game is to explore the potential for automated content generation technology to intelligently create content for games. In GAR, all player weapons are generated by the cgNEAT algorithm based on weapon usage statistics. However, cgNEAT does not simply respawn weapons that people like. Rather, it creates new weapons that elaborate on those that have been popular in the past.

Game Mechanics

GAR combines elements of old-school space shooters like Star Control, action-RPGs like Diablo, and open-world space adventure games like Freelancer. The graphics are fully 3D but in top-down or "2.5D" mode. The chase camera and movement interface is similar to many online RPGs such as WoW. Earn ranks and credits by completing missions and destroying enemies. Use the credits earned to upgrade and customize your gun ship.

Galaxy

The game progresses through different and increasingly challenging solar systems. Throughout the galaxy are various factions, both friendly and hostile.

Game Modes

GAR game modes include (1) single player campaign mode, (2) instant-action system defense mode, and (3) multiplayer mode for up to 32 players with both coop and PVP. You can run your own Galactic Arms Race galaxy by downloading the standalone server. A simple windows GUI makes it easy to administrate your galaxy.
System Requirements
Minimum:


OS: Windows XP

Processor: Core 2 Duo

Memory: 256 MB RAM

Graphics: Direct X 9 compatible graphics card

DirectX: Version 9.0c

Network: Broadband Internet connection

Hard Drive: 160 MB available space
Helpful customer reviews
Title:
Galactic Arms Race
Genre:
Action
,
Casual
,
Indie
Developer:
Evolutionary Games
Publisher:
Evolutionary Games
Release Date:
May 31, 2014
Languages:
| | Interface | Full audio | Subtitles |
| --- | --- | --- | --- |
| English | | | |
Awards
Indie Game Challenge Finalist

AI Game Dev Editor's Choice Award

Best Paper Award IEEE Symposium on Computational Intelligence and Games