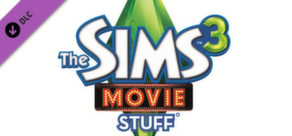 Om dit spel te kunnen spelen moet je het originele spel The Sims™ 3 hebben.

Releasedatum: 10 sep 2013
Downloadbare inhoud
Om dit spel te kunnen spelen moet je het originele spel The Sims™ 3 hebben.
The Sims 3 - Movie Stuff kopen
Info over het spel
Bring all of the glitz and glamour of Hollywood straight into your Sims' homes with The Sims™ 3 Movie Stuff! Set the stage for more unique stories with distinctively themed décor, furnishings, and clothing inspired by iconic movie genres. With a wide range of items from a creepy crypt bed to a ten gallon hat, tell the tales of masked vigilantes, western cowboys (and cowgirls), and be inspired to create quirky horror stories. Deck out your Sims as silver screen legends as their town meets Tinseltown!
Key Features
Comic Book Blockbusters
Fashion—Whether you're creating a caped do-gooder or a nefarious über-villain, your Sim is going to look absolutely super in a range of tight-fitting, over-the-top costumes—including the mighty and mysterious Super Justice Llama!
Décor—Create a lair or hideout fit for a masked hero or even their arch nemesis with sculptures, memorabilia and more inspired by the greatest comic-book hero movies. Your Sims can even feel like they're about to resume their secret identity in their new phone-booth shower!

Western Epics Fashion—Time to rustle up some new duds, I reckon. With frilled chaps, smart vests, and ornate Victorian dresses, your Sims will look like they'd be right at home in some dusty Western saloon.
Décor—Give your Sims' home a folksy frontier attitude that says, "Howdy, partner." Old-timey furniture like a wooden vanity and a homey rocking chair will add some classic Western style to your Sims' world.

Creepy Features
Fashion—Terrify your Sims' neighbors with playfully horrific costumes. Gothic garb includes selections in macabre colors like black and crimson with features such as prominent stitching, and lots of rips and tears for that just-risen-from-the-grave look.
Décor— Your Sims are in for some scare … with flair. You'll have a frightfully good time decking out your Sims' homes in cheeky horror décor including a nightmarish bookshelf, a spider web door, and jars of who-knows-what.

New Hairstyles, Hats, and Helmets—Top off your Sims' cinematic look with a selection of show-stopping headgear and hairdos. From a winged hero helmet to an expertly tangled gothic 'do to a ghostly bridal veil, your Sim will look ready for their close-up.
Systeemeisen
Besturingssysteem: Windows XP (Service Pack 2) of Windows Vista (Service Pack 1)

Processor: (XP) 2.0 GHz P4 processor of vergelijkbaar; (Vista) 2.4 GHz P4 processor of vergelijkbaar

Geheugen: (XP) 1 GB; (Vista) 1.5 GB

Grafische kaart: 128 MB Grafische kaart met ondersteuning voor Pixel Shader 2.0

DirectX®:

Harde schijf: Ten minste 6.5 GB aan vrije ruimte met ten minste 1 GB aanvullende ruimte voor aangepaste inhoud

Geluidskaart:

Ingebouwde grafische kaart:

Intel Integrated Chipset, GMA X3000 of hoger.

2.6 GHz Pentium D CPU, of 1.8 GHz Core 2 Duo of vergelijkbare processor

0.5 GB aanvullend geheugen

Ondersteunde grafische kaarten:Nvidia GeForce series: FX5900 of beter, G100, GT 120, GT 130, GTS 150, GTS 250, GTX 260, GTX 275, GTX 280, GTX 285, GTX 295; ATI Radeon™ series: ATI Radeon 9500 series of beter, X300, X600, X700, X800, X850, X1300, X1600, X1800, X1900, X1950, 2400, 2600, 2900, 3450, 3650, 3850, 3870, 4850, 4870 series of beter; Intel® Graphics Media Accelerator (GMA): GMA 3-Series, GMA 4-Series

*Let op dat de GeForce 6100 en 7100 kaarten niet zijn ondersteund
INTERNET CONNECTION, ONLINE AUTHENTICATION, ACCEPTANCE OF END USER LICENSE AGREEMENT, AND LATEST THE SIMS 3 PATCH UPDATE REQUIRED TO PLAY THE SIMS 3 DIGITAL DOWNLOAD PRODUCT. ACCESS TO ONLINE SERVICES INCLUDING SIMPOINTS AND DOWNLOADS REQUIRES AN INTERNET CONNECTION, EA/ORIGIN ACCOUNT AND GAME REGISTRATION WITH THE PROVIDED ONE-TIME USE SERIAL CODE. REGISTRATION IS LIMITED TO ONE EA/ORIGIN ACCOUNT PER SERIAL CODE AND IS NON-TRANSFERABLE. EA ONLINE PRIVACY POLICY AND TERMS OF SERVICE CAN BE FOUND AT www.ea.com. YOU MUST BE 13+ TO REGISTER FOR AN EA/ORIGIN ACCOUNT. MAC USERS MUST UPDATE TO THE LATEST VERSION OF THE SIMS 3 LAUNCHER TO ACCESS ONLINE SERVICES, INCLUDING SIMPOINTS AND DOWNLOADS. EA MAY PROVIDE CERTAIN INCREMENTAL CONTENT AND/OR UPDATES FOR NO ADDITIONAL CHARGE, IF AND WHEN AVAILABLE. The Sims 3 digital download PRODUCT uses SecuROM digital rights management technology provided by Sony DADC Austria AG. For more information about SecuROM, visit http://faq.securom.com/. GAME CAN BE PLAYED ON UP TO FIVE COMPUTERS AT THE SAME TIME; USERS CAN MANAGE WHICH COMPUTERS ARE AUTHORIZED OR DE-AUTHORIZED TO PLAY GAME. VISIT http://activate.ea.com/deauthorize/ FOR MORE INFORMATION ON DE-AUTHORIZATION. INCLUDES SOFTWARE THAT COLLECTS DATA ONLINE NECESSARY TO PROVIDE AND ACTIVATE IN-GAME ADVERTISING FOR ALL THE SIMS 3 PRODUCTS PREVIOUSLY OR HEREAFTER INSTALLED. EA MAY RETIRE ONLINE FEATURES AFTER 30 DAYS NOTICE POSTED ON www.ea.com/2/service-updates.
Er zijn nog geen openbare recensies voor dit product
Je kunt je eigen recensie voor dit product schrijven om je ervaring met de community te delen. Gebruik het gebied boven de aankoopknoppen op deze pagina om je recensie te schrijven.
Titel:
The Sims 3 - Movie Stuff
Genre:
Simulatie
Ontwikkelaar:
The Sims Studio
Uitgever:
Releasedatum:
10 sep 2013
Talen:
| | Interface | Spraak | Ondertiteling |
| --- | --- | --- | --- |
| Nederlands | | | |
| Tsjechisch | | | |
| Deens | | | |
| Engels | | | |
| Fins | | | |
| Frans | | | |
| Duits | | | |
| Hongaars | | | |
| Italiaans | | | |
| Koreaans | | | |
| Noors | | | |
| Pools | | | |
| Portugees | | | |
| Russisch | | | |
| Spaans | | | |
| Zweeds | | | |
| Chinees (traditioneel) | | | |
Alle 17 ondersteunde talen weergeven