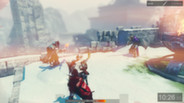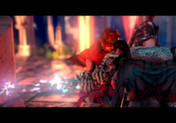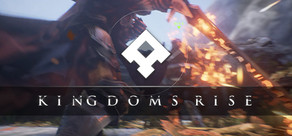 Kingdoms Rise is a Multiplayer Fantasy Combat Game featuring brand new game mechanics within its deep 360° sword fighting system and magic abilities. Customize to your heart's content with a multitude of choices in armors, swords, spells, ranged weapons and more.
Release Date: Nov 18, 2013
Watch all 2 trailers
Early Access Game
Get instant access and start playing; get involved with this game as it develops.
Note: This Early Access game may or may not change significantly over the course of development. If you are not excited to play this game in its current state, then you may want to wait until the game progresses further in development. Learn more
What the developers have to say:
Why Early Access?
"We are using Early Access to enable you to keep us alive long enough to finish this game. By buying the game while it's not finished we can keep working until it is."
How long will this game be in Early Access?
"We can't say how much longer it will take till we are at our full version, by a guess would be another 6 months or so"
How is the full version planned to differ from the Early Access version?
"
Full version is planned to feature:
Comprehensive Training/Tutorial

Ranks and Competitions

Level ups / XP

Lots of achievements

Steam workshop for custom maps and armors/clothes

Party Matchmaking

Clans/Guilds

Team objectives game mode(s)

Singleplayer/Co-op survival game

More of the other stuff (spells, swords, armor, etc.)

Much more balance and way less bugs
"
What is the current state of the Early Access version?
"I'm not going to pretend this game is finished, as you can see from the list of features we are still working on it's going to be a fair amount of time before its called "done".
That said,
the game is playable and enjoyable, the fundamentals of combat (albeit sometimes buggy) can currently be experienced by anyone in all it's glory.
If you are someone who needs more than just combat to continue enjoying the game, you may get tired of this fairly quickly"
Will the game be priced differently during and after Early Access?
"After Early Access this game
will go up in price
, hence why you would want to
invest in it now while it's still a work in progress
"
How are you planning on involving the Community in your development process?
"We listen very closely to everything our players relay to us. I'm sure many of our community members can already tell you how a feature or fix they have suggested has since been added to the game.
If you join the community you can be assured you will have an impact. We are not your programming slaves here to make any or every idea but we do
consider
all the ideas we read"
Read more
June 29th, 2014
Changes:
-Fixed last used spell effects happening on death
-Fixed throwing axe discrepancies
-Fixed fatalities going out of sync
-Tweaked cloth physics
-Fixed bug in which player could get stuck in no jump state
-Made tapping sprint key leave sprint state faster
-Attack vs attack new sound
-Shortened pull and tweaked the pull power scale
-Pull damage changed to 17
-Push damage changed to 5
-Fixed double casting pull leaving effects
-Increased player step height
-Widened horizontal swing registration
-Throwing knife damage reduced to 29
-Player always running while not dueling
-Fixed bug in which player could stay sprinting with sword out
-Fixed bug where player could move while using firecircle
-Added voice sounds to push/pull
-Fixed broken female skin
-Added correct animation blending to new spells
-Fixed bug in which player could get stuck in a swing
-Fixed player voice changing on opening loadout
-Fixed animation bugs when player walks into range of other players
-Fixed jump sounds playing twice
-Player will stop regening health when in range of enemy
-Hits now give knockback to players and ragdolls
-Fixed ragdoll pausing
-Lightning cooldown increased to 30 seconds
-Migrated to the latest version of unreal
-Fixed memory leak
-Made a new death camera
-Created a player spawn particle
-Added a lightning cast particle system on hand
-Added a lightning cast sound
-Made a new lightning target
-Made new push charge particles
-Added new training sword
-Made a pull hit sound
-Players can now roll out of fall damage
-Removed bad camera shakes on sword hits
-Invisibility changed to 75% invisibility
-Blood spray hits now land on the ground
-Fixed broken lightning hit particles
-Attempted to stop players from using cooldown hacks
-Fixed invisible walls in sahara, snowblind
-Fixed bad stairs in snowblind
-Improved visuals of phase shift
-Added ambient level sounds
-Fixed cape clipping
-clean up the dust from jumping and stealth
-Changed regen particles
-Remixed sound levels

We are aware that we haven't addressed any of the GUI issues, we are currently remaking the GUI which will fix these when done.

You may have noticed that this patch is mainly bug fixes this is because we decided after PAX east that we needed to address some of the more fundamental issues in KR. Don't worry these larger features are coming soon.

As always please leave feedback remembering that this is still early access

16 comments
Read more
March 28th, 2014
The latest update for KR is now live, Check out a summary of some of the new features here on youtube;
https://www.youtube.com/watch?v=t8n-zT5GYUY
Changelog quoted from Paul;
"
-New map duel_sahara
-New map duel_forgotten
-New main menu background level
-New Spell Lightning
-New Spell Push
-New Spell Pull
-New game mode duel
-Female characters added
-All missing loudout options have been added
-Graphics optimization
-Capture point mode has been replaced with team deathmatch
-Sword countering system has been removed, if swords collide at equal power they will hit in the middle
-All swords have had damage increased by 30
-A menu will appear if you matchmake into a high ping game

We apologize that this update has taken so long, we had a couple of non-KR issues to work through.

We have a LOT of exciting nearly finished new content that we really wanted in this update but decided we were taking to long so we releasing what is finished.

Once again remember this is still in early access so there will be bugs so please post them as you find them.

Paul."
14 comments
Read more
Early Beta Access
Get in early and help this game take shape!
About the Game
Kingdoms Rise
is a Multiplayer Fantasy Combat Game featuring brand new game mechanics within its deep 360° sword fighting system and magic abilities.
Customize to your heart's content with a multitude of choices in armors, swords, spells, ranged weapons and more.
Charge into combat in beautifully crafted fantasy environments that silhouette the action.
Read your opponent and try to psych them out in tactical blade duelling.
Wield spells such as fireball, freeze and invisibility that will fit tightly in tandem with your strengths in swordsmanship.
With deep character customizations every fight is unique and every opponent will have a trick up their sleeve.
Experiment with different combinations and strategies to create a knight with a fighting style unique to you alone.
Players can form a team with friends and fight in competitive modes.
In team games the only limit is your imagination. Your teammates can build themselves into any role such as tanks, damage dealers and supports. Think up new strategies, combine spells in interesting ways and achieve victory!
Key Features
360° Melee Sword Fighting System

Deep Character Customization

Wide Range of Magic spells and abilities to use and combine

Create a Party with Friends and fight as a Team
In Development Disclaimer
We are constantly trying to re-balance the game and fix bugs as quickly as we can, but please understand that not every problem will be fixed at launch. Players of the Early Access builds should expect some features to still be under construction and point them out to the developers.
There will be many more spells, armors, swords, maps and other content added to the game as time goes on. The amount of content present in this build is in no way final, there is much more on the way.
System Requirements
Minimum:


OS: Windows XP

Processor: Intel Core 2 Duo 2.4 GHz or AMD Athlon X2 2.7 GHz

Memory: 1500 MB RAM

Graphics: ATI Radeon 3870 or higher, Nvidia GeForce 8800 GT or higher

DirectX: Version 9.0c

Network: Broadband Internet connection

Hard Drive: 1 GB available space
Recommended:


DirectX: Version 9.0c

Network: Broadband Internet connection
Kingdoms Rise is the intellectual property of Flyleap Studios Pty. Ltd., all rights reserved. Please don't sue us.
Helpful customer reviews
Title:
Kingdoms Rise
Genre:
Action
,
Indie
,
RPG
,
Early Access
Developer:
Flyleap Studios Pty. Ltd.
Publisher:
Flyleap Studios Pty. Ltd.
Release Date:
Nov 18, 2013
Languages:
| | Interface | Full audio | Subtitles |
| --- | --- | --- | --- |
| English | | | |