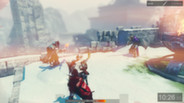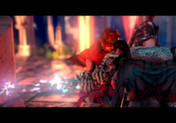 Kingdoms Rise is a Multiplayer Fantasy Combat Game featuring brand new game mechanics within its deep 360° sword fighting system and magic abilities. Customize to your heart's content with a multitude of choices in armors, swords, spells, ranged weapons and more.
Megjelenés dátuma: 2013. nov. 18.
Mind a(z) 2 előzetes megnézése
Korai hozzáférésű játék
Szerezz azonnali hozzáférést és kezdj játszani; légy részese a játék fejlődésének.
Megjegyzés: Ez a korai hozzáférésű játék a fejlesztés során vagy változik jelentősebben, vagy nem. Ha nem izgat a vele való játék a jelenlegi állapotában, érdemes lehet várni, míg a játék fejlesztése előrehaladottabbá válik. Tudj meg többet.
Mit mondanak a fejlesztők:
Miért a Korai Hozzáférés?
"We are using Early Access to enable you to keep us alive long enough to finish this game. By buying the game while it's not finished we can keep working until it is."
Mennyi ideig lesz ez a játék a Korai Hozzáférésben?
"We can't say how much longer it will take till we are at our full version, by a guess would be another 6 months or so"
A tervek szerint miben fog különbözni a teljes verzió a korai hozzáférésű verziótól?
"
Full version is planned to feature:
Comprehensive Training/Tutorial

Ranks and Competitions

Level ups / XP

Lots of achievements

Steam workshop for custom maps and armors/clothes

Party Matchmaking

Clans/Guilds

Team objectives game mode(s)

Singleplayer/Co-op survival game

More of the other stuff (spells, swords, armor, etc.)

Much more balance and way less bugs
"
Milyen állapotban van jelenleg a korai hozzáférésű verzió?
"I'm not going to pretend this game is finished, as you can see from the list of features we are still working on it's going to be a fair amount of time before its called "done".
That said,
the game is playable and enjoyable, the fundamentals of combat (albeit sometimes buggy) can currently be experienced by anyone in all it's glory.
If you are someone who needs more than just combat to continue enjoying the game, you may get tired of this fairly quickly"
Eltérően lesz árazva a játék a korai hozzáférés alatt és azt követően?
"After Early Access this game
will go up in price
, hence why you would want to
invest in it now while it's still a work in progress
"
Hogyan tervezitek bevonni a közösséget a fejlesztés folyamatába?
"We listen very closely to everything our players relay to us. I'm sure many of our community members can already tell you how a feature or fix they have suggested has since been added to the game.
If you join the community you can be assured you will have an impact. We are not your programming slaves here to make any or every idea but we do
consider
all the ideas we read"
Tovább
Kingdoms Rise 4-Pack vásárlása
augusztus 26.
Changelog 26/08/14

Melee System
- Missed have added back-swing time, increased to make initiative like the original system
- Getting parried bars you from re-attacking for a short time (like original system)
- Damage is now based on swing speed (avoid taking hits from back-swings and swing beginnings
http://steamcommunity.com/sharedfiles/filedetails/?id=297410732
- scaled damage based on hit position along the blade (so hitting with handle hurts less, hitting with blade tip hurts lots)
- increased time window to parry a parry-lock swing
- made parry-locks no longer require holding the parry button all the way up to the contact point (it's now automatic this like old system)
- REMOVED: Dash attacks
- (slightly) reduced the 'player facing' angle threshold for parries (so shields can't block attacks coming from behind)
- Moved the attack-v-attack clash timing so that they happen more like in the old system
- CHANGED: The timing for combos

Interface
- FIXED: key-binding menu
- FIXED: volume sliders don't work
- FIXED: M&B mode not saving out to client configs
- FIXED: Cloth and hair tones not saving to client configs
- FIXED: some customize options can be skipped over by scrolling left through the arrays

Misc
- Made shields more fallible, more harshly judge timing
- FIXED: Attack back-swings have no fade-out blend
- Screen effects (blood etc.) now clear up while spectating/dead
- Wing Capes have been removed for the sake of those people who suffer lag issues becomes of them. They will be added back in once the game has adequate options to support them.


Known Issues still not fixed in this hotfix:
The Disconnect button can still cause the game to crash
The landing animation cuts off the fire-circle animation
Chat is still weird while dead and across round changes
2 megjegyzés
Tovább
augusztus 7.
Key Changes explained in Video;
https://www.youtube.com/watch?v=6LKo8QnmzoE

Changelog:

-Totally remade sword system to use traces for hit detection
-Timings of parry, combo, parry locking have changed slightly the system is in general slightly faster paced
-Ground-up remake of All Menus and User Interface
-New HUD
-HUD now shows a Log of incoming damage
-New Game mode: Team Last Man Standing
-Full controller support throughout the entire game
-New survival mode with AI note: It is possible to play this mode multiplayer although it is balanced for single player so we are not hosting any servers for it
-Easy, Medium and Hard training bots in the tutorial level
-Attack-Inversion button now works (M&B Mode)
-Attack and Parrying dashing have been implemented as features (press attack/parry and roll to do them)
-New context specific death animations
-Sword and shield added as a new sword type player gets a shield that doesn't require direction to be set
-Dueller sword added as a new sword type basic sword with no modifiers
-Hammer added as a new sword type low damage with large knockback
-Wooden sword no longer does knockback
-Added game mode round start music
-Totally removed the quake voice
-Made a new round end camera
-Added a head explosion in the event of chop headshots
-Added swing and parry power indicator to HUD
-Player now have a maximum rotation rate to prevent helicoptering
-Added an eight direction walk node to improve walking animation
-Made combo attacks slightly easier
-Added Wooden sword sounds
-Fixed cloth not colliding with player model
-Smoothed the sword angle acquiring code should no longer feel like you get locked into an angle
-Added game blur while in menus
-Fixed decapitations (head now spawns)
-Made player able to swing after casting pull
-Fixed not being able to join servers from in-game
-Fixed post process effects getting deleted to early on round end
-Increased arrow sticking time
-Dual mode is now based on kills and not score
-Increased duel kill limit to 15
-Fixed TDM rotation time bug
-Scoreboard correctly shows who is alive and dead
-Changed the players look offset to look up slightly higher
-Fixed idle face animations not working
-Fixed skill animation overriding sword animation
-Improved player movement replication to fix jerky movement on replicated server
-Added high ping warnings when lagging
-Fixed phase shift ghost bug
-Fixed double teleport going nowhere bug
-Fixed Fireball, Iceball, throwing knives anim getting cancelled early
-Attacks and Parries will not fire off as soon as possible if player is still holding button maximum 1s
-Fixed team colors getting saved into players loadout
-Improved Graphics and SFX
-New Armors

Known Issues
-Keyboard and Mouse control re-binding not working
-Game crashes on disconnect button pressed
-Decapitation head is always male
-Chat box can fail
-Some button texts are wider than the button

13 megjegyzés
Tovább
Korai béta hozzáférés
Get in early and help this game take shape!
A játékról:
Kingdoms Rise
is a Multiplayer Fantasy Combat Game featuring brand new game mechanics within its deep 360° sword fighting system and magic abilities.
Customize to your heart's content with a multitude of choices in armors, swords, spells, ranged weapons and more.
Charge into combat in beautifully crafted fantasy environments that silhouette the action.
Read your opponent and try to psych them out in tactical blade duelling.
Wield spells such as fireball, freeze and invisibility that will fit tightly in tandem with your strengths in swordsmanship.
With deep character customizations every fight is unique and every opponent will have a trick up their sleeve.
Experiment with different combinations and strategies to create a knight with a fighting style unique to you alone.
Players can form a team with friends and fight in competitive modes.
In team games the only limit is your imagination. Your teammates can build themselves into any role such as tanks, damage dealers and supports. Think up new strategies, combine spells in interesting ways and achieve victory!
Key Features
360° Melee Sword Fighting System

Deep Character Customization

Wide Range of Magic spells and abilities to use and combine

Create a Party with Friends and fight as a Team
In Development Disclaimer
We are constantly trying to re-balance the game and fix bugs as quickly as we can, but please understand that not every problem will be fixed at launch. Players of the Early Access builds should expect some features to still be under construction and point them out to the developers.
There will be many more spells, armors, swords, maps and other content added to the game as time goes on. The amount of content present in this build is in no way final, there is much more on the way.
Rendszerkövetelmények
Minimum:


OS: Windows XP

Processor: Intel Core 2 Duo 2.4 GHz or AMD Athlon X2 2.7 GHz

Memory: 1500 MB RAM

Graphics: ATI Radeon 3870 or higher, Nvidia GeForce 8800 GT or higher

DirectX: Version 9.0c

Network: Broadband Internet connection

Hard Drive: 1 GB available space
Recommended:


DirectX: Version 9.0c

Network: Broadband Internet connection
Kingdoms Rise is the intellectual property of Flyleap Studios Pty. Ltd., all rights reserved. Please don't sue us.
Hasznos vásárlói értékelések
Cím:
Kingdoms Rise
Műfaj:
Akció
,
Indie
,
Szerepjáték
,
Korai hozzáférés
Fejlesztő:
Flyleap Studios Pty. Ltd.
Kiadó:
Flyleap Studios Pty. Ltd.
Megjelenés dátuma:
2013. nov. 18.
Nyelvek:
| | Felület | Hang | Feliratozás |
| --- | --- | --- | --- |
| Angol | | | |