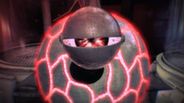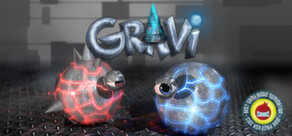 Gravi is an intense puzzle-platformer that will test your tolerance for pain. Shoot and swing your way towards victory as Gravi, an adorable blue ball of energy. While you're launching through terrorizing traps and bending gravity to your will, Anti-Gravi, an atomic ball of rage, is barreling down on your position.
Release Date: Oct 8, 2013
Watch HD video
Early Access Game
Get instant access and start playing; get involved with this game as it develops.
Note: This Early Access game may or may not change significantly over the course of development. If you are not excited to play this game in its current state, then you may want to wait until the game progresses further in development. Learn more
What the developers have to say:
"We wanted to take a few minutes and discuss with you all what our plan is for Gravi, what will be included with Early Access, and what will be added into the final release of Gravi on Steam.

First off, for those of you who don't know, Early Access is a way that you can buy a game on Steam before all the features have been added to the game. It's kind of like Steam's way of making a purchasable beta of the game. Some games in Early Access are more complete than others, and some games have the core concept down while the developers continue to add features, goodies, and polish to the game.

While many of Gravi's features are representative of what you should expect to find in the completed game, we felt a need to make the Steam version of Gravi the best it can possibly be. Therefore, anything we make from Early Access sales will be reinvested to make Gravi even better!

Here is the plan and what you get with Early Access.

Gravi currently has 40 levels of gameplay and you will get the ability to play all 40 levels.

Gravi already has 25 achievements that are possible to get and, with Early Access, you will be able to get these achievements as you would any other Steam Achievements.

We have added Trading Cards, which I've previously posted about, and those also will be available during Early Access.

Gamepad support will be enabled and working; however, we are going to need some time to ensure that ALL gamepad types are supported, so gamepad support may be partial, and we will rely on you to report if your gamepad is not working so we can fix it pronto!

Here is the plan for further development after the Early Access release, and keep in mind that those who have purchased Early Access will get constant updates as we add features.

We want to enhance the storyline of Gravi. Currently, the storyline doesn't really carry over from the game trailer into the gameplay, and we aim to change that. For an evil villain, Anti-Gravi doesn't really make much of an impact on Gravi for most of the game, only showing up at the end of each chapter. We plan to give Anti-Gravi more screentime by adding him to more levels and totally re-engineering his chapter-end battles so that they're bigger and better.

We've also designed a new type of collectibles which act as energy pickups for Gravi. You'll need to fill up an energy bar in order to proceed to the next level, as this energy will power a door at the end of each level.

These collectibles will serve two purposes. First, they will help to better define where you should be heading inside of any given level. Second, they will also add difficulty to each level and allow us to balance the levels in the each chapter a little better.

With the inclusion of new collectibles, we also have some plans to super-charge the current set of green collectibles found on each level — yeah, those ones that are a pain in the ass to get. Not only will you get achievements for collecting them, but you'll also be able to use them to purchase items from the Gravi Store. While nothing is set in stone yet, these items can range from anything like new visual flair for Gravi to game-changers like power-ups and other playable characters...even the ability to roll out as Anti-Gravi.

On top of all that, we'll be adding more achievements that you can acquire, rewarding players for taking risks and trying out some of the harder solutions to Gravi's puzzles.

Of course, we also want to add some highly-desired language support, and while we have translations in the works, there is significant UI (User Interface) redesign that has to take place to support a variety of languages. So when the final product is released, you will find a whole new Menu System in place as well as multiple language support.

Last, but not least, we want to provide quality support for gamepads and controllers as well as Steam's Big Picture Mode, so we will be dedicating quite a bit of resources to ensure that Gravi supports as many controllers as possible and guarantee that the game looks spectacular in Big Picture Mode. Can anyone say Gravi on Steam Machine? Yes!" Read more
January 15th, 2014
Hello Gravi-tier's

I know you all have been wondering what is going on and why you have not seen any patches for Gravi yet. Let me assure you that they are coming!

The Gravi experience is very important to us. While we have been just as anxious as you to get updates pushed out to you, we feel that it is important that we do it right.

We have been addressing some serious issues that you all have been expressing to us. Including, better controller support, fixes to the achievement system, cloud storage of player preferences, Linux & Mac support and many more.

Before I go into what is complete and what is not, I wanted to give you a little bit of background about Gravi. Gravi was first designed in the KillScreen OUYA Create Game Jam. We didn't win any prizes, though I thought we should have, but we did end up with a solid game concept that we could build off of and has formed into the Gravi you see today.

Part of this story proposed a problem for us moving onto the steam platform. Since the game was initially designed on the android platform ( which is what OUYA runs on ) we had a lot of unused and unwanted code that is floating around that is pointless to have on steam. The other major issue is that we designed the game and code in 10 days and built off of it from there, which means that our code was a little sloppy because we were rushing to get the game done for the contest. Essentially some key components of Gravi were not deisgned the way we wanted them to be designed and have been the cause of some of the bugs we see in Gravi today.

We are working very hard to re-write parts of Gravi so to fix the game so that we can improve upon it and make it the best game Gravi can be.

We have completed a lot of the bug fixes, including new Gamepad support, I am pleased to say that Gravi now works with every controller. We also have put in place a new popup that if your gamepad is not recognized by our Gamepad support, you can select what type of controller it is (XBOX, PS etc..) and it will remember that you've selected that for future use. We've also fixed some of the achivement support and various other reported and non reported issues.

We do have a patch coming soon! Once we complete a few more fixes we will release a preliminary patch. This patch will be fairly un-noticable to you, but the first patch paves the way for our future bug fixes. It will put in place a new architecture that will help us release patches and fixes faster and we'll be working off of a cleaner codebase.

Thank you all so much for your support, and thank you for being so patient with us as we are hammering away to make Gravi totally awesome!

-Hashbang Games Team

8 comments
Read more
Trading Cards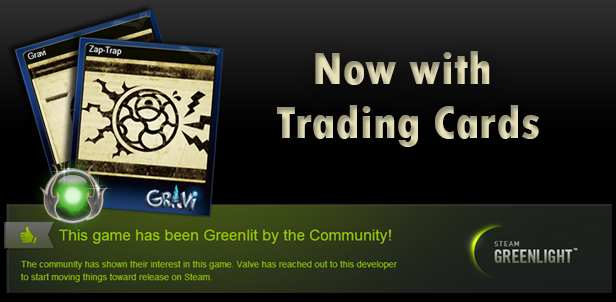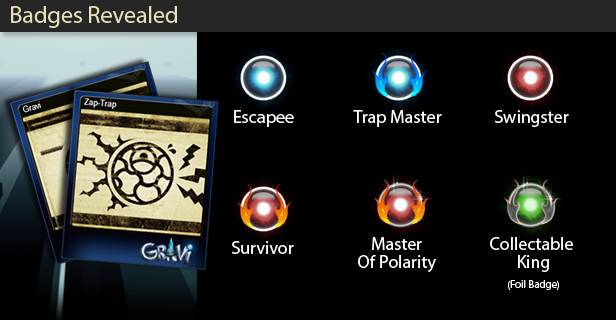 Platform Support
Released: Windows
Coming Soon: OSX & Linux
About the Game
Gravi is an intense puzzle-platformer that will test your tolerance for pain. Shoot and swing your way towards victory as Gravi, an adorable blue ball of energy. While you're launching through terrorizing traps and bending gravity to your will, Anti-Gravi, an atomic ball of rage, is barreling down on your position.​
​
After losing yourself in the ridiculously trap-filled underbelly of an alien test facility, you must use your wits and perseverance to solve a series of perplexing puzzles. Along the way, your limits will be put to the test by all sorts of absurdly dangerous hazards.

Snatch up collectibles and fight off Anti-Gravi on your path to freedom. If you can survive Gravi's 40 unique levels and best Anti-Gravi at his own game, you just might make it out alive.
System Requirements
Minimum:


OS: Windows XP, Windows Vista, or Windows 7 / 8

Processor: Any - 1 core and up 1.5ghz and up

Memory: 2 GB RAM

Graphics: Any - Supports Direct X9 and up

DirectX: Version 9.0

Hard Drive: 500 MB available space

Sound Card: Any Sound Card Device
Recommended:


OS: Windows XP, Windows Vista, or Windows 7 / 8

Processor: Any - Dual Core or Quad Core 1.5ghz and up

Memory: 4 GB RAM

Graphics: Any - Supports Direct X9 and up

DirectX: Version 10

Hard Drive: 500 MB available space

Sound Card: Any Sound Card Device
Helpful customer reviews
Title:
Gravi
Genre:
Early Access
,
Indie
Developer:
Hashbang Games
Publisher:
Release Date:
Oct 8, 2013
Languages:
| | Interface | Full audio | Subtitles |
| --- | --- | --- | --- |
| English | | | |
Awards
Nominated Best Audio in a Game
- Casual Connect 2013