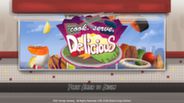 One of the few hardcore restaurant sims in existence, Cook, Serve, Delicious! is a deceptively easy game to learn but incredibly challenging to master as you progress through your career from owning a terrible zero star cafe into a five star world famous restaurant.
Release Date: Oct 8, 2013
Watch all 3 trailers
June 16
Hey y'all, time for another quick CSD update! This is a small update that allows the game to fully support Xbox One gamepads. You can find the driver release info for XB1 gamepads here: http://majornelson.com/2014/06/05/pc-drivers-for-the-xbox-one-controller-available-now/?linkId=8424381

Gamepad support can be toggled as usual in the Options menu. Thanks and I hope you're enjoying the game! And for info on my next game, to be revealed late this year, be sure to visit me on Twitter and Tumblr @chubigans! ːcsdsmileː
7 comments
Read more
April 18
Hey folks, thought I'd do a quick v2.6 update that adds a few new features to the game that were the most requested so far. Enjoy and thanks again for all the support!

NEW ADDITIONS

Extreme Difficulty Leaderboards added! Your perfect combo will be posted to both the Extreme Difficulty and Normal Perfect Combo leaderboards when playing Extreme mode.

Combo/Amount cap raised. You will no longer receive errors when posting large perfect combos or scores on the board.

Texting while dating has been sped up considerably. In addition your phone will now vibrate and chime when a new alert appears for texting or snapshot voting.
1 comments
Read more
Reviews
"Along with being one of the (very unexpectedly!) funniest games I've played this year, the game's disarming & charming aesthetic did not prepare me for what is undoubtedly the best WarioWare-like game I have ever played. In fact, I probably ended up spending more time with Cook, Serve, Delicious! than with almost any other game this year. The gameplay is simple in nature but blisteringly fast, resulting in a challenge that is more than enough to keep the average player interested. The game does not overstay its welcome, as it evolves in numerous ingenious ways by the time you've reached the end."
The Stereogram

"It's not an easy game to excel at, but it's an easy game to get hooked on, and the challenge of building and running your own restaurant from front to back is going to captivate you for weeks on end...with depth to rival a strategy game and carefully controlled chaos ruling the action sequences, Cook, Serve, Delicious! is a rare release that encourages you to play until you master every nuance of gameplay."
Jay Is Games

"Cook, Serve, Delicious! is fast paced, engaging, and absolutely addictive for foodies or non-foodies alike. Don't be fooled by the cute cartoonish style because you'll find your eyeballs popping and button mashing like mad after a few hours."
Vivid Gamer

About the Game
Cook, Serve, Delicious is a hardcore restaurant sim, one of the few in its genre that gives the players total control over where they want to take their restaurant.
The game centers on an old, worn down restaurant in the SherriSoda Tower, which was once the heart of the building but closed down as business (and tenants) dropped to an all time low. But with the local economy rising back up and occupancy reaching its maximum, SherriSoda Tower has decided to bring back the old Cook, Serve, Delicious restaurant, and has given you complete control to bring it back to its old five star status of world class dining.
To do that, you'll start with a few thousand dollars and thirty foods to choose from to put on your menu, as well as a host of restaurant equipment and more. Nearly everything is unlocked from the start of the game for you to purchase; this is your restaurant, and you must figure out the best strategy to get that restaurant packed with satisfied customers. Can you prove your culinary skills?
And if that weren't enough, you'll also have the opportunity to be cast in the Iron Cook television show, throw parties for offices in SherriSoda Tower, read virtual mail in your SherriSoda Tower Email account which ranges from game tips to crazy spam (nearly 500 emails in all), from customers providing feedback to your restaurant to opportunities such as being able to fund projects via "ClicknStart" and other big surprises!
With hours of content and tons of secrets and unlockables, Cook, Serve, Delicious will provide a big challenge for anyone who's ready to take their crumbling, rat infested eatery to a luxurious Platinum Star Restaurant. Good luck!
New Steam Features include key binding support for all foods and events, a new gameplay option called CookBets where you will receive randomized challenges each day, fifty new spam emails and options as well as improvements to UI across the board, and full Steam Achievements, Steam Cloud, Steam Leaderboards with special Steam Challenges and Trading Cards support.

Includes the upgrade pack, "Extra Crispy Edition," that brings ten new foods to the game including Lobster, Bananas Foster, Enchiladas, Sushi and more!

DualShock 4, Xbox 360 and Xbox One gamepad fully supported. Rumble is also supported (for Windows only).

Music by award winning composer Jonathan Geer

Art by Sara Gross - Two Bit Art
PC System Requirements
Minimum:


OS: Windows Vista, 7 or 8

Memory: 2 GB RAM

Graphics: 128MB Graphics card or greater

Hard Drive: 150 MB available space
Mac System Requirements
Minimum:


OS: Mac OS X 10.8 and above

Memory: 2 GB RAM

Hard Drive: 150 MB available space

Additional Notes: Mac OS X 10.6x is not supported by the newest versions of the game.
Linux System Requirements
Minimum:


OS: Ubuntu 12.04 and above

Memory: 2 GB RAM

Graphics: OpenGL-capable graphics card with valid driver

Hard Drive: 150 MB available space

Additional Notes: Currently Ubuntu is the only Linux platform that is officially supported by this engine.
Helpful customer reviews
Title:
Cook, Serve, Delicious!
Genre:
Action
,
Indie
,
Simulation
,
Strategy
Developer:
Vertigo Gaming
Publisher:
Vertigo Gaming
Release Date:
Oct 8, 2013
Languages:
| | Interface | Full audio | Subtitles |
| --- | --- | --- | --- |
| English | | | |