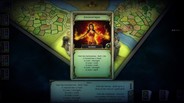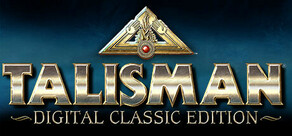 Talisman Digital Edition - The Magical Quest Game for 1 to 4 players. The officially licensed multiplayer version of the classic fantasy adventure board game, Talisman. In Talisman Digital Edition, there are 14 characters a player can control, from the heroic Warrior to the powerful Sorceress.
Release Date: Feb 25, 2014
Watch HD video
Buy Talisman Digital Edition
Buy Talisman: Digital Edition - Four Pack
Includes four copies of the game - Send the extra copies to your friends.
Buy Talisman: Digital Edition - Gold Pack
Includes Talisman Digital Edition, Talisman Prologue, and all future DLC as described in the Season Pass.
Downloadable Content For This Game
September 11
Apprentice Mage now available!
The Apprentice Mage is still learning her skills and must roll to see if spells succeed if her Craft is 6 or less. She becomes much more powerful once her Craft reaches 7, when she will always have at least 2 spells. After observing other characters casting Spells, she can choose to draw those Spells from the top of the Spell discard pile. Those of you who have purchased the Gold pack or the Season Pass will automatically have the Apprentice Mage available in the game now.

http://store.steampowered.com/app/267774/

Online overhaul! We've made huge changes to the networking and the game does not rely so much on Steam's servers anymore. We still use Steam to gather player names so you will still need to be signed in and online, but we have switched to a system called Photon to handle communication between players. We hope this fixes the connectivity issues some of you are having so please let us know if your onlines games are better or worse. If worse, give us as much information as you possibly can and we'll look into it. The iOS and Android versions also use this Photon system and we expect to include cross-platform multiplayer in the very near future so everyone can play together!

Bug fixes and improvements...

The Steam client can now be accessed whilst running the game full-screen.

Fixed a 'mismatched choice' error if 'fake' followers were being used in online games (Ghoul's raised trophies for instance).

Fixed a 'mismatched choice' error if certain house rules were being used and then an online game resumed.

Fixed a 'mismatched choice' error if a player used Lucky Charm and then didn't roll for the number they chose. This could be done by rolling for movement, then using the Lucky Charm before re-rolling with fate, then choosing a die result from the Lucky Charm and then choosing NOT to re-roll.

German text error - Random spell card.

Network games no longer pause whilst a player views an Alternative Ending card.

Demigod - spells are now ordered alphabetically for your perusing pleasure.

Window size fixes.

Public online games in progress can be seen in the Online menu, with the number of players and current round number shown.

Crash fix - cast Shatter on yourself and choose an object which was increasing your Craft and Spells.

Marked for Glory spell now works correctly for movement rolls.

Horn of Summoning was usable when the only enemy was on your space, the game would then get stuck.

The Play Area tabs at the bottom of the screen will now automatically switch to the 'usable cards' tab if you have a card which can be used. This will not happen if you have the online chat tab open.

AI characters will now recognise that they are stuck in a healing loop (Poltergeist, Castle/Prince, etc.) and decide to move on after a few turns.

Blizzard card had no effect when drawn a second time.

Fixed an issue at the end of an online game where the results/runestones screen would be skipped automatically.

AI - Thief character will steal appropriate objects from other characters at the Crown of Command.

AI - Improved Praying logic, thank god.

Fixed Lucky Charm and some other cards not being usable when single-clicked.

Bugs when encountering the Graveyard space fixed.

Fixed a bug where players could quit and resume a game with the Warlock Quest ending right at the start and they would receive 4 more Quest cards when resumed. Doing this repeatedly would result in a crash.

Players could only pick up 1 gold from the Tavern space if there were more than 1 left there by a Toad rolling a 4.

AI - Elf character won't constantly move between 2 Woods spaces if those spaces have Lake of Visions cards on them and he doesn't want/need a Warlock Quest.

Scroll-bar added to the in-game log.

The Gambler's Reduce the Odds ability was appearing at the wrong time in combat.

Fixed a crash that would occur if you were turned into a Toad whilst encountering the Treasure Map card.

Dead characters could still draw spells.

AI won't buy so many Water Bottles anymore (now that Summer is over).

AI characters won't use fate to re-roll in combat against a summon spell or follower if the combat was a draw.

Face-up cards on spaces weren't shown when choosing where to move to after using the Mystic Portal.

Players could gain higher than their spell allowance due to a bug with the Familiar follower.

AI Priest is will use his Destroy Ability if he cannot beat a Spirit.

Black Witch could sometimes move the Reaper even if she hadn't rolled a 1 for movement.

You could not view character cards after resuming an online game.

The Celestial Bauble could not be used to defeat the Nightmare.

Summon Spells now have +2 to their attack when summoned at the Runes spaces.

The Divine Protection spell now protects life loss against summon spells.

Players could use a Raft to move to a space with the Barrier spell on it.

AI players could get stuck if you cast Path of Destiny on them in certain sitations.

Fixed a bug where an AI Leprechaun player would get stuck if you cast Misdirection on him and he then rolled a 6 and chose to Teleport.

AI Toads are slightly more intelligent when it comes to choosing which space to move to.

If you played as the Elf with the Reaper pack on and rolled a 1 to move to a Woods space, you could then move the Reaper after your turn if you teleported to other Woods spaces.

Gambler could Reduce the Odds when rolling for Death in a Dice With Death.

Fixed a bug where you could not encounter cards dropped on a space due to someone casting Mesmerism and taking a Mule/Horse & Cart.

AI Leprechaun would choose to use the Flying Carpet instead of his own Teleport ability if he rolled a 6. Maybe he just liked the plush carpet?

Warhorse was not discarded if its owner lost their last life.

Fixed not being able to give the Jester to another character you defeated.
10 comments
Read more
July 1
The Gambler character is now available to purchase via the My Collection page in-game or through Steam.

http://store.steampowered.com/app/267771/

The Gambler uses Fate to his advantage to reduce the odds of getting the results he needs. Buy him today to add him to your collection!
3 comments
Read more
Reviews
"extremely addictive...many hours of fun, faithful to the original"
8/10 – Eurogamer Poland

"Talisman: Digital Edition is the kind of game that you can spend hundreds of hours playing and is for all intents and purposes a solid port of the popular board game. - Vincent Paone of Dad's Gaming Addiction"
9/10 – Dad's Gaming Addiction

"...easy to pick up and play and you don't have to know anything about the board game version to play and enjoy the video game version."
9/10 – Game Saga

About the Game
Talisman Digital Edition - The Magical Quest Game for 1 to 4 players.
The officially licensed multiplayer version of the classic fantasy adventure board game, Talisman.
In Talisman Digital Edition, there are 14 characters a player can control, from the heroic Warrior to the powerful Sorceress. In this perilous adventure, players battle it out to journey across a dangerous land and be the first to claim the Crown of Command, a magical artefact with the power to destroy all rivals and make the bearer the true ruler of the kingdom. On your travels, you will need strength, courage and some good dice rolls to survive the dangers you face and beat your opponents to the centre of the board.
Features -
Multiplayer modes for up to 4 players.
Play against AI opponents.
14 characters to choose from.
17 powerful spells to cast.
Many expansions available post-release.
Detailed, interactive tutorial.
Frequently Asked Questions
What is Talisman?
Imagine Monopoly with Dragons! Instead of moving around a board purchasing properties and making your opponents bankrupt, you're moving around the board building up your character's strength and magic power by battling monsters, finding treasures, completing quests and trying to be the first player to reach the centre space – the Crown of Command.
How is Talisman: Digital Edition different to Talisman: Prologue?
Talisman: Prologue is a single-player only game in which you tried to complete a series of challenges using the rules of Talisman. Talisman: Digital Edition is the full board game experience for up to 4 players, using the same rules as the board game.
Can I play dirty?
That's at the very core of Talisman! Cast spells at other players to make them miss turns! Steal from them! Turn them into toads! Send powerful allies to do your fighting for you!
How replayable is the game?
The emergent nature of the game means that every game will tell its own tale. The board starts with just the playing pieces and builds up to become a land filled with terrible danger and fabulous treasure! As you move around the board, you must make careful decisions about where to travel as each space can become more dangerous or more helpful as the game progresses. To help you get around, players can use things like teleporting, magic portals and fate, which allows you to re-roll your dice to get different results.
How long is a game of Talisman?
The physical board game can take 2-4 hours with 4 players, but our digital version cuts that down drastically, with an offline 4 player game typically taking no more than 1 hour. Offline games can be saved and resumed at any time so your adventures can take as long as you like! We've also added some features which decrease the length of games – House rules and Runestone cards. House rules change the basic rules slightly to speed-up the game and Runestone cards, exclusive to this digital edition, give characters extra abilities and allow them to become very powerful much quicker, making for shorter games.
Is there a hotseat mode?
Yes! Look your opponents in the eyes as you face them in deadly combat or sneak up from the shadows and steal their favourite items! All of the fun and social enjoyment of the physical game is captured in the digital version, but with no setup time!
What's included with the base game and are there expansions?
For the initial purchase, everything that you get with the physical board game is included – all of the characters, spells and adventure cards. Expansions will be added and the first two, The Reaper and The Frostmarch, are available to purchase now. These add lots more spells, events, monsters, characters and the Grim Reaper himself, wandering the land looking to kill off players! Extra characters are also available to purchase, including rare characters from Talisman's history.
Talisman © Games Workshop Limited 1983, 1985, 1994, 2007. Talisman: Digital Edition © Games Workshop Limited 2014. Games Workshop, Talisman, Talisman: Digital Edition, the foregoing marks' respective logos and all associated marks, logos, characters, products and illustrations from the Talisman game are either ®, TM and/or © Games Workshop Limited 1983–2014, variably registered in the UK and other countries around the world. This edition published under license to Nomad Games Ltd. Nomad Games is the registered trademark Nomad Games Limited. All Rights Reserved to their respective owners.
System Requirements
Minimum:


OS: Windows XP

Processor: 1.6 GHz

Memory: 512 MB RAM

Graphics: 1024x600 resolution

DirectX: Version 9.0

Hard Drive: 400 MB available space

Sound Card: On board
Helpful customer reviews