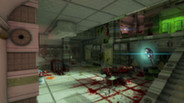 In Viscera Cleanup Detail, you step into the boots of a space-station janitor tasked with cleaning up after various horrific sci-fi horror events. Instead of machineguns and plasma-rifles, your tools are a mop and bucket. That hero left a mess, and it's up to you to deal with the aftermath.
Release Date: Apr 4, 2014
Watch HD video
Early Access Game
Get instant access and start playing; get involved with this game as it develops.
Note: This Early Access game may or may not change significantly over the course of development. If you are not excited to play this game in its current state, then you may want to wait until the game progresses further in development. Learn more
What the developers have to say:
"So you've elected to support development of Viscera Cleanup Detail by getting the Early Access build, great! There are a few things to keep in mind however, as we continue development, fix bugs, add content and polish it all up.
It's still in development, so it has issues, especially regarding network.

You might want to think twice about buying this now if you're looking for a polished product. However, if you want to support us and provide feedback for the game's development, we'd be super grateful!

The price will increase as it gets closer to the finished game.

Everything is subject to change; your favourite feature could be eradicated.
As we proceed with development, the major improvements you will see will be relating to new and improved maps, bug fixes and polish. New content will primarily be focused on creating interesting environments for our players to experience.
And on a final note, mod support will be coming very soon! So you'll be able to craft your own space-station massacres; hooray!"
Read more
Buy Viscera Cleanup Detail
Buy Viscera Cleanup Detail 4-Pack
August 15
Hello mop-bearing minions!

Another small update this week, as we attempt more regular, smaller updates each week (when not drowning in admin work). List of changes below!


Employee of the Month photo now remains in the office, allowing you to accumulate several.

Fixed a problem in Athena's Wrath which caused some alien blood to appear Red instead of Green.

Fixed spelling error in Athena's Wrath briefing.

Improved player ability to handle heavy objects(Large Alien bits, Worker Legs, etc), now more manageable and more visible when held.

Increase Speedrun mode difficulty by %50!

Made speedrun take multiple players into account, each additional player now makes the score drop an extra %75 faster.

Added a "Time Par" display to the speedrun stats, shows the expected time limit.

Fixed the Rules menu not updating when you tick the Multiplayer box under the Speedrun section.

Fixed map preview images sometimes not buggering off when you mouse over other buttons.

Fixed a bug causing a Multiplayer Speedrun match to be hosted instead of a Singleplayer one.

Improved visibility of "Exceptional" cleaning text on punchout screen during Speedrun mode.

Added a setting for changing speedrun difficulty by altering the time allowance.
And that's it for today! We've got another tool in the works (the J-HARM ;) ), an expansive new map/environment complete with some neat mechanics to go along with it, and an extra small map or two ;)
Thanks ya'll, and keep up the good work! :)
19 comments
Read more
August 9
Hey ya'll!

Just a small update today. Still being kept busy by admin work, but we're doing what we can :) Changelog below!


Fixed Cryo-Canisters in Cryogenesis not being detected as "Stacked", and as such punishing you unfairly.

Fixed certain notes in office spawning in places where something could have moved away.

Fixed Player Name setting not being used.

Added a "Speedrun" mode, when active it replaces the office system with instant scoring feedback and a cleanup timer display during cleaning.

Implemented Rules menu.

Implemented Speedrun mode.

Implemented Server Passwording system.

Implemented Server Name setting.

Improved keyboard and gamepad navigation in menus.

Added connection attempt error display to Main Menu.
Enjoy! :)
14 comments
Read more
Reviews
"You know what I really love about violence? Dealing with the consequences! That's why I'm so excited to see that Viscera Cleanup Detail, the space station janitor simulation, is now available on Steam Early Access."
PCGamer

"By setting its mundane stall in the days after events that would be taken oh-so-seriously in another game, Viscera Cleanup Detail manages to be morbidly hilarious without ever telling a single joke."
EuroGamer

About the Game
Disaster! An alien invasion and subsequent infestation have decimated this facility. Many lives were lost, the facility was ruined and the aliens were unstoppable. All hope was lost until one survivor found the courage to fight back and put the aliens in their place!
It was a long and horrific battle as the survivor duelled with all manner of terrifying life-forms and alien mutations, but our hero won out in the end and destroyed the alien menace! Humanity was saved!
Unfortunately, the alien infestation and the heroic efforts of the courageous survivors have left rather a mess throughout the facility. As the janitor, it is your duty to get this place cleaned up.
So grab your mop and roll up your sleeves, this is gonna be one messy job.
Today, you're on Viscera Cleanup Detail!
Key Features
Janitorial Simulation - Step into the boots of a space-station sanitation technician and deal with the horrific aftermath of a sci-fi horror event. Blood, viscera, spent cartridges, worker bodies and other messes litter the facilities.

Clean - It's your job to clean up the mess, so clean it up you shall! Use your trusty mop, gloves, dispenser machines, plasma laser and sniffer tool to help you get all that blood out of the floor and off the ceiling! You can even try and punch-out if you think you've done your job.

Sandbox Gameplay - Don't want to clean? Just want to make more of a mess and play around with the physics? Go ahead! You can save your game as well; that's kind of us!

Multiplayer - Note: MP is still being worked out and may have issues still.
You can even enlist some friends/coworkers to come and help you clean up (or make even more mess).
Important:
Buying Viscera Cleanup Detail also gets you our spin-off titles, 'VCD: Shadow Warrior' and 'Santa's Rampage' free! And if you already own Santa's Rampage on Steam, you get a discount on this game!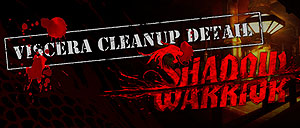 System Requirements
Minimum:


OS: Win XP SP3, Win 7

Processor: 2.4GHz Dual core CPU

Memory: 2 GB RAM

Graphics: 512MB Shader Model 3.0 Nvidia GeForce 8800 GT or AMD Radeon HD 3870

DirectX: Version 9.0c

Hard Drive: 2 GB available space
Recommended:


OS: Win XP SP3, Win 7

Processor: 2.6GHz Quad core CPU

Memory: 4 GB RAM

Graphics: GB Nvidia GeForce GTX 560 or AMD Radeon HD 5850

DirectX: Version 9.0c

Hard Drive: 2 GB available space
Copyright© RuneStorm 2014. All rights reserved.
Helpful customer reviews
Title:
Viscera Cleanup Detail
Genre:
Indie
,
Simulation
,
Early Access
Developer:
RuneStorm
Publisher:
RuneStorm
Release Date:
Apr 4, 2014
Languages:
| | Interface | Full audio | Subtitles |
| --- | --- | --- | --- |
| English | | | |